As anyone who has followed this blog knows, I am a huge Hawkeye fan. In the comics, the cartoons, and the movies, I always look forward to seeing him. Captain America/Steve Rogers is also one of my favorite characters, something I have said before as well.
So to FINALLY have my two favorite characters in a Captain America film is UNBELIEVABLY GREAT!!!!!!!!!! 😀 What makes it even better is that Renner and the Russos at last deliver a truly vintage Hawkeye performance. Clint's snappy patter, skills, and determination are all taken directly from the comics in this movie.
Clint's part in Civil War is far more limited than I was hoping for. Now, I am not looking a gift horse in the mouth here, people! I am thrilled he got to show up in the movie at all! It is just that my enjoyment factor would have been higher if he had been in the movie longer.
But, yeah, you probably noticed that by now.
Anyway, on to the film! Some people are saying that Clint's main reason for joining Team Cap was the debt he owes Wanda. Because her brother saved his life, he feels he is indebted to her. He also basically inaugurated her Avenging career in Sokovia, and so he is at least partly responsible for her growth into her role on the team.
True, true, and true…except for the part where these people say these are Clint's only reasons for siding with Cap. Renner did not help much, saying before the film came out that, "Cap was the first guy who called."
(*Author slaps forehead and growls in irritation at the general population's inability to speak or write well.*)
No, Cap did not call Clint first. Tony did – through Natasha. She asked Hawkeye if he would sign the Accords and Clint said, essentially, "No." Then Cap phoned a couple of days later, whereupon Clint left home, busted Wanda out of the Compound, picked up Ant-Man, and arrived in Germany within hours of the phone ringing.
What was that about Cap calling first again…? I think I missed it.
For those who say that Hawkeye was truly retired at the start of this movie, I have this to answer in response: Clint Barton, Hawkeye, hang up his bow for good? Don't make me laugh! Being a hero is his job. And when his job needs doing, he will do it.
This is why he refuses to sign the Accords. Steve and Clint are both cut from the same cloth. Did you notice that, in Age of Ultron, Clint has two very large American flags on his property? One is hanging from the side of his house; the other is tacked up in the barn. And oh, yeah, there is a third, somewhat smaller U.S. flag pinned up over the tractor in the barn, too.
Clint seems awfully patriotic. Steve Rogers is, too, or he would not be Captain America. They both recognize the danger in the Accords, which the U.N. wants to force on them and the U.S. They both know that a government or governing body of any type is almost always run by people with agendas. And agendas are dangerous, because the people who have them often place more value on their schemes than on doing what is right.
Clint had to know that to decline signing the Accords while claiming retirement was a holding action at best. He also had to know that the location of his family's house is now blown. Sooner or later, it will be discovered. If the writers have not had him move, he could be in serious trouble. (Which means that the writers will be in serious trouble with ME!)
If he is half as smart as I know he is, then Clint should have moved his family not long after returning to the farm at the end of Age of Ultron. He would not tell any of the other Avengers about doing this – Tony, Rhodey, Natasha, and Vision have signed the Accords. And Tony has now blabbed about the Barton family on film and video tape. What a typical, unfiltered, big mouth reaction. (*Author rolls eyes.*)
The one Avenger he might tell, if he has moved his family, is Cap. But he would only do that in private, when they were sure no one was listening. Natasha would be able to figure it out, eventually. They have worked together for years and therefore think alike on such matters. Heck, they have probably helped each other come up with contingency plans for this sort of problem!
The point here is that Hawkeye joined Cap's team because, to borrow and paraphrase Emily VanCamp's description of her character and Evans', "They have similar moral compasses." Clint and Steve both know the difference between right and wrong. When told to move by the world, they will both "plant [themselves] like a tree, look them [those who are telling them what is wrong is right] in the eye, and say, 'No, YOU move.'"
Natasha knows this. It is why she is alive, as well as Cooper, Lila, and Nathaniel Barton's "aunt." She knows Clint's claim of retirement is baloney and code for, "The U.N. can go bark at the moon. I am not signing away my freedom." It is this certainty on the part of her two friends which leads her to question the Accords and her own decision to sign them.
This is going to sound like a fan rant, but follow me through please, readers. I loved it when Clint fired three arrows at Iron Man, only for them to get shot down. The basis for this scene is taken straight from the comics. Like many villains, Tony mistakenly believes Clint has finally missed his target…
Clint just smiles smugly and retorts, "Made you look."
When Hawkeye shoots at you but does not hit you, then he was not aiming for you in the first place. Tony does not know him as well as he thinks he does if he had to learn that fact the hard way. Anyone who has known Clint for any period of time knows that this archer does not miss, whether he is using arrows, bullets, assorted bits of junk, or his own fists. Whatever the tool, Hawkeye's aim is always true.
Speaking of the internecine fight at the airport, Wanda was right – Clint was pulling his punches with Natasha. He is physically bigger and stronger than she is. Their dance should not have gone the way it was heading. We all remember their duel on the Helicarrier in The Avengers. While I am sure Hawkeye was pulling his punches as best he could in that fight, the thing is that he was holding back even more in Civil War.
Black Widow was not.
It is understandable that Clint would hold back in a fight with Natasha. They are very close friends, almost as close as Steve and Bucky still are. On some level, I think Hawkeye never stopped believing in Natasha after she signed the Accords. He knew she doubted the rightness of what she had done, that she was worried she had made a mistake. He had faith that she would realize she had made the wrong choice and would reverse that decision sooner or later. In the end, he was right. And so he is glad he pulled his punches.
And that Wanda pulled Natasha's.
Nevertheless, Clint takes Wanda's admonition on not pulling his punches to heart for the rest of the battle. For Exhibit B to prove that he joined Team Red, White, and Blue out of loyalty to Steve and the belief that Cap was in the right, who held Panther off while Steve and Bucky ran for the quinjet?
Clint did. And while he is not as strong as Panther, Hawkeye put up a great fight. He knew he would not be able to beat T'Challa, or even stalemate him. Not for long, at least. But he was going to go down fighting – hence: "I don't think we've been introduced. I'm Clint."
The new King of Wakanda is not in the mood for witty banter, let alone name-trading, as he demonstrates with his pithy, angry, "I don't care!" Clint knows that. But if he cannot get his digs in one way, he will do so by other means. T'Challa can be stronger than Clint all he wants, but he will never outdo the archer in the gallows humor department. Hawkeye will see to that!
To backtrack a bit, our first look at Hawkeye in the film is when he goes to pick up Wanda from the Avengers' Compound. Wanda senses someone enter the room and, preparing for the possibility that the intruder means her harm, uses her power to grab a butcher knife from the kitchen counter and throw it at the potential cat-burglar.
She must have figured out who her "intruder" was before she hit him, because she stops the blade in the nick of time. Hawkeye stares at the knife as it hovers just in front of his forehead, briefly surprised. Then he smiles faintly. "Guess I should've knocked," he says, calmly pushing the knife away with two fingers.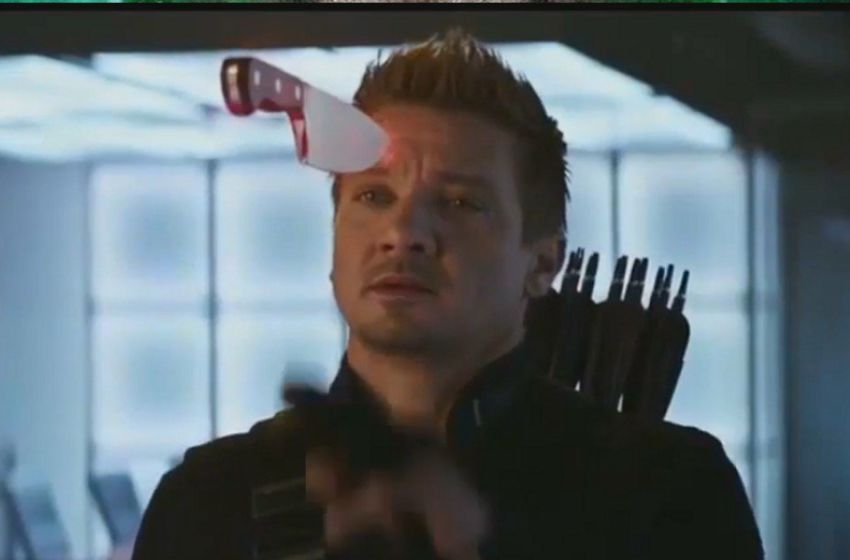 Wanda lets it drop to the floor and races over to him with a gasp. "Oh, my gosh, what are you doing here?" she asks, horrified. She came that close to killing a friend, and after her inability to fully contain Crossbones' funeral pyre/revenge plot in Lagos, this near miss is no laughing matter to her.
But Clint brushes it off, apparently unconcerned. It was his fault, as he admitted. Someone sneaking into the room after an explosion draws out the Vision – what was Wanda supposed to think? She was prepared, which was a good thing. If it had not been him, she would have needed to defend herself. As it is, he is still breathing and in one piece, so no harm, no foul. Leaving a temporary Vision-catcher set up to keep the android out of their hair, he grabs Wanda and tries to bolt.
That is when Vision returns. Using his wit and fast mouth, Hawkeye waits until Vision is stuck in the electrical field generated by the arrows he planted for the purpose of holding the android in place. Satisfied that the field will keep Vision trapped for the necessary time to initiate an escape, he goes to leave.
Wanda does not follow him.
This scene was fantastic because it shows Clint's teacher side. He understood how overwhelmed Wanda was when Novi Grad began to fly, and he understands her hesitation now. Like everyone else, she does not wish to make the same mistake twice – or a worse error. But her fear is crippling her. Never one to lose confidence in himself for more than five seconds, Clint once again restores Wanda's self-assurance in two or three sentences.
Enough time for Vision to break free of his trap and make a fight out of what otherwise would have been a relatively easy extraction.
This following scene probably harkens back to the original comics from the early sixties, where Hawkeye and Vision had a "debate" over who held Wanda's affections. However, in Civil War, though the fight is again over the Scarlet Witch, Clint has no romantic inclinations toward her at all. His attachment to her here is entirely different.
She is a kid he convinced to be a heroine, and she is being held under house arrest because she did her best and people died anyway. She did what she could to save as many people as she could, and the media have been tearing her to pieces ever since. She does not deserve that treatment, but the political hacks and media harpies are quite happy to ignore her youth and inexperience so they can further their agendas.
Clint, however, will not ignore these factors. He knows her. He cares about her. In some way, she has to make him think of his own daughter. If it was Lila in Wanda's situation, Clint would want someone to watch out for her and take care of her. Wanda has no family anymore, and since the rest of the Avengers have either acquiesced to her imprisonment or are not able to get her out themselves, he will stand up for her because they cannot or will not.
Vision, who seems to be as smitten with Wanda in the films as he was in the comics, wants to protect her. Lulled by false rationalism and logic, Vision has decided that he and Wanda are too dangerous to be liked or understood by the public. But in keeping her "housebound," Vision is not helping Wanda. He is only aiding in the crippling of her belief in herself. He cannot, however, see that…
But Clint can. When Vision breaks out of the trap, Hawkeye knows the android will not let Wanda go without a fight. And while he is not a super genius, it does not take a 190 point IQ (or whatever Tony has), to know that Vision far surpasses him in strength and power. There is no way any of the Avengers, other than Wanda and perhaps Thor or the Hulk, could hope to at least hold their own with the Vision.
So Hawkeye does not put all his chips on beating Vision. He knows he cannot do that. He also knows that Wanda is aware she is being imprisoned, does not like it in the least, and that she wants to help Cap as much as he does. So he fights and, as he knew, is put out of action by Vision. But so what if he cannot beat Vision?
Wanda can.
And she does, showing that Clint's faith in her is not misplaced. Though they both like Vision and consider him a friend, the stakes are too high to waste time talking. Even if they had the time, Vision will not be swayed easily. So Wanda throws him down a hole to cool off…
Clint takes a moment to look down it, too, probably thinking, Boy, am I glad that's not ME down there. But if Wanda wanted to defeat or incapacitate him, this is not the way she would do it. (The butcher knife would be more effective and less tiring.) And he knows it. Wanda's demonstration of her abilities in that moment would have scared most people out of their skins –
It did not scare Clint because he does not see just her powers. He sees Wanda Maximoff, a sweet young girl working at learning how, when, and where to do the right thing with her amazing abilities. She will make mistakes as she learns, just like everybody else, but he has nothing to fear from her. He knows that.
And now, she knows it, too. This crisis of self-assurance over with, wrapped up, and taken care of, Clint tells her they need to make a pick up on the way to meet Steve. This leads us to the meeting in the parking garage outside the German airport, where Clint tells Cap he is "doing [him] a favor" and that he "owe[s] a debt."
This is where people – including me – got a little confused. Remember when I said there was no way Hawkeye would hang up his bow for good? He loves his family more than words can say, but he still has a job to do out there. As he said when Vision returned from investigating his distraction, he "retired" for "like, five minutes" and the world went to hell in a hand basket. Message received: retirement is not going to work for him.
Some will say this is overconfidence or hubris, and while it carries a bit of the former, Clint told Wanda in Sokovia that saving the world was his job. Hawkeye is a fighter; he always has been. Like Steve, he has been standing up to bullies his whole life. In the original comics, those bullies usually held an authority position over him while he was growing up.
We do not know as much of his MCU back story as I wish we did, but it would not surprise this author if it was very similar to his "mainstream" universe history. Because, in the MCU, as in the original Marvel "mainstream" universe, Clint has no more patience for tyrants – big or small – than Steve Rogers does.
So even when he is happily married and playing with his children, Clint's hands will occasionally itch to be holding a bow and an arrow, sighting an enemy and taking him down. Targets are great, but they are for practice. Hawkeye's skills are not meant for the target range alone. He has to be out, just like Steve, actively making a difference. He is not made to sit on his hands. He has to be doing his job, at least some of the time.
He is lucky Laura understands that and supports him when he does it; Pepper should spend some time with her. Maybe then she will stay with Tony instead of marching off in a huff because he is still making suits and Avenging.
This is why Clint says Cap is doing him a favor. A year out of action is long enough for his hands to start getting very itchy for a good fight.
As for the debt, that goes without saying. Hawkeye is indebted to the Scarlet Witch for her brother's sacrifice, and he is a man who pays his debts. The weight of that obligation is equally balanced, however, by his respect for Wanda and Steve, as well as the knowledge that tyranny is rearing its ugly head again. Despotism casts a long shadow, and Clint does not want that touching the lives of his wife and children. If he was unworried about it, he would not be living off the grid as he is.
Now we go to the last time we see the World's Greatest Marksman in Civil War. When Tony goes to get information from Falcon in the Raft, Clint is the first one to "greet" the great "genius, billionaire, playboy, philanthropist." Hawkeye is one of those "guys with none of that" who Steve once said were "worth ten of [Tony]."
Clint did not receive the codename Hawkeye simply for his keen eyesight and unerring accuracy. The man sees with his head and his heart as well as with his eyes. Although he may not always possess the vocabulary to express what he knows, the fact is that he knows this: "There's right and there's wrong. You gotta do one or the other. You do the one, and you're living. You do the other, and you may be walking around, but you're as dead as a beaver hat." (John Wayne in The Alamo.)
One can accuse Hawkeye of many things, but being "dead as a beaver hat" is not one of them.
Tony tries to wriggle out of the lecture, but Clint will not let him. His own imprisonment, and that of Scott and Sam, is bad enough. They are fighting the good fight and the government, angry that they have remained out of their control for so long, has thrown them in jail 'til they either sing "Kumbaya" or rot. Fine. That bites, but it was to be expected, and Clint can take a beating when he has to without giving in to his captors.
No, the worst thing about his imprisonment, the part which stings most, is that Wanda is not imprisoned with the men. His family is safe. He made sure of that before he left, I would think, probably guessing that Tony would open his big mouth and mention them when they met face-to-face at last.
But since the fracas at the airport, Clint and the others have no idea where Wanda is or what has happened to her. She is not imprisoned on their level; she is a girl and they are all guys.
That, however, is only half of the equation. The other half is that Wanda is the single enhanced member of Steve's team besides Cap and Bucky. Ross, the guards at the Raft, and their collective bosses in the U.N., are all terrified of her power. They see her abilities. They do not see the person who uses them.
Steve does, Clint does, and Sam does. Doubtless, Bucky can see past her powers to the girl wielding them. Even Scott Lang sees her as a person. Remember when he is geeking out over meeting Cap? He turns to Wanda after a few seconds, points at Steve, and says, "Wow, Captain America… I know you, too. You're great!"
No one on Team Cap sees a dangerous weapon when they look at Wanda. Tony, however, needs his eyes checked.
If you add this fear of Clint's to Tony's betrayal of the Avengers' agreed upon leader (Cap), and the fact that he has been incarcerated as a criminal for doing his job, you have a recipe for a big bowl of righteous fury. Clint is quite happy to throw the whole soup of his displeasure in Tony's face. Cap was right: Tony tore the Avengers apart when he signed the Accords. He has betrayed himself, Steve, Clint, Sam, Vision, Rhodey, Natasha, and – worst of all – Wanda.
The betrayal of Wanda is the worst because, of the Avengers, she is the weakest. Not physically or in terms of power quotients. No, Wanda is weak because she is inexperienced and needs guidance from people she can trust, people who care about her and will protect her. She is a child who needs teaching and attention – not house-arrest, fear, and jeers.
Tony called her a "Walking Weapon of Mass Destruction." He held her under house arrest in the Compound. Now, the government has taken her and locked her up, adding a straight jacket for extra insurance. (I hear it is not impossible for people to get out of those things. The fact that Wanda did not free herself says a lot about her – and a lot about the people who put it on her in the first place.)
Tony has the good sense to be ashamed for the first half of Clint's reprimand. Clint knows it will not last, and he makes sure to give Tony both barrels as fast as possible, reloading just as quickly. Tony does not like it, further endangering his friendship with Clint by throwing the matter of his family in the other man's face and asking why he did not sign the Accords for their sake. The mention of his family in a bugged and camera-filled cell, when they are a secret he revealed to Tony with the utmost confidence as a close friend, makes Clint really mad.
Still, despite it all, there is evidence to support the fact that Clint is not willing to abandon Tony to his mistakes. He warns Tony to "watch his back" with Ross, since the Secretary of State, "might just break it!"
Clint's warning, following on the heels of Natasha's similar angry remonstrance at the Avengers' Compound, has some effect on Tony. He does not tell Ross what Sam confides in him. Later, when Steve goes to break their mutual friends out of the Raft, Tony does nothing to help Ross. He puts the other man on hold, as he had promised.
So Clint is mad at Tony – and he is right to be angry at him. But he has not given up on him, just as Cap has not. That says volumes right there.
While the final scene where we see Steve stepping out of the shadows as Sam smiles at him is charming and applause-worthy, I kind of wish we could have seen Clint and the others' reactions to Steve's arrival as well. I love picturing the four trading quips as Steve unlocks the cell doors, then going down (or up) to the level where Wanda is being held so they can break her out. Alas, it can only be imagined. Unless Marvel makes a comic book about their escape, we have no other recourse.
Most likely, Clint will not stay in Wakanda as an ex-patriot. Neither, I think, will Steve. The two will perhaps make trips to visit the country so that they can keep tabs on Bucky's progress or walk about more freely, but neither of them could stand to be away from the U.S. for very long. And Clint still has a family to take care of, so he would have more reason to go back than anyone else but Scott Lang.
No, I think Clint will return to his family, as Scott will go back to San Francisco to be with Cassie. Steve, Sam, and Wanda may stay in Wakanda for a little while longer, but they will return to U.S. soil as well. Wakanda is a nice country, but America – that is home. And there is no place like home.
The three can easily go off the grid together and visit Clint from time to time when they come back. Because Natasha disobeyed the Accords, there is a chance that she will hook up with them, or that they will find and "recruit" her. From now on, Team Cap will be the "Secret Avengers." They will do their job without the "oversight" which Tony, Rhodey, and Vision must put up with. This will give them ample time to get stronger and more prepared for Infinity War, Part 1 & 2.
It will also give Tony time to reevaluate his choices, allow Vision a chance to do more calculations, and who knows? Perhaps Rhodey will wake up to reality by the next Avengers' film.
We can but hope. Until then –
Let's do this, Secret Avengers!
The Mithril Guardian