Finally – FINALLY!!! The trailer for Marvel's third Avengers film has been released! The first major teaser trailer for Avengers: Infinity War appeared on the Internet yesterday, readers. And it is a doozy!
You can find another breakdown of the trailer here, which I enjoyed reading immensely. But while I was watching (and rewatching, and rewatching….) the trailer myself the other day, I noticed a few things which Mr. Finn did not mention. Being the Avengers' fan that I am, it seemed reasonable for me to do a trailer breakdown myself. I need some way to burn off my excitement and trepidation, after all, and this appears like a good way to do it.
Why the trepidation? Well, for a start, this is Infinity War. This is the battle between Earth's Mightiest Heroes and the Mad Titan, Thanos, wannabe paramour of death's female incarnation himself. The way he plans to woo her is by uniting all six Infinity Stones to wipe out most of the universal population. (Hence the title Infinity War, Mr. Pine; it isn't about 'infinite war' but six mega-powerful rocks which can reshape the universe from the ground up at the whim of whoever holds them. They're so powerful the energy they produce is incalculable, i.e. infinite.)
At least, in the comics, Thanos' aim is to make Death fall in love with him. In the movies he might just be a galactic overpopulation nutjob worried that the universe is becoming too crowded, which means everything has to be put in 'balance' again. (Translation, a lot of people "have" to die – fast.) And since he is the best and brightest guy who noticed the rising population in the first place, it makes total sense for him to be the bringer of that balance to the cosmos. Yeah, sure; please insert scoffing raspberry here, readers.
Of course, this means that all our heroes are on the chopping block. We can be sure that a few will survive to be in more movies, but for others, there is no guarantee. Nada. Zip. Zilch. This brings me to my first observation about this trailer….
WHERE THE SAM HILL IS HAWKEYE?!?!?!?! (And Ant-Man, can't forget about him….)
Two whole minutes of trailer, and my favorite archer does not even get a cameo?!?!?! Are you kidding me?!?! Where is Clint Barton? Why isn't he in this trailer, at least as a voice? I thought we established waaay back in Age of Ultron and Civil War just how important Hawkeye is to the team. But he doesn't show up AT ALL in this trailer. Neither does Ant-Man, who would be a BIG help when our guys run into hordes, multitudes, and fireteams of alien monsters.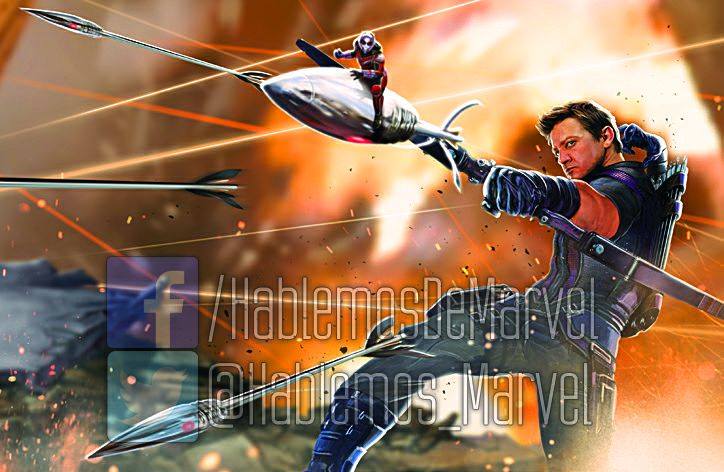 Where are these two?
Okay, now that I got the big problem out of the way, we can delve into the trailer.
The first picture we see is of a storm-tossed desert planet, followed by a shot of Tony sitting down somewhere. He is rocking back and forth on his heels, apparently trying not to cry. From later shots, it looks like this is a world where he and Spider-Man get trapped after they first face Thanos.
I'm guessing Peter gets seriously hurt here. I say hurt and not killed because Tom Holland still has two or three Spider-Man films in his contract. These films are set between the Avengers' movies, so they cannot afford to knock off Peter Parker here. Not yet, anyway, or at least not permanently. We also have a voice over throwback to The Avengers where Fury explains the Initiative to Steve on the Helicarrier. But it is Fury's only line in the trailer as Tony, Vision, Thor, and then Natasha finish his speech for him.
The next scene shows Dr. Strange and his buddy Wong looking down at a confused and shirtless Bruce Banner, who has literally dropped into the Sanctum Sanctorum from above. Aside from the fact that this is another nice nod to The Avengers, it apparently has something to do with the end credits for Thor: Ragnarok. I am guessing, since I have not yet seen the film, that Hulk somehow got blown off of Asgard when it went BOOM and has landed, as Banner, in Dr. Strange's house. I thought he left Asgard with Thor, but apparently he decided to take the quick way home. Probably for the best, considering what we see later on….
Next image we have shows Paul Bettany, sans Vision makeup, throwing curtains open on a rainy day/evening/dawn. Now if you watch this clip and do not stop it, you will miss an important thing. You will miss the fact that Wanda is in this room as well. Look to the left of the frozen image and you will see her in a bed. THIS IS A BEDROOM, PEOPLE!! AND SHE IS SHARING IT WITH A HUMAN VISION!!!!
Holy cow, I did not see this coming, although I did see the romance part coming. (Spoiler alert, they married in the comics. It was fine for a while, but then the writers abused them, so it got weird.) Looking at this still shot, it appears that Viz woke up and went to look out the window at something, waking Wanda up in the process. But why is he human? And when did they start rooming together (or did they actually get married in the films after all)?
Unfortunately for Wanda and/or Vision, I am pretty sure this is a hallucination. Or someone is poking around in their head(s), looking at their desires/dreams, taunting them by using these fantasties. (Vision cannot ever be physically human, readers; that is why I say this is a fantasy.)
One of the reasons I think this may be a hallucination is because the Black Order, five or six alien warriors who follow Thanos and who want to bring death to everyone everywhere, are said to be a part of this film. Given that the next scene shows the Mind Stone still in Vision's forehead, I am thinking Ebony Maw or Supergiant, two telepathic/psychic members of the Black Order, are playing around with either his fantasies or Wanda's. If it is Wanda they are messing with, I hope the Scarlet Witch pastes them. If it is Vision, the Black Order might have captured him, meaning that they may be trying to interrogate him.
Another theory I have for this scene is that this is Wanda's fantasy, and Vision is working to snap her out of it. Or Vision has found a way to disguise himself so that he looks human, which means that he and Wanda are actually living together here. This might explain a later scene which makes it appear that the Scarlet Witch hasn't been hanging out much with Team Cap. If she's been living with Vision, then the guys on Team Red, White, and Blue knew she was safe and happy, so they let her go with Viz to live off of the U.N.'s radar while they kept Avenging.
Our next throwback scene shows Thor looking out of what appears to be the Milano's viewports. How he ended up with Quill and the gang when he was supposed to be taking care of the Asgardians he saved in Ragnarok is anybody's guess at this point. I think those who have seen the film probably have better theories about the how than I do, so let me finish by saying why this is a throwback scene. Anybody remember Fury standing in a similar position aboard the Helicarrier in The Avengers? I sure do!
Next we have Bruce, in full attire, standing beside a Hulkbuster fist in what is apparently Wakanda. He is sharing a smile with a blonde Natasha Romanoff. (Really? Blonde? She originally had black hair in the comics, what was wrong with that color…?) I do not know if they will be picking up their relationship where they left off in Age of Ultron. I kind of hope they do; it was so unexpectedly sweet and suited them so well that I would really like to see them get back together. But we may get a Natasha/Bucky romance during Infinity War and its sequel instead. I would be happy with that, too, mind you, but the romantic in me still wants Bruce and Natasha to start dating again.
Up next we have scenes of Tony, Bruce, Strange, and Wong in the Sanctum, with a voice over by Thanos. We follow this up with Peter Parker's arm hairs rising. This could be a sign of his Spider sense activating, or it could be that the massive alien teleportation ring we see hovering over New York is generating enormous amounts of energy. Static electricity, after all, makes hair stand up straight. The energy the ring is producing may not be powerful enough to make long hair stand up, but it could make arm hairs raise. Just saying.  🙂
Then we have Tony, Bruce, and our two sorcerers standing out in the street staring at the big Ferris wheel in the sky. At least Strange and Wong are powered up and prepared to fight. Even Bruce is standing in ready position. Tony's the only one doing the "Oh, bleep!" blind staring act here.
Does he have another arc reactor in his chest? It is hard to see, since Tony's jacket is almost zipped closed, but I think there is actually another arc reactor powering his heart here. How did that happen? I thought it was removed in Iron Man 3. Did he have it taken out, or just replaced? If the latter, why haven't we seen it in the other films? Or is this a new, fancy Iron Man suit that he can hide under normal clothes, like some of the ones he has in the comics?
Well, we'll find out one way or the other. After this we see someone stepping over the bodies of a lot of dead people, followed by a shot of Loki holding the Tesseract out to Thanos. (Big surprise there – that rotten little weasel would get away from a dying Asgard with the Infinity Stone he promised to deliver to Thanos way back in The Avengers….grrrr.) From the looks of the backdrop and the apparel on the dead bodies, I would say this scene occurs in Knowhere.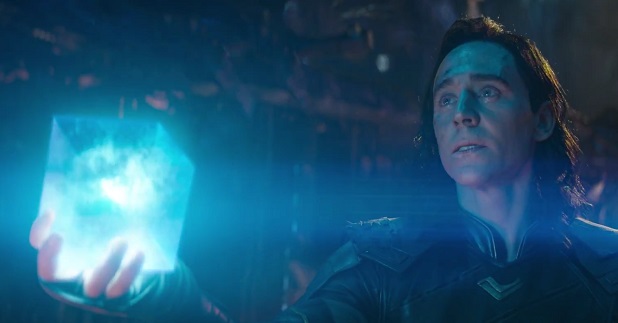 Loki, you @#%*$!!!
This is very bad, since this could be where Thanos goes to pick up the Aether/Reality Stone from the Collector. Not to mention it seems he killed a whole lot of people here for no good reason…. But then, he wants to kill everyone for no good reason. So this scene isn't really a surprise at all.
And Spidey got an Iron Spider suit. Shiny – and it is good at grabbing the rotating innards of that portal gizmo. Nice. Does it come with missiles and extra legs, too? Those would be helpful right about now…
Whoops, looks like Thor is standing in the center ring of an even bigger portal doohicky. And he is trying to tear it apart. Or is he trying to activate it? Those look like the controls for the Milano in his hands, but that big bubble-wand is not Peter Quill's ship. So what are we looking at here, exactly? And what is Thor trying to do?
All right, quick, stop that next scene!!! Did you see that?!?!?
No? Try again, as many times as you have to. We know who catches the glowing blue trident, but did you see who threw it?!?!
If you missed her despite your best efforts, don't worry, I did, too. A lot. But then I managed to catch a glimpse of her. That, my dear readers, is Proxima Midnight – one of the leaders of the Black Order and a nasty, nasty lady. Did I say she was nasty? She gives nasty a bad name. That trident is her signature weapon.
It is hard for me to say just where she is standing. Looks like it could be an airport or a subway tunnel; maybe a factory or a gas station. Either way, it is dark, so someone cut the power here, or this scene happens at night. Proxima Midnight – Near Midnight. Ha-ha, very clever, Marvel.
The person she threw the trident at is none other than Captain America. (Seriously, let the man shave already!!! Beards are not meant for combat – they're too easy for an opponent to grab and hold. Evans may get away with a beard, but Cap does not!!!) He is still shieldless but just as clearly still on the job.
I say this last because of the next scene where we see Steve. After Proxima tries to shish-kabob Cap, we see him step out of the shadows, looking like Star Wars Rebels' Agent Kallus. Nevertheless, Wanda appears to be very happy to see him. To me, she almost seems ready to cry at the sight of him. Judging by the stuff in the background and the fact that her hands are glowing, it looks like Wanda engaged Proxima first, which means Steve came to back her up.
But if she is about to cry on seeing him, that might mean she was not expecting him to show up. This concerns me; Steve may not be using his Captain America moniker for the beginning of Infinity War, but he is not the kind of man who will sit back and let evil have its day. The fact that he shows up fully suited and combat ready, if a little scruffy, suggests he has been maintaining his superhero status since the end of Civil War.
I thought the rest of the anti-Accords Avengers would be with him. But if Wanda is so near tears when she sees him stop Proxima's trident, plus the fact that she is wearing civvies and looks like she showed up to the fight underdressed, does that mean Cap disbanded his team and went solo? That doesn't add up. They're stronger and safer together, at least in pairs. I also don't see the guys letting Wanda run around on her own, not after Ross locked her up in solitary on the Raft in Civil War. That is not like them.
Of course, maybe she didn't give them a choice. Maybe she left of her own volition and has been staying off the radar her own way. If I were the guys, I still wouldn't be willing to let her go off alone. The fact that no one kept an eye on Wanda in the early '90s after she had suffered a serious string of bad luck was one of the factors which led to her going crazy in the Avengers: Disassembled and House of M comics. If the writers are planning to go in this unhealthy direction in the films, I will not be happy. But if this is the result of the fact that she has married, or is living with, Vision – that I will accept.
Yes, I know I skipped T'Challa's speech. But the part here with Wanda was really important. T'Challa's words are totally in keeping with his character, and they do him immense credit, so I do no think I have to really dwell on them. Though I will say that I went a little squeaky when T'Challa said, "And get this man a shield." Eeeek! Way to go, Panther! Make sure it is colored right, please! Yay!!!!! Captain America forever!!!!
Okay, next we see a new and improved (we hope) Hulkbuster in Wakanda, followed by Natasha jabbing someone in the midsection with a staff. Judging by the scenery behind Widow, I would say this is the same fight where Cap shows up to help Wanda battle Proxima Midnight. (Please let Natasha be stabbing Proxima Midnight, please let Natasha be stabbing Proxima Midnight, please, please, please…!)
Then we have Dr. Strange relaxing/freaking out (?) after doing a little magic (I mean, super-duper fast quantum calculations). Then we have a giant black pyramid thing – one of several – landing in what appears to be Wakanda. I am with Mr. Finn; if the Soul Stone is not in Wakanda's basement treasury, I will be surprised and disappointed. There is no way Thanos and his aliens are after the vibranium – not when they can get better, stronger material in space. They have to be after something else here.
After this we see Cap (without a shield), Panther, and a lot of Wakandans mixing it up with four-armed, big-toothed aliens. Then we see Spidey get slammed into the dirt by Thanos, followed by a shot of a distressed, unsuited Tony Stark. Next we see someone standing on Vision's chest while stabbing the Mind Stone in his head, using a staff shaped like the one Loki had in The Avengers. This begs the question of whether or not Loki is the one doing the stabbing; looking at the shape of the stabber's feet, I am inclined to say it is actually Ebony Maw or Corvus Glave, but I could be wrong.
I was actually much happier to see Bucky than I expected to be. That is a really nice gun, there, Buck. And you have a shiny new arm! (Please tell me it is made of vibranium; please tell me it is made of vibranium…!) Then we see T'Challa turning to look at the screen. If you freeze the shot, you will notice that Natasha is standing next to him. Her hair is in the lower right corner.
Go get 'em, guys!
This is followed by assorted scenes of combat, as a horde of aliens tries to invade Wakanda. The only Avengers we can confirm are present in this battle so far are Cap, Widow, Bucky, Hulk, Panther, Falcon, and War Machine (I guess they fixed his back). Finally, we get a glimpse of Thor asking who in the Sam Hill the Guardians of the Galaxy are.
The Guardians of what again?
You can just see the air go out of Quill's tires when he says that. Four years on the job as Guardians and yet the Prince – now King – of Asgard has not heard of him and his crew? Come on, man!
The Guardians of the Galaxy
This is going to be a rip-roaring ride. I cannot tell who may or may not die. Personally, I hope Thanos and the Black Order all get obliterated from the universe during this film, or during Avengers 4. And if bad stuff does happen to our heroes – and I do not see how they can escape scars, bruises, etc. here – I hope that six of 'em each get a hand on an Infinity Stone and use the rocks' combined power to set things right.
Some will say that is cheating, and maybe it is. But as I have said elsewhere, I do not go to these movies for the villains. I do not go to them to be told, "Lie down and die." If I wanted that message, I would go to a DC film or to see the latest installment in the X-Men franchise.
I go to the Avengers films because they tell good stories, using heroes I love, and they give me hope. That last is in VERY short supply in most of the fare we receive from Hollywood these days. Only the Lord of the Rings and the Hobbit movies gave me the same sort of satisfaction as the Avengers have, with Star Trek a close runner up. I would not even be going to cinemas now if it were not for the Avengers cinematic saga.
So whether anyone likes it or not, I am not raffling off any of the heroes for death in this movie or its sequel. If the writers kill them, I am stuck; if the actors who play them have quit and necessitated the killing, I am stuck. I will not complain if they are sent off with honors. However, whether they live or die, I will not desire their deaths or the deaths of any other heroes in the films.
I do not worship death, as some of the people who follow these movies seem to do. I worship God, Whose hand I have seen in most of these stories. If the film writers turn away from Him, then they can kiss my cash goodbye. It has been a great ride, and I hope they end it well. If they do not, it will be a tragedy; but I have trusted God to steer them right so far. I trust Him to do it again. After Avengers 4, I will be able to either peacefully enjoy what comes next, or disengage from the franchise with a fond farewell. What shall be is not yet determined. It is out of my hands; I can only wait and see.
Ha, haha. For once, waiting does not seem quite as hard for me now as it has been in the past.
Avengers – Assemble!