Last year I promised that I would begin doing Spotlight! posts about the characters from my favorite Zoids series, along with articles about the "mechanical combat units" themselves. Today, I am making good on that promise; here we will discuss the hero of Zoids: Chaotic Century – Van Flyheight.
Van is fourteen at the start of the TV series (the translators in Canada mistakenly have another character in the show say he is seventeen). Raised in the farming town of Wind Colony, Van's father died five years before the series begins. Imperial soldiers came to the Republican colony when Major Dan Flyheight and a group of Republican soldiers were nearby. The commander of the Imperial division threatened to burn the village to the ground, but Dan Flyheight and his white Command Wolf, Zeke, took the entire unit down single-handedly.
So at the beginning of the show, Van is being raised by his older sister, Maria, in the Wind Colony. Every chance he gets, he sneaks away from her to explore the ruins of nearby military bases. Judging by their appearance, these bases long predate the current war in the show. Van does this to seek adventure and scrounge for scraps of salvage, despite his sister's constant warnings that this is dangerous – not to mention her insistence that he do his chores.
Van Flyheight
But come on, what fourteen year old boy who wants to be the greatest zoid pilot ever is going to listen when his big sister tells him to do boring chores? As the village priest tells her, "You can't stop the boy from wanting to find a zoid of his own." And that means she cannot stop him from running off to the desert.
Open, energetic, and easily excited (or offended), Van once again escapes his sister to go exploring in the first episode of Chaotic Century: "The Boy From Planet Zi". But he gets more than he bargained for when a bandit named Bole begins chasing him in a newly acquired blue Guysack (scorpion-type Republican zoid – more on that another day).
Van escapes Bole by the skin of his teeth, hiding in the ruins. Then Bole's compatriots/babysitters, Bianco and Nero, come to dig their young charge out of the rubble. Before they do that, they shoot at the ruins to trap Van inside so he cannot go running off to tell the villagers he saw them. That would bring the Republican Army down on the Desert Alca Valino Gang, and none of them want official trouble.
Inside the ruins, Van notices a heretofore hidden door which is now askew. He goes down the path to find a secret room with two green stasis pods inside. Accidentally opening the first, he encounters and befriends Zeke.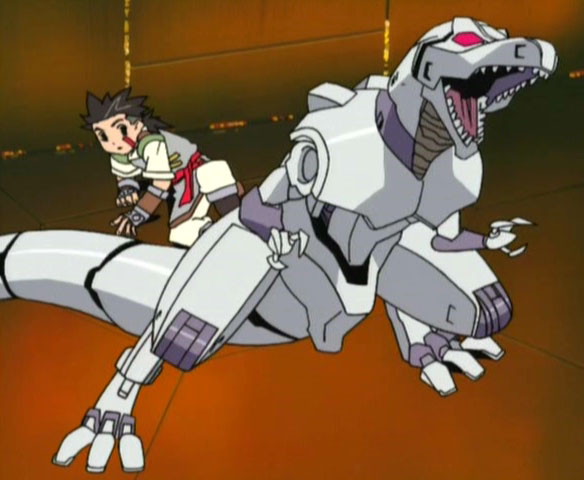 Van Flyheight and his organoid, Zeke
More information about their first meeting can be found here and here, readers, if you want to start watching the series. Even all these years later, I absolutely love this show, and Van is a big reason why.
Despite the fact that he starts out reckless, hotheaded, and callow, Van quickly wins a viewer's affection with his willingness to pick himself up and dust himself off. His kind, selfless nature make up for his naïveté and impulsive behavior. Over time he matures into a stronger boy, eventually becoming a great young man you still want to cheer on.
While it seems like mere luck that Van lives long enough to become the "greatest zoid pilot ever," there is actually a lot of raw talent backing him up. Van has the potential to be a great pilot right from the start; he is perceptive, inventive, and quick-thinking. All he needs to learn at the beginning of his career as a pilot is how to put that together with his fighting skills instead of charging blindly into a battle.
It must be said that no one viewing the show would love zoids very well without Van Flyheight. A boy "with a strong fascination with zoids," Van loves the mechanical animals almost as much as he loves those who are related to him or who are his friends. The entire reason he and Raven, his archnemesis through most of the show's run, begin their feud is because the latter takes pleasure in brutally destroying zoids.
Raven vs. Van Flyheight
And when I say brutal, readers, I mean brutal. Van rightly calls Raven's attacks evil, but we would not really notice how evil they were if not for our hero's instinctive reaction to Raven's fighting style. This brings another characteristic of his to light; much like Captain America/Steve Rogers, Van has a heightened sense of right and wrong. He may not be able to explain how he knows the difference between good and evil on occasion, but when he sees some wrong being committed – no matter how small it may be – he instantly recognizes it and acts to correct the transgression.
Of course, some will ask how I can say this, given Van's penchant for sneaking away from his sister and disobeying her. First, it is important to remember that I did not say Van was a saint. I said he was good – about as good as Captain America, though he may be a few bars lower on the scale. Besides, avoiding chores does not make anyone a criminal-in-training; it certainly seems that Van was obedient most of the time. And who knows where we would be if he had not snuck out to play in the desert every once in a while? Zi would be worse off if he had stayed home, I can assure you!
This exemplary standard of goodness in Van has a profound effect on those he meets. They are impressed, either immediately or over time, by his innate goodness, his determination, and his no-quit attitude. We see this most in the first adult friends he makes outside Wind Colony: Irvine and Moonbay.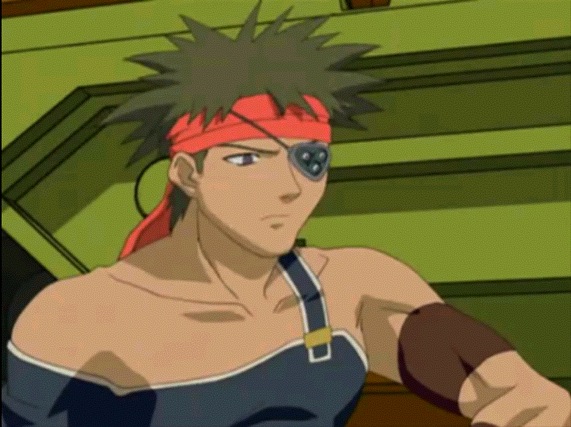 Irvine
Irvine and Van meet in the episode "Memory." A wandering mercenary who fights or "protects" for money, he is in the area when Van and Fiona get lost in a sandstorm. On the hunt for an organoid to increase his power and strength, Irvine decides to try and steal Zeke from Van. You would think this would make them enemies and, for a while, they certainly are not friends.
But Irvine is not yet so far down the Dark Path that he is immune to Van's inborn decency. Before you know it, he is traveling along with Van, Zeke, Fiona, and Moonbay. Though he says several times he is just waiting to find an opportunity to steal Zeke, it quickly becomes apparent this is no truer than Han's statement in A New Hope when he says he is only interested in the money. Van's goodness awakens and enhances Irvine's, bringing it to the fore and making him a better person. The two eventually become brothers – not just in the sense of being fellow pilots of high skill, but in the fact that they watch out for, care about, and protect each other.
Moonbay fills the role of mother for Van in the beginning, a little like Hera Syndulla does for the crew in Star Wars Rebels. But where Hera is calm, cool, and very hard to ruffle, Moonbay can and will raise her voice in fury when someone ticks her off. Like Irvine, she has also become jaded by "real life" and she has a mercenary streak. More than once we see her wheeling and dealing on the side to earn more money than others think she needs. Van only directly confronts her once during one of these deals when she almost pulls a genuine swindle, telling her that he "can't explain it using big fancy words but… [he] sure know[s] the difference between right and wrong!"
Moonbay
In reality, Moonbay is not much of a mercenary. She just loves traveling, which means that she needs enough money to support herself – not to mention the rest of the gang while they are roving along with her. As a disciplinarian, she is able to get more and better results out of Van than Maria for the simple reason that she is not his older sister. She treats him like the kid he is and tells him off when he deserves it – sometimes with a punch, if she feels he has earned one. At the same time, Van's goodness keeps Moonbay honest and makes her strive to be better, even if she won't necessarily admit that out loud.
Zeke remains Van's best friend and fellow combatant throughout the series. The two are devoted to each other, almost like twin brothers (as opposed to the older brother/younger brother relationship Van and Irvine share). Much like Van, Zeke seems to be possessed of an inherent gentleness and goodness. Where others might have beaten this out of him, Van's natural kindness enhances Zeke's and keeps him innocent.
Van and Fiona
Finally, we come to the relationship Van has with Fiona Elisi (Alicia?) Linnet, the Ancient Zoidian girl he finds in the same ruins where Zeke is hidden. When Fiona is released from her stasis pod, she initially has no memory of who she is or where she came from. She cannot remember her real name (Elisi Linnet), only the name "Fiona." Despite being irritated by her constant questions in the first two episodes, Van immediately works to help Fiona, taking her to his village so she can be safe.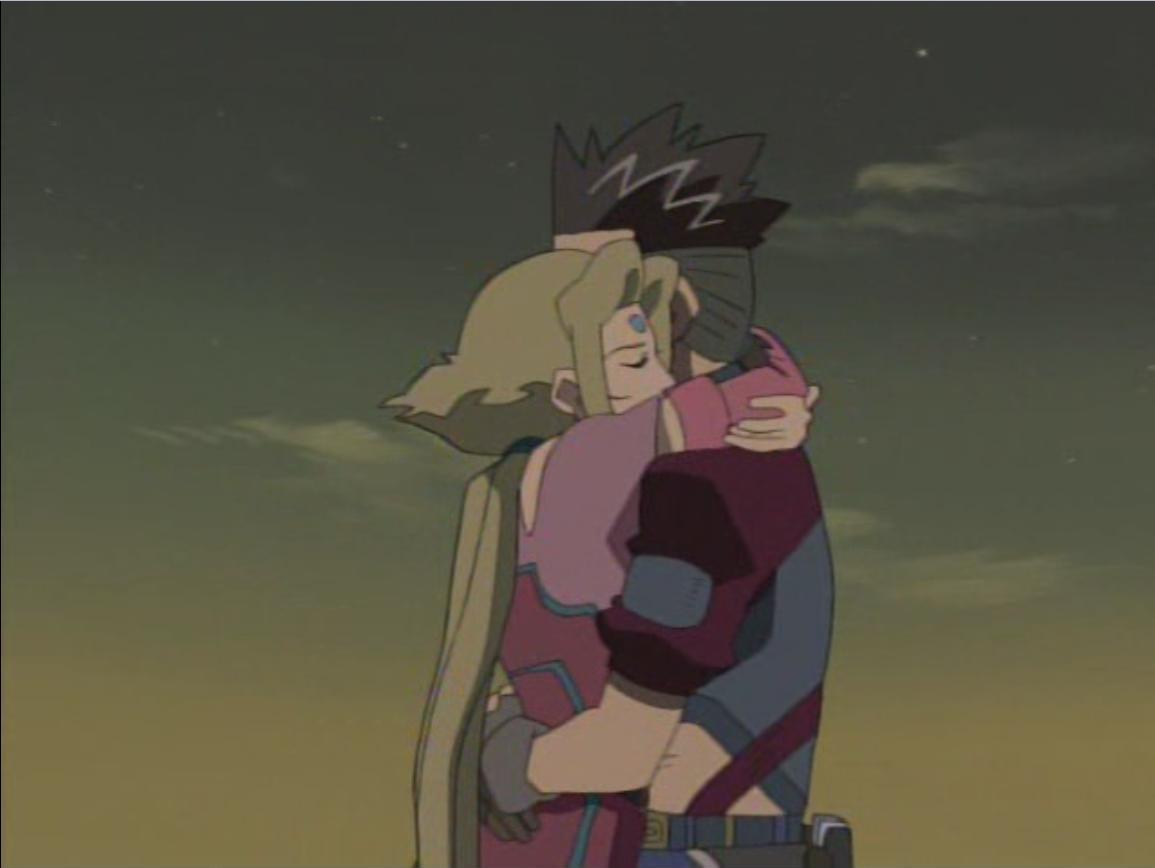 While they start out as friends, over the course of the show the two obviously fall in love. Though we only see them kiss once (when Fiona has to talk to Van via a psychic image and/or hologram), the rapport between the two is not that of a brother and sister or of two friends traveling together. It is most definitely romantic, and in the best kind of way. This is made blatantly clear in episodes such as "A Voice from Afar" and "New Liger," where Van can hear Fiona's voice in his mind. The two early on show signs of developing a romantic bond, which seems to be the basis for the psychic tie that arises between them.
But the relationship which has the most profound impact on Van's character is one we never see. This is his bond with his father, Major Dan Flyheight. Though we never watch them interact on screen, Van's dedication to becoming "the greatest zoid pilot ever" is due entirely to his admiration of, and his love for, his deceased father.
Dan Flyheight
We only see Dan Flyheight once in a flashback in the episode "The Distant Stars." However, that brief glimpse shows us where Van gets not only his piloting skills, but also his kindness, gentleness, and strong sense of right and wrong. Dan's last words – his last thoughts – are for the two children he will leave behind, showing that the strength of Van's love for his family and friends was learned at his father's knee. He even names his best friend Zeke after his father's zoid. In a world where the power of the father is laughed off and derided as unnecessary, Van proves the exact opposite with his fond remembrance of the father he lost too early.
The plot for Zoids: Chaotic Century is the joys and travails not only of a boy becoming a man, but of a page becoming a knight. Van is needed now more than ever for viewers, boys and girls both. Girls will learn what really makes a man by watching this series, while at the same time boys learn the virtues which will be their guides and friends throughout their lives.
If, as is possible, someone intends to make a film (or a series of them) about Zoids: Chaotic Century, they HAVE to get Van Flyheight right. If they do not do that, then the movie(s) they make will be worthless, or very close to it. Along with Captain America, Aragorn, Optimus Prime, and Sir Galahad, the one character in the universe who you CANNOT mess with is Van Flyheight, readers.
But you do not need to take my word for it; just visit the posts I have about the show to see what will be lost if Van is not brought to life properly. Or, better yet, hunt down Zoids: Chaotic Century's eleven DVDs on www.amazon.com and watch the show yourselves. If you hate it, I will be surprised. If you love it – welcome to Zi, readers! We're happy to have you on the battlefield!
Catch ya later! 😉