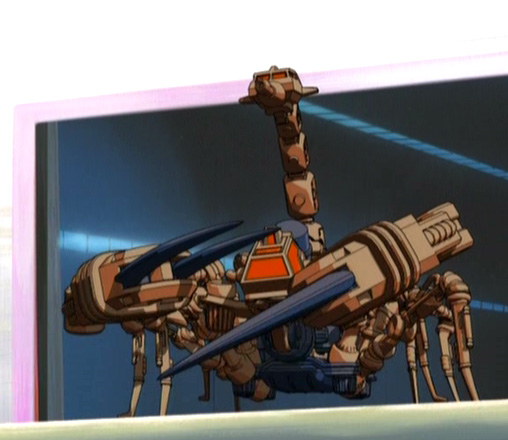 Well, here we are on Zi again, readers! Today's subject is a Republican zoid, the Guysack. Before we go further, you pronounce it guy-zak, not guy-sack. I know, it is not pronounced the way it is spelled. If we were to list all the words that are pronounced in a different way than they are spelled, however, we would be here all day.
Okay, so the Guysack is obviously a scorpion-type zoid. Used by the Helic Republic's infantry pilots, the Guysack's cockpit is in its head. Most of these cockpits have orange canopies, but I did see one with an emerald canopy. Their traditional coloring is a sort of sandy brown, which lets these zoids blend in with the desert.
These are zoids which can burrow under and crawl through the sand dunes of Zi. Speedy and lightweight, every Guysack I have ever seen comes equipped with a gun in the end of its tail, where a real scorpion's poisonous stinger is hidden. This is the zoid's main weapon, but it can be outfitted with other armaments. Stinger, a mercenary character whom we will discuss in detail later on, owned a modified Guysack which came with extra guns on the tail and missile pods on the main body. I believe there might also have been some mini-guns attached near the zoid's pincers. Despite this added ordinance, however, Stinger's Guysack was faster than most of its brethren due to even more modifications he had made to it.
Now those pincers in the zoid's "mouth" really aren't useful for combat, but the Guysack's calws are not to be messed with if you can help it. They are wicked sharp and can do quite a bit of damage, something Zeke can tell you better than anyone. I never saw the Guysack's claws used as much as they could have been, but I am fairly sure that they can cause a reasonable amount of damage to other zoids.
Most of the time we saw Guysacks in Chaotic Century, they were used as Sleeper Zoids – or "Sleepers" for short. Sleepers are zoids run by computers which use preprogrammed tactics to decimate enemy units. They have a certain amount of cunning when they are set loose, being able to lure enemies into hard-to-escape areas where they are easily surrounded and overwhelmed by the Sleepers' (usually superior) numbers and firepower.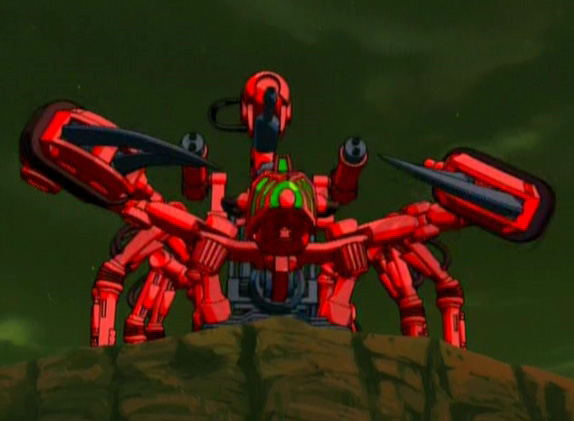 Stinger's red Guysack
While Sleepers do not have enough smarts to outthink a zoid with a pilot, the fact that there are a lot of them often makes up for their lack of intelligence. Also, Sleepers do not necessarily differentiate between transporters and enemy units. Van, Fiona, Moonbay, Zeke, and Irvine were all caught in a "Sleeper Trap" in the fifth episode of Chaotic Century, primarily because the Guysacks sensed the ammunition Moonbay was carrying had been made by the Guylos Empire. Because of that, their programming activated and they chased the gang into the ruins where they were based.
You can see how the heroes escaped this trap when you watch the episode, readers. Suffice it to say, Guysacks were not much more than cannon fodder throughout Chaotic Century. Even when they were piloted by characters that played important parts in certain episodes, they did not stick around long. Van stole Stinger's Guysack and piloted it well, but his skill wasn't enough to keep the mercenary from blowing it apart.
Bole was not an impressive Guysack pilot. He somehow wrangled and got control of a wild blue Guysack before the first episode of the series begins, but he never does more than shoot or ram with it. Aside from beating up Zeke, he did not show any particular talent for piloting which makes the Guysack stand out.
However, none of this makes the Guysack a weak zoid. And while it was most often shifted to Sleeper or infantry duty, we did see it put to other uses. The Guysack could be modified to serve as a construction/excavation vehicle; the claws could be removed and replaced with a scoop for digging or moving rock and dirt. It was also possible to swap the claws for individual metal detectors/sonars and other equipment meant to scan below the surface.
All in all, I would say the Guysack was a largely underutilized zoid. Despite the poor management of the zoid in this series, I have a certain respect for this "mechanical combat unit" and wouldn't mind using one in battle. I would certainly prefer the four-legged predator style zoids, but the Guysack has a lot to recommend it. It is not a zoid I would disrespect or refuse to pilot.
To see more of the Guysack, check out Zoids: Chaotic Century at your earliest opportunity, readers. While the Guysack appeared in Fuzors (with green armor), from what I remember, Chaotic Century will be the show where you will see it in action most often.
See you on the battlefield!