Yep, here is another Spotlight! post about a character from Zoids: Chaotic Century, readers! If I seem to be on a Zoids kick at the moment, the fact is that I want to get as many of my promised character and zoids posts done this year as possible. I've been falling behind, so there is some catch up to be done here. That begins today with this post, which focuses on Fiona Elisi Linnet, heroine of Zoids: Chaotic Century and love interest for its hero, Van Flyheight.
Fiona appears at the end of the first episode of Chaotic Century, "The Boy From Planet Zi." Van finds her in the same room where he discovers Zeke. Thinking her pod contains another zoid, he is somewhat startled to find there is a blonde girl roughly his own age inside instead. Hilarity ensues as he brings her back to his home, the Wind Colony, in his new Shield Liger.
It quickly becomes apparent to both Van and the audience that this girl has amnesia – a very severe case of it. She doesn't understand several common turns of phrase which Van uses, and she apparently has no idea what a name is, since she appears unable to identify herself every time he asks for her name. It also appears that she thought Van meant her instead of him, since he tells her at one point, "Watch my lips – it's Van."
Finally, she blurts out "Fiona" in response to his renewed request for her name, then follows it up with "Van" as she prepares to ask him another question. For a moment, our hero is almost apoplectic: "Look, I know my name is Van –"
Then it dawns on him that she said "Fiona" first, and he asks if that is her name.
"Who's Fiona?" she asks, and Van states that she said the name first. "Really?" she says, sounding perfectly innocent and curious. "Does that mean I'm called Fiona?"
For the first five episodes, this is how their relationship goes, with Fiona asking questions that have answers which are blatantly obvious to everyone but her. It is funny but also sad – and, as we see later, dangerous. Because Fiona knows so little, her naïveté is extreme. At one point, she goes to free her captive friends, declaring her purpose loudly as she trots past one of the bandits holding them prisoner. Yes, she was that naïve. (Oh, by the way, you are going to love what she does with salt, readers. 😉 )
Over time, Fiona loses this blithe innocence, though she remains decidedly pure in mind and soul. She also develops an affinity for computers and science (at least, all the sciences relating to the maintenance and well-being of zoids). It becomes apparent early on that she and Zeke share some kind of connection; you may have noticed that Fiona's eyes are not a normal color. They are the same fuschia as Zeke's, which is an early implication that she has a special bond with the organoid.
In fact, Fiona is not human, but a member of a near-human species native to Zi that vanished long ago. Known as Ancient Zoidians, Fiona's people were the ones who developed/built the zoids everyone on the planet uses. But Fiona does not remember this until halfway through the first season of the show. Even then, she doesn't recall enough of her past to figure this out herself. It is a friend of hers who points out that she seems to fit the descriptions of these early denizens of Zi.
If Van is the main selling point of the series, then Fiona is a close second. While she rarely takes the controls of a zoid and never goes into combat unless she is acting as Van's copilot, she does have mettle and will fight – albeit in a manner that is "girly" – when she is threatened. To be honest, I would say that fighting was not her greatest strength anyway. Viewers don't remember Fiona because she kicks butt; we remember her for her generosity, kindness, purity, and goodness.
When it comes to her relationships in the show, Fiona's innocence is what has the biggest effect on people. Where Van spurs others to be good with his determination and resolve to do what is right, Fiona brings out the gentleness and kindness in others with her innocence. Like Zeke, she is possessed of an inherent sincerity that makes good people automatically react to her with kindness. Where others might have mistreated her in order to "break her in" to the "real world," Van and his friends instead work to protect her. And this is despite the fact that her initial simplicity often annoys them or makes their lives more difficult.
Her relationship with Zeke shows that she considers the organoid something of a twin brother, but in a different way than Van regards him. Fiona and Zeke are psychically tied together by a special rapport native to their two species, and so their personalities are very similar. The differences between them are mild, and mostly boil down to the fact that Zeke is more willing to enter combat – solo or otherwise – than Fiona is. When they combine their extrasensory abilities, the two can increase not only their own powers, but Van's and his zoid's as well.
The proof that Fiona's greatest power is her innocence actually shows first in the episode "Memory," where the two meet the mercenary Irvine. While lost in a sandstorm with Van, she accidently steps into a whirlpool of quicksand that nearly swallows her up. Having appeared out of the storm as if by magic, Irvine acts swiftly to save Fiona from being dragged under the sand. However, this kindness on his part appears to be temporary when he later holds her hostage in the same episode, thinking doing so will convince Van to hand Zeke over to him. Zeke dispels this illusion fairly quickly.
Despite these less than noble actions on his part, it is shown that Irvine is not immune to Fiona's purity. When she puts him on the spot in the following show – "The Protectors" – Irvine has to admit that not only does he not dislike her and Van, he actually has a soft spot for them.
I have to say, her friendship with Irvine was one of the best things in the series. It becomes obvious from "The Protectors" onward that she has the cool mercenary wrapped around her little finger. Irvine shows by small gestures and a few words that he really cares about Fiona. While there may be a bit of nostalgia on his end in this relationship (more on that in his post), it is made clear that he would throw himself in harm's way without a second thought if Fiona were ever put in serious danger. In fact, from something I read about the manga for Chaotic Century, when a female bandit gave a veiled threat to Fiona, Irvine pulled his gun on her and stated she would be dead if she tried it. If that isn't a sign of intense devotion to another person – and in a non-romantic relationship at that – then I do not know what is.
Moonbay and Fiona's friendship is a mixture of mother/daughter closeness and sisterly camaraderie. For the first dozen episodes, Fiona mostly follows Moonbay's lead, as the savvy woman takes her under her wing. When not copiloting with Van, Fiona can often be seen as Moonbay's shadow. She trails after her around the colonies and cities they visit, watches her repair the zoids, or helps her make dinner/break camp.
Fiona intervenes in Moonbay's business dealings even less than Van does; she only shows anger at the older woman's more mercenary tendencies once that I can recall. And while it may look like Moonbay treats Fiona as a pet or a servant early on, the reality is far different. She genuinely cares for the younger girl and wants to protect her. If anything, this may be the reason why Van and Irvine often leave her in Moonbay's care; they can protect Fiona from outside threats, but they can't teach her what it means to be a woman. Moonbay can, and she settles into the role of mother/older sister for Fiona with admirable ease.
It is also likely that her ability to repair/maintain zoids is what fostered Fiona's own aptitude in these areas. Although she had another mentor in this field later on, following Moonbay around as she saw to the boys' zoids probably reignited Fiona's latent capabilities in mending or upgrading the living machines. It is one of the talents Moonbay is most pleased to see Fiona exercising later on in the series.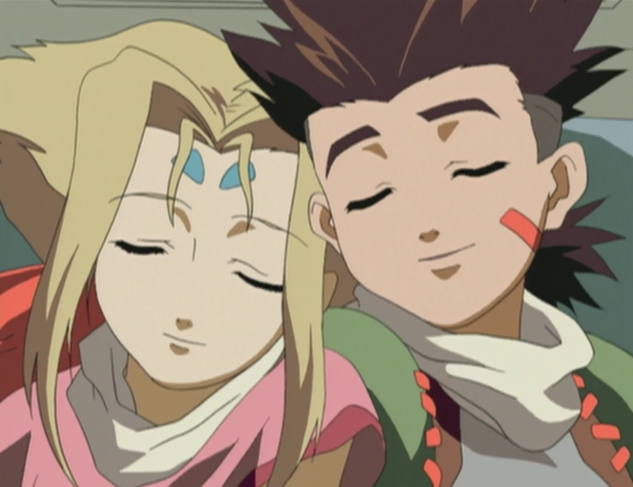 Now we come to the most important relationship Fiona has in Chaotic Century. It is evident almost from the beginning of the series that she quickly comes to care for Van as more than a friend. She worries about him when she must stand aside to watch him fight, often murmuring his name during a confrontation or shouting it when she sees him get hurt. Where this would seem to be "softness" in a heroine in other stories, it is befitting of Fiona, who is gentleness itself.
More to the point, despite preferring to stay out of zoid combat when she is alone, Fiona shows no qualms about "flying RIO" with Van in his Ligers. Considering the danger to him in the cockpit, it takes nerve to sit behind him when he is in a battle. This shows that Fiona is not a coward or afraid of conflict; on her own, however, she does not seem to feel she has the ability to bring out the full potential of a zoid in combat. She would rather watch Van's back during a battle than fight solo in her own zoid.
As stated in the post about Van, he and Fiona develop a psychic tie during the series. Fiona obviously initiated this link, since she is telepathic/empathetic. But it seems likely that, if Van hadn't been open to such a connection, their bond would never have formed at all.
This tie between the two is only activated in a noticeable manner when Fiona is specifically calling to Van or searching for him. On his own, Van cannot sense her as she can sense him, or call to her in a directly telepathic manner. In addition, if Van is hurt and lost somewhere far away from Fiona, she cannot pinpoint his location with perfect accuracy. Not until she gets closer to his position, at least. The less distance there is between them, the better her ability to locate him, generally speaking.
Should a film company get their hands on the rights to Zoids: Chaotic Century, I can see them trying to make Fiona more of a kick butt superwoman than a "stand and wait" heroine. I can also see almost any actress cast in her role demanding this change, too. This would be more of a tragedy than any changes made to Van's personality, readers; Fiona is not strong because she can fight. She is strong in her innocence and the power it gives her to bring forth the goodness in others.
Having seen other female characters in following Zoids series that are more "kick butt" than "stand and wait" heroines, I can say with all honesty that I prefer Fiona to Rei Mii, Danbul, Lena Toros, and even Naomi Fluegel. Naomi was a pretty good combat pilot – not as good as Genesis' Danbul or Rei Mii – but she wasn't bad either. In the end, though, Fiona is superior to all of them because of her innate goodness and purity. She wins the argument hands down and is the unchallenged queen of Zoids heroines.
If any filmmakers change Fiona Elisi Linnet to make her more of a Femi Nazi character, I will be livid. You will never get me into a theater to watch a Zoids film (series) which makes Fiona less than the heroine she is in the anime, readers. So if the rights to Chaotic Century are in the hands of Hollywood (or its Japanese equivalent), watch your step, people. There is nothing more worrisome in your line of work than angry fans.
Well, that concludes this character post, readers. If you want to see Fiona Elisi Linnet and Van Flyheight in action, check out Zoids: Chaotic Century either at www.watchcartoonsonline.com (I finally have a free web address to give you!), or order the DVDs on Amazon.
See you on the battlefield!