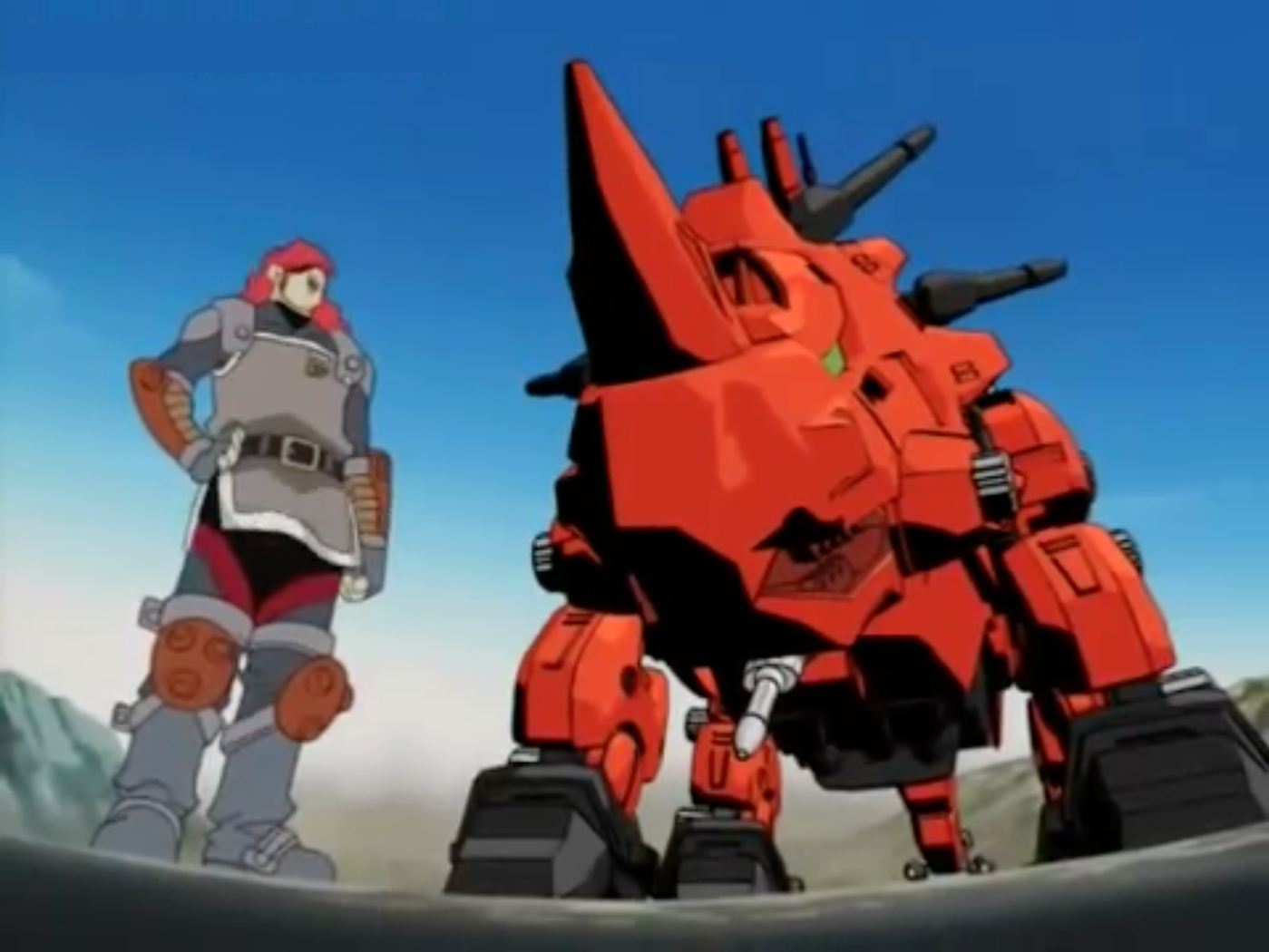 Rosso and his Red Horn
And we are back with another post about a zoid, readers! Technically, we will be discussing two different "mechanical combat units" today. They are both the same "species" and probably count as the same zoid, just with different color schemes. Visually, that appears to be the only substantial distinction between them.
Today's subjects are the Styraccosaurus-type Dark Horns and Red Horns. Used by the Imperial Army, Dark Horns and Red Horns are the zoids piloted by anyone holding the rank of Lieutenant on up. They are not infantry creatures; you get to use them only when you move up in the ranks.
The cockpits for both zoids are in their heads, under those glowing green eyes. They can be outfitted with almost any type of arsenal, from machine guns to missile launchers to the trademark three-barrel cannon on their backs. They also have smaller guns attached to their chins, shoulders, and hips, along with radar equipment.
View the video below to see them in action, readers:
While not exactly fixed weapons, Dark Horns and Red Horns weigh a lot and are therefore relatively slow when compared to other zoids. The fact that they are so low to the ground doesn't help, either. Nevertheless, Harry Champ from Zoids: New Century Zero was able to reduce his Dark Horn's turning radius and increase its speed with boosters he had installed in the zoid's hips. But those were eventually fried because he over relied on them during his battle with the Blitz Team. That's really not surprising, since the guy had more money than brains and generally couldn't find his way in out of the rain unless you pointed him in the right direction.
But it did prove that the Dark Horn and the Red Horn can have their speed increased. Most pilots do not go in for such drastic modifications, probably because they can't afford them. We never saw this device used by the Imperial Army, which means the boosters either were not available in this time period on Zi, or they were too expensive to be bought and installed en masse. Either explanation works.
The only time I ever saw a Dark Horn piloted well was in Chaotic Century. In the episode "Raven," Van's old nemesis gets his hands on a Dark Horn and uses it effectively against our hero and his friend, a Lieutenant in the Imperial Army (more about him later). Raven was able to catch a Dibison's chin on the Dark Horn's nose horn and, using the other zoid's momentum and weight, roll it onto its side. He was also able to make the Dark Horn leap over Van's Blade Liger while the other was running toward him. So the Dark Horn it capable of quite a lot. Most pilots, however, are utterly incapable of getting such amazing results from it.
We didn't see too many Imperial Red Horns during Chaotic Century's run. The one I remember best is the Red Horn Rosso piloted before upgrading to an Iron Kong. Rosso achieved his full potential as a pilot in a Storm Sworder, although he piloted his Iron Kong with special skill. In contrast to that, his ability with the Red Horn is nothing to write home about….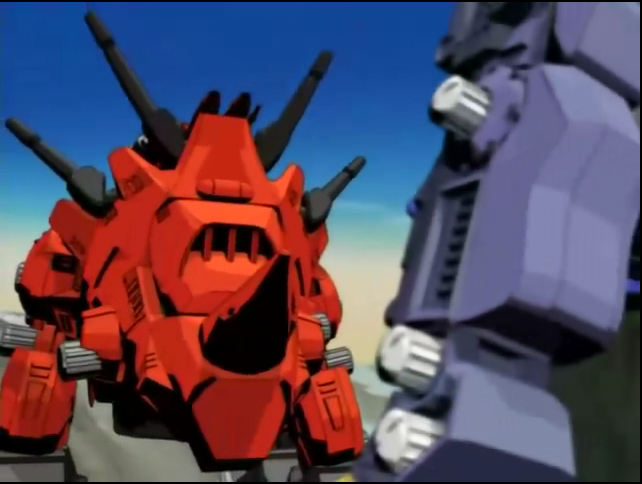 …Except for the fact that it hints at his growing talent. While we don't see Rosso do much more than shoot and charge in his Red Horn, it is never implied that he is a lightweight in combat. Looking at the picture of him below, you would think that was obvious; Rosso is not a shrimp by any stretch of the imagination. But that doesn't mean he was, is, or will be a good pilot. "Size matters not" in the cockpit of a zoid; as long as you can reach the controls and work the pedals, you can pilot the zoid you are sitting in.
Rosso's Red Horn had thick armor, especially on its nose. He was able to deflect the twin shots from a Shield Liger's back cannon with it. The maneuver didn't require him to do anything but turn the zoid's head, and it didn't so much as scratch the Red Horn's paint. Under his control, the Red Horn was also able to break through a Shield Liger's shield with a blow from its nose horn. After Raven, he is the only pilot I could point to as being exemplary in the command of such a "mechanical combat unit."
The last time I can recall hearing about a Red Horn was in Zoids: Fuzors. It appeared briefly during an arena battle, and its nose horn had been modified to act like Liger Zero's Strike Laser Claw Attack. When activated, the forward part of the nose horn would glow yellow, charged with energy so it could slice through an enemy zoid's armor. It seems like a rather ridiculous modification to me; the Red Horn's and Dark Horn's best assets have always been in the tip of the nose horn in my opinion. Having the front part of the horn slice through an enemy isn't overkill so much as it is… Stupid.
All in all, Dark Horns and Red Horns were pretty effective tanks. Slow though they were, they could deliver in terms of fire and ramming power. Again, predator-style zoids are more my thing, but I don't recall thinking Dark Horns and Red Horns were silly "mechanical combat units" to take into combat. They could be deadly when used properly, and their arsenal was never anything to scoff at, readers.
Well, that's it for now. I have one more Zoids post coming up, and then we will all take a break before I do any more. You won't see those zoids posts for a while, but they will be comin' round the mountain, don't you worry.
Catch ya later!