Whoo, all right! We are bookin' it, readers!  (Haha – pun. 😉 ) Here's the next Star Wars book on my promised review list: Star Wars: Dark Forces – Soldier for the Empire. This is the first of three short novelizations based on video games where the fan-favorite original EU character Kyle Katarn made his debut. Originally, the hero of the Dark Forces video games was supposed to be Luke Skywalker. However, the game makers realized that putting Luke in the games would mess up the franchise's continuity. So they decided to come up with a completely new character for the game instead.
This proved to be a really good idea. Due in large part to Kyle's character, Dark Forces skyrocketed to fame with fans, so much so that several subsequent games were designed for the new Jedi. To make one of these sequel games – Dark Forces II – more interesting, the designers hired actors and actresses to play the characters in "live action" cut scenes during the game. If you want to see what those look like, readers, then check out this post of mine here.
Based on the videos alone, I can see why Kyle became such a hit with fans. Dark Forces II was state of the art when it was created and, while it may not have held up perfectly in everyone's opinion, the craftsmanship that went into it still shows. Looking at those videos, I wish more modern games had scenes where real actors portrayed characters in the game(s) story/stories. Dark Forces II is a real gem!
All right, drooling done. Time to describe the book. Soldier for the Empire starts out long before Dark Forces II, taking place a few months before the Battle of Yavin. The book begins on the moon world of Sulon, a farming colony with a population mostly made up of humans and droids. Morgan Katarn, father of the hero of the story, sets out from his farm to replace a water pump some distance from his house. While he walks off, thinking about the state of the galaxy, he begins to get a funny feeling that something's coming…
Something dangerous.
His instincts are correct. Above Sulon, a Star Destroyer under the command of the Dark Jedi Jerec looks down on the moon. Despite what the crew thinks, Jerec hasn't come here just to destroy the Rebel cell on Sulon. He wants Morgan Katarn – alive. Morgan was friends with a Jedi Knight named Qu Rahn, a straggler from the Jedi Purge. Rahn entrusted a valuable secret to the farmer before going into hiding, and Jerec wants the power of this secret.
Since Qu Rahn's whereabouts are currently unknown, the Dark Jedi's come to Sulon to take what he wants from Morgan. To that end he deploys Imperial troops disguised as Rebels to lay waste to the farming community. He has them hit one farm and kill the family living there to make the assault look "realistic." Then he sends them on to Morgan's place.
But Morgan is Force-sensitve, just like his son. His going out to repair the pump isn't entirely his own idea, as he discovers when his position allows him to watch the Imperials attack and wreck his farmhouse. Recording the attack, Morgan goes to join the other Rebels, who decide to make a stand against the Empire. They believe the Empire has come to destroy the thermal generator they have been working on for some time now. Once completed and fully operational, the "G-tap," as the colonists call the generator, will provide the Sulon colony with energy independence.
While Morgan knows the G-tap is in danger of being destroyed, he counsels that Rebel lives are worth more than the generator. He reminds his fellow Rebs that they can always build another generator. They can't serve their cause or replace their people if they are all dead.
No one listens to Morgan's sound advice, though, and a few hours later the battle begins. As Katarn predicted, the Rebels on Sulon are completely wiped out. Among the few survivors left for interrogation, Morgan alone is hauled aboard the Star Destroyer to face Jerec. Rather than give the Dark Jedi what he wants, Morgan spits at him and makes a snappy, somewhat rude evasion.
Jerec's response is to behead him with a vibro-blade. The Dark Jedi then has Morgan's head put on a pike outside the space port for visitors to see. He has the rest of the Rebels' corpses beheaded and their heads lined up along the spaceport walls as well, to further emphasize the lengths the Imperials are willing to go to maintain control of the galaxy. (*Author whistles lightly.* They really didn't play around in the original Star Wars Expanded Universe, readers.)
Completely unaware of what is going on back home Morgan's son, Kyle Katarn, is undergoing his Omega Exercise. The last test Stormtroopers have to face before they enter service, the Omega Exercise consists of attacking Rebel bases. Those cadets who survive the battle to capture the base and kill the enemy become full-fledged Stormtroopers. The Rebel base Kyle and his men have been assigned to take is in an asteroid belt, but the base itself is called Asteroid-456.
Kyle's Exercise proves to be a brutal one, with most of his men killed during their forward march through the base. Halfway into the compound, Kyle and his unit reach the communications center of Asteroid-456. This base, as he learns later, is a communications' hub. Rebel journalists risk their lives to film Imperial attacks and atrocities before taking those films to bases such as Asteroid-456. From there, the Rebels broadcast the footage around the galaxy, allowing thousands of beings to see it. When they do, many flock to the nascent Rebellion to join up and put an end to the Empire's evil.
Having lost so many men in the fighting, Kyle's sergeant wants to kill the unarmed Rebels in the comm center immediately. But Kyle, who took his Stormtrooper helmet off sometime earlier, meets the eyes of one of the Rebels; a woman his own age he will later learn is named Jan Ors. He feels an instant connection with Jan, whose startled gaze shows she has felt the "spark" between them, too. Because of that – and the fact that she and the others are unarmed – Kyle orders his unit to spare them.
The Rebels don't wait around when he makes it clear they should go. They split, and Katarn takes his men back to the mess hall to wait for the Rebels' reinforcements to attack. Only six men, including Kyle, survive the resultant onslaught. With the sergeant among the dead, no one's available – or willing – to tell the Empire about the commanding cadet's merciful actions. Kyle is commended for his bravery in the battle at his graduation, being awarded one of the Empire's most prestigious medals. His friend Meck Odom invites him to dinner with his family after the ceremony, and Kyle has a grand time with them…
…Only to receive a devastating shock later that night, when he learns that his father is dead. And apparently, the Rebels murdered him.
Soldier for the Empire is a really, REALLY good book. Dietz handles the descriptions of Kyle's Force-sensitivity impressions well for the most part, and he absolutely nails the atmosphere for Star Wars. The book is a little short on detail in some places for my tastes, but it is based on a video game. Having read novels based on film scripts, I kind of expected that going in. There is always some missed detail in a novel based on a visual medium. I don't know why that is; I just know it's there.
Among the many things to praise this book for is the artwork. Lucas Arts/Film hired Dean Williams to paint the pictures, and he did a phenominal job. To quote Sabine Wren, "Now that is art." A couple of the paintings in the book are so well done that, at first glance, they look like photographs. When I saw the painting of Jan first meeting with Kyle, I half expected her to blink, move, or breathe. Williams is that good of an artist he made his subjects appear to be real. I hope he's still painting!
All right, now it's time for a Warning for Younger Readers. There are no sex warnings for Soldier for the Empire. Kyle doesn't have any sexual fantasies, no women are attacked or abused, and his relationship with Jan is completely above board. But there is a gore warning, which we have already sort of covered. About midway through the book, there's a lifelike painting of Kyle turning away from an image of his father's head on a spear. It's not a particularly gross painting, in my opinion, but it is unnerving.
Because the head is in the top left corner of the picture and Kyle takes up the majority of the bottom right half of the print, a reader's eye is naturally drawn to him when the page is opened. You notice the heads on the wall behind Kyle's back, but they're not rendered in a truly disgusting way. And, since he's surrounded by light, Kyle tends to make those images look kind of curious rather than scary or disgusting. The only way to notice Morgan's head is to study the picture or start reading the page opposite the painting. And due to this warning, avoiding looking hard in that direction shouldn't be too much trouble.
The only other warning I have is for another picture earlier in the book that shows a pair of hands raised above fallen girders in the Rebel base. The hands are not armored, nor are they gloved; they are twisted with the final spasms of agony the dead person experienced. Again, though, the picture draws a reader's attention more to Kyle and his fellow Stormtroopers than to the hands. You have to look hard to notice the hands and, even then, they are not painted in such a way as to truly frighten or disgust a reader. Dietz and Williams knew the requirements for the story, but they also knew that their target audience included children in the 10-17 age group. Thus I think they did a good job of making sure the story kept its impact without being too bloody and gorey.
These are really the biggest things a smart 10-15 reader should watch out for whenever they pick up Soldier for the Empire.I know someone in this age group who loves this book despite these pictures, so that gives me confidence to recommend it to others who are the same age. Though now that I think about it, my young friend can put up with an awful lot of gorey stuff…. (Author makes a slightly worried face.)
The decision to read or not read this book is entirely up to the young reade, of course. If you don't think you can handle Soldier for the Empire, wait a little while before you read it. It is a good book, one I wholeheartedly recommend, in part because it carries strong echoes from the original films. Kyle is a great character, as is Jan, and Jerec is a close runner up. The guy is scary, no two ways about it. Bonus points, Mon Mothma, Lando Calrissian, and Thrawn each get guest appearances in this story. We never really see them (except for Lando) in a painting, but they do "appear" in the book. 😀
And if that wasn't enough, I could literally vouch for this being a good book based on the artwork alone. It is absolutely fantastic! Before you head out to get the novel, readers, here are some prints of Dean Williams' paintings. Man, I hope this guy is still creating. His work is AMAZING…!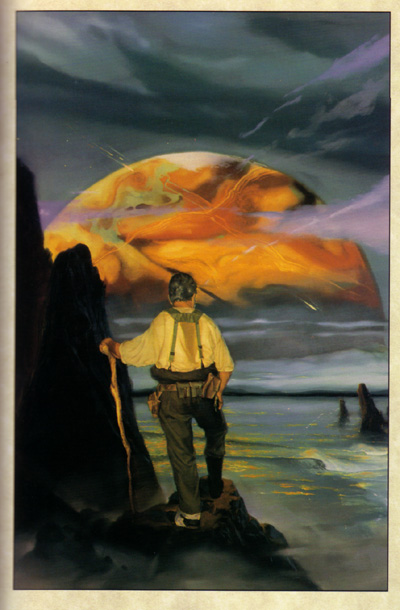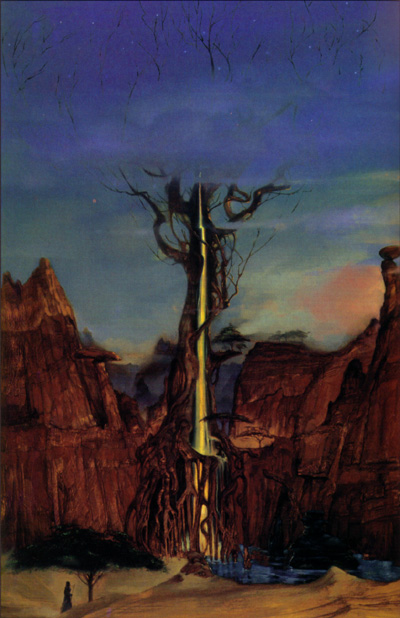 "Remember, the Force will be with you. Always."