"Thanks for doing the heavy lifting!"
As you know, readers, Star Wars Rebels was a dark horse for this blogger. I figured I would watch the first episodes and be so disgusted, upset, or unimpressed with it that that would be the end for me. Watching it wouldn't bother me any faster than ignoring it would.
However, my early assessment of the show could not have been more wrong. I quickly fell in love with this series, primarily because of the two Jedi who formed the core of the story. Han Solo is great, Mandalorians are cool, and Wookiees are wonderful, but the Jedi are the pièce de résistance of the Star Wars universe for me. I cannot say why the Jedi are my favorite part of this mythos. All this blogger can say for sure is that she loves 'em. So the fact that we were getting two new ones in my favorite era of Star Wars – that period around the time of A New Hope – was the hook which pulled me into the series.
Since the show has concluded, I thought it best to review these two short children's novels which tie into the series. If you are not a die-hard Star Wars fan bent on satiating a hunger for new fare, you probably will not be too interested in them. I like the series enough that it does not matter to me if the books related to it are churned out for children. Yes, they have their limitations; but they are also well written and they satisfy my desire for decent stories starring Jedi. I will take what I can get, especially since this new timeline offers us precious little in the way of enjoyable stories – particularly about the space knights I love so much.
The first novel is Ezra's Gamble, by Ryder Windam. This author is a "hired gun," if you will. He has written several different novels in franchise universes for kids. The ones I remember off the top of my head were related to the Transformers films. Those were not books I would describe as great, but that may have been due to intereference from the people running the franchise rather than poor writing on the author's part.
Ezra's Gamble is much better than his Transformers books, which felt more stilted than the first three movies in the franchise. I would guess Mr. Windham is a Star Wars fan and possibly an afficianado, since he writes in a style similar to Timothy Zahn's. I did not sense our time and place intruding on his story at any point in the narrative, either, which made the book far more enjoyable than Star Wars: The Lost Stars. (There will be more on that travesty of a novel below.)
A prequel to Star Wars Rebels, Gamble begins with Ezra selling tickets to an illegal gladiator fight on Lothal. He manages to fleece his customers of the valuables on their persons while he does this. But said items – and the cash he receives for the tickets – are lifted from him by his mentor and the man who got him involved in selling the vouchers. This would a Xexto by the name of Ferpil Wallaway.
Meanwhile – and you bounty hunter fans will love this – Bossk is approaching Lothal in the Hound's Tooth to collect a reward for a gambler named Shifty. Turns out that Shifty jumped bail on another planet and fled here for some reason. The Imperial on duty at the spaceport, who calls himself Lieutenant Herdringer, gets Bossk an unwanted escort to the surface. Before terminating their conversation, Herdringer adds that he does not want any shooting when the hunter goes after Shifty.
Well, the Hound's Tooth lands, and Ezra takes a peek at the ship. This gets Bossk's attention, leading to a conversation between them. Smelling a chance to make some extra money, Bridger offers to be the bounty hunter's local guide, since Shifty is supposed to be at a place called Ake's Tavern and the Trandoshan has no idea where that establishment is. Bossk hires him after some haggling and fussing, then acts like he forgot Shifty's name in order to make Ezra enter the building ahead of him.
Bossk does this to distract the assassins hired to protect Shifty. Apparently, someone has a lot to lose if the gambler is caught and taken back to face the music. In the ensuing chaos, Shifty is killed. After this, Ezra and Bossk are forced by circumstance – and the future apprentice's good heart – to work together to find out who set the bounty hunter up.
This is a good book, one that speed readers, afficianados, and most people who love reading can race through in a day. The fact that it is written for children really does not diminish the quality of the story. Mr. Windham studied up on his setting very well, melding the Bounty Hunter part of the old Star Wars EU seamlessly with Rebels. He also tosses out words from the old EU like "ferrocrete," which made reading the novel a lot more fun.
Best of all was Windham's handling of Bossk. I have never "met" this bounty hunter in the original EU novels, but I have read about him in my New Essential Guide to Characters. From what I can tell, fans of this Trandoshan will not find fault with his depiction in Ezra's Gamble. He seems almost unchanged from his previous deportment here.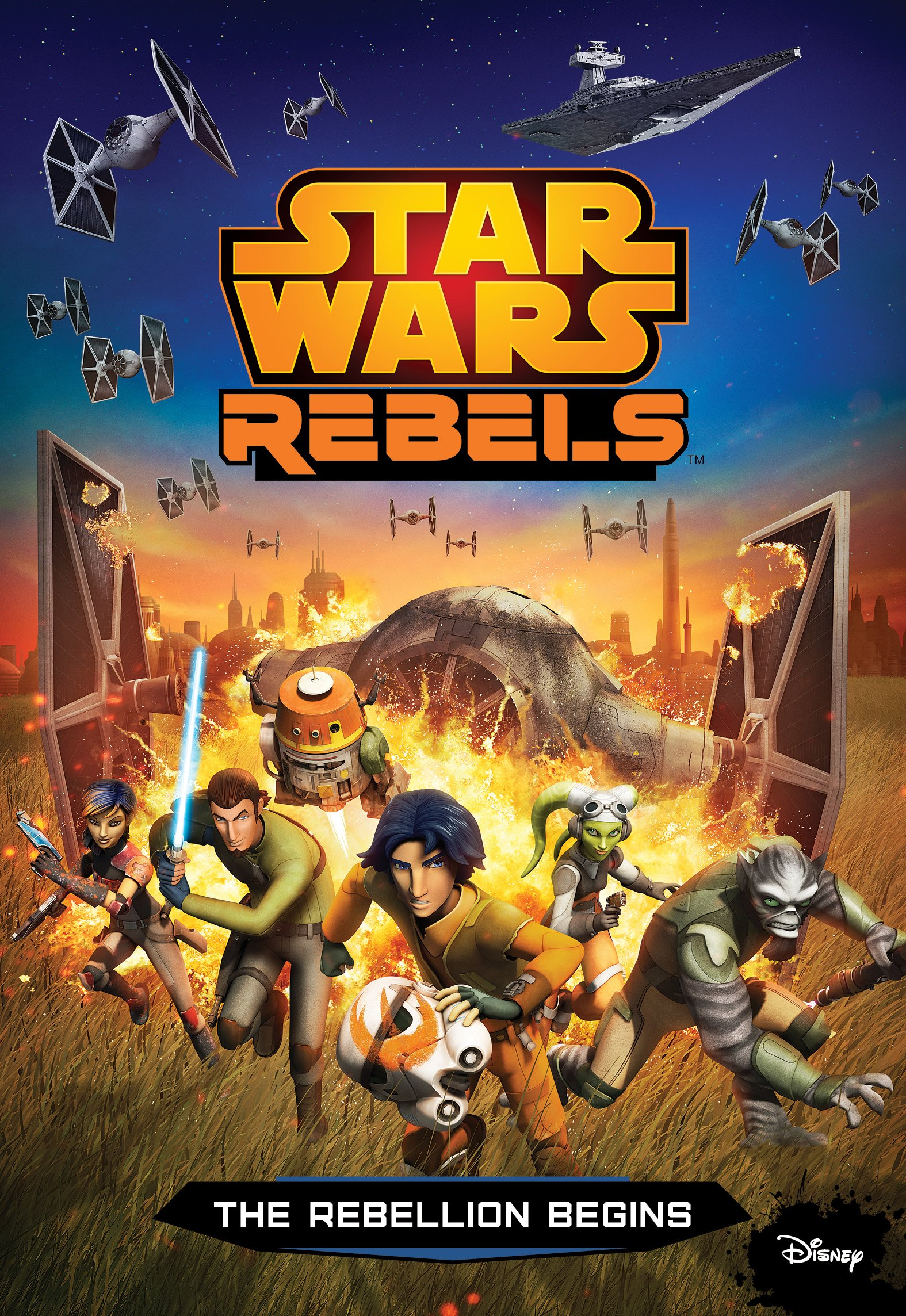 Next we have the novelization for Star Wars Rebels' introductory film/episodes: The Rebellion Begins, written by Michael Kogge. This book is not quite as good as Ezra's Gamble, but it is not bad because of that. It starts out in a different place than the show does; there is a build-up to the opening scenes viewers of the show saw when Spark of Rebellion first aired, adding context to the story and characters.
Since I do not want to spoil the beginning, all I will say is that you have to go through a prologue and two chapters before reaching the point where Spark of Rebellion officially begins onscreen. Ghosts are a motif throughout the book, and Agent Alexsandr Kallus gets some interesting moments here as well. By far, I like this novel most for how it deals with Kanan, showing his reticence and giving us a good idea of why he is so afraid to use the Force.
Hera comes through this novel well, as does Ezra. Zeb is presented in a good light, along with Sabine, though there is not as much depth for her as I would like. This is probably due to the fact that the book was written before her history was revealed, which means that Mr. Kogge did not have enough info on her to give us hints about her past. So while the story is quite satisfactory for someone just coming in to the series, it is rather annoying for a reader who has watched the show from the beginning to roughly half of its final season.
I wish they had more books like Ezra's Gamble and The Rebellion Begins out on shelves. Mr. Kogge and Mr. Windham proved here that they can write good Star Wars fiction. I think that, if they were turned loose on this era of the mythos, they would do the prior EU writers proud – more so than the authors of The Lost Stars and the new novelization of A New Hope have. These writers did little for the franchise except to wrap current political arguments in Star Wars dressing, which is NOT what authors are supposed to do.
An author's job is to entertain his or her audience by telling great stories about good beating evil, not stories where a Rebel and an Imperial can fall in love and yet remain divided by one's firm adherence to her oath to the Empire. Even Rebels' writers had Kallus change sides when he learned the truth about the Empire, for Pete's sake! Stories like The Lost Stars are supposed to end with the guy getting the girl, but this is not what happened in that "novel."
(Warning for Younger Readers: The Lost Stars includes three completely unnecessary sex scenes. One of these practically qualifies as a rape, in my opinion, despite the fact that the woman involved told the man, "Don't you dare stop." I have never heard of a pre-Disney Star Wars story which approved of such behavior, as The Lost Stars seemed to do. Such books may have been written in the old EU, which means that I missed them. However, my impression from studying up on and personally reading older Star Wars fare was that even in a galaxy far, far away rape was rape, period, and that it was not to be accepted or approved of. EVER.)
Also, in my opinion, the latest junior novelization of A New Hope all but ruined Princess Leia for the next generation of readers. For some reason, the author of that book spent paragraph upon paragraph having Leia whine about how everyone expected her to be a demure little princess who could not take care of herself. Pardon me, readers, but that is pure Bantha fodder. Yes, Leia surprised everyone when she snatched the blaster rifle from Luke to shoot at the Stormtroopers in A New Hope. There is, however, a perfectly logical reason for that which has NOTHING to do with Luke, Han, or any other man believing she could not take care of herself because she was a woman.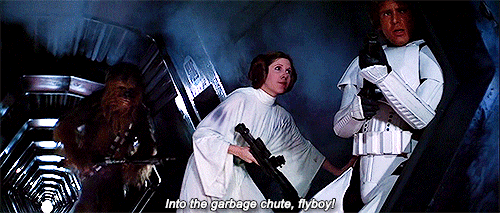 Remember that Luke lived a sheltered life on Tatooine. He had no more idea that princesses were trained to fight than Han had any idea of how to run a moisture farm. As it is, Han had been around the block many times, so he knew women who could and would fight. He just did not stop to think that anyone would take the time or have the inclination to teach a princess to fight, anymore than most of us automatically expect rich or important people in today's world to pay for their children to be trained to defend themselves.
We do not expect this because most of these people do not insist their children learn self-defense. It is not because we think their children – both sons and daughters – could not be taught to fight. It is because so very few of them are taught the art of combat that we therefore expect so little of them. The same applies in this case to Han and Luke. The precedent for rulers of any kind teaching their children – whether they are princes, princesses, lordlings, etc. – to fight is so low that even in a galaxy far, far away, a farmboy and a smuggler can be taken by surprise when a noblewomen picks up a blaster and starts shooting with the skill of long practice.
Luke and Han's surprise does not make them misogynists. It shows Luke's naïveté and Han's lack of refinement. Neither of these things makes them evil members of the patriarchy bent on keeping women down. It shows them being human, being men – something which is particularly interesting in regards to the scruffy scoundrel most people would automatically write off as a bad guy.
But now, in the New Order of the Cosmos, we cannot have men being gallant to women for the sake of their womanhood or even for the sake of the men's own sacred honor. Nooo, we have to have female characters fuming about being "patronized" and "dominated by the patriarchy" before "overcoming it and proving" that they are just as good as men. That is all Leia does in the latest junior novelization of A New Hope – and it is absolutely infuriating.
Ezra's Gamble and The Rebellion Begins do not have such stupidity in their narratives, which is another reason why I enjoy reading them. These books tip their helmets to the EU writers who kept Star Wars alive after Return of the Jedi left theaters, and they do the new characters in Rebels immense credit. Despite their limitations, I find these short novels worthy reading when I need good entertainment and a Star Wars fix.
If you do not like them, or they are not to your taste, I am sorry to hear that –although I accept the fact that they will not appeal to everyone. I thought it worth mentioning them, however, since they pay tribute to Star Wars instead of dishonor. Too much of the new material does the latter these days, which is why it is good to spotlight the better media produced for fans. Despite the ending for the final season, I think Rebels – and these two books preceding the series' start – fall into that category.
Until next time, readers, may the Force be with you.