One of my first thoughts when I heard the announcement for the new Star Wars timeline was, "What about all the characters in the old EU? Are they going to bring them back? It should be easy to do – and really cool. Then we could ditch the stupid Yuuzhan Vong War and a lot of the ludicrous events which followed it while keeping all the good stuff."
Even as I thought that, however, I knew the new owners of Star Wars were not going to do this. It makes a certain amount of sense for them to wipe the slate clean, of course; Harrison Ford and Mark Hamill are not young enough to translate the Thrawn Trilogy to the silver screen, and we have already lost Carrie Fisher. It would be foolish to try and film movies where Han and Luke would have to run around like they did in the original trilogy. This I can readily understand and accept.
What I cannot comprehend is the owners' decision to scrap all the valuable Expanded Universe characters developed through hundreds of Star Wars novels and memorabilia over the last forty years. Marvel has been around almost twice as long as Star Wars and we are still running off to theaters to watch several of their original heroes in action. If Marvel can do this, why couldn't Star Wars?
None of this is not to say that I wish Rey and Finn were not present in the new Star Wars films, or that we had not had Star Wars Rebels. My only point is that the original timeline, up to the Yuuzhan Vong War, could have been maintained. This would have allowed a new sequel trilogy to be filmed using characters from the Expanded Universe while permitting the additions of Rey, Finn, and the Rebels crew to the canon.
This is most true with regards to the heroines in Star Wars. Many critics are thrilled with all the women being shown in the new films; everyone who is anyone in the big media/academic circles is yowling, "YAY, a galaxy far, far away is now finally run by women!" What they miss (or ignore) is the fact that a galaxy far, far away never actually lacked for strong female characters in the first place.
And yes, I do have proof to back up this assertion. Below is the first half of a list of the heroines who could have been part of the new timeline, if the people in charge of Disney/Lucasfilm had wanted them to remain therein. Along with the biographic information on these heroines, I have included a few words about how the women could have been used in The Force Awakens, Episode VIII, Star Wars Rebels, and Rogue One. First up on this list is none other than…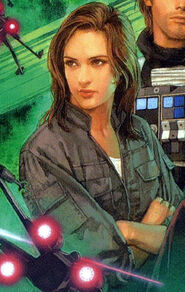 Jaina Solo Fel: Han and Leia's only daughter and oldest child, Jaina was a fun, magnetic, amazing character. Named for her paternal grandmother, Jaina was five minutes older than her twin, Jacen. Described as having her mother's looks, her father's confidence, and the family's innate piloting skills, Jaina was said to have taken after her Uncle Luke the most.
Having read The Crystal Star and two sets of collected Young Jedi Knights stories, I can say that I see the resemblance. Jaina was as beautiful as Leia and had her father's tendency to overconfidently say things she later regretted, but the member of her family whom she really took after was Luke. Stubborn and strong-willed, she displayed early on a sense of responsibility and idealism that matched her uncle's. Good with machines and possibly the best of the three Solo children at flying, Jaina eventually achieved the rank of Jedi Knight in the old EU. She also became a member of the prestigious X-wing fighter contingent that her uncle and Wedge Antilles founded: Rogue Squadron.
Jaina possessed a lightsaber with a purple blade like her aunt, Mara Jade Skywalker. This color of lightsaber, according to the video here, means that the Jedi holding it can use both Light Side and Dark Side techniques without going over fully to the Dark Side. I do not see why the writers behind the new Star Wars trilogy couldn't have had Jaina shooting down TIEs over Takodana while flirting with Oscar Isaac, who should have been cast as her love interest Jagged Fel, not Poe Dameron.
Now, this does not mean that Rey would have had to be replaced with Jaina; she could have remained the lead character while Jaina could have been a secondary character in the story. Jaina could have been fighting the First Order with the rest of the Jedi and New Republic forces as a Knight and an X-wing pilot while Rey was revealed to be Luke's long lost daughter or something. Along with Isaac's character, Fel, Jaina could have been a member of the new Rogue Squadron, with her nickname of "Sticks" being used several times during the dogfights.
Doing this would have allowed other writers to create spin-off films and books focusing on Jaina Solo, broadening the Star Wars franchise and winning new fans for it. I cannot understand why no one in Hollywood thought to keep Jaina and her two younger brothers for the new timeline, since it would have given them so many golden opportunities to (a) tell good stories and, (b) make boatloads of money off of old and new fans. *Sigh.* Oh, well…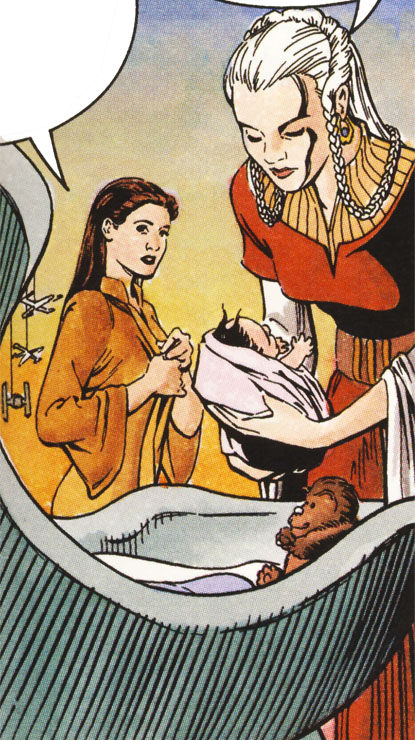 Winter Celchu: Winter was introduced to Star Wars fans in the Thrawn Trilogy. A childhood friend of Leia Organa while the princess was being raised on Alderaan, Winter had long white hair and enough regal bearing that she could easily pass as the X-Man Ororo Munroe/Storm's sister from another mother.
Growing up with Leia in the palace meant that Winter was often mistaken by visitors for the real Princess of Alderaan. This was because she lacked Leia's fiery, rambunctious nature. Where Leia would flare up and fight, Winter would stand by and stay quiet, acting more like a model princess than her best friend did. She was a calm woman who never let on what she was thinking to most people. Only Leia could read her accurately ninety percent of the time – and that was without relying on her Force sensitivity!
The one character I know of in Star Wars with a perfect – a.k.a. photographic – memory, Winter went to work for the Rebellion along with Leia. But because of her memory, she rarely engaged the Empire in combat; most of her service was done in acquiring supplies or information for the Rebels. She only had to enter a warehouse or see a file once to remember it clearly for the rest of her life, allowing her to tell the Rebels which crates to grab or to accurately recite the information they needed. Winter had several codenames during this time, but her most famous moniker while she worked in Rebel Supply was Targeter.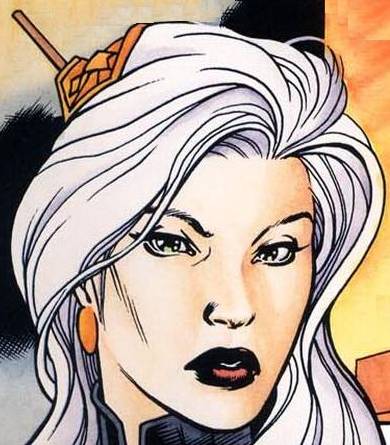 Because of her job in the Rebellion, Winter was not on Alderaan when it was obliterated by the first Death Star. More than any other survivor of that doomed world, however, its destruction pained her constantly. With her infallible memory Winter could recall every detail of her homeworld's annihilation, along with all her feelings about it and the approximate number of people who were on the planet when it blew. No one ever meant to twist the knife further into her heart by bringing the planet up, but even casual mention of Alderaan would cause a flicker of pain to cross Winter's face, which was otherwise a mask of tranquility.
When the Rebellion became the New Republic, Winter returned to become Leia's aide/lady-in-waiting. While fulfilling her duties as an assistant (and secretly recording every conversation or meeting Leia had to sit in on for her), the two maintained their old friendship. When the Solo twins and Anakin were born, Winter fostered them at hidden locations until they were about two years old, so that the children could not be taken and corrupted by Dark Siders or the Empire. For this reason Winter was loved as much by the Solo heirs as by Leia and Han.
At some point, Winter married fellow Alderaanian survivor and Rebel fighter pilot Tycho Celchu. Tycho flew with Rogue Squadron as late as the Hand of Thrawn Duology, and he may have married Winter because she soothed his heart. Tycho's fianceé died along with his family on Alderaan, leading him to join the Rebellion. Sometime after Return of the Jedi, he was caught by the Empire, which tortured him in an attempt to break and brainwash him.
Though Tycho never cracked under the pressure and eventually escaped to rejoin the New Republic, no one trusted him for a while. In fact, he was put on trial when his friend and squadron mate, Corran Horn, was shot down by the Empire in such a way that it appeared Tycho had murdered him. Only Corran's reappearance a little later, alive and unharmed, saved Celchu's career. The man had a lot of anger issues, which may be why he was paired off with Winter.
While she probably would not have fit into Rogue One, I think Winter could have appeared many times in Star Wars Rebels. Her perfect memory would have provided the Ghost crew with ample help stealing supplies. It would also have been fun to see someone calmer and harder to rattle than Hera sitting beside her in the cockpit during a chase scene. 🙂
Sadly, as far as I know, Winter was thrown out of Star Wars canon when the new timeline was created. Apart from the Thrawn Trilogy, you can find more of her in Timothy Zahn's novel Scoundrels. There she has a big part and a point of view you can follow along with. She really is a worthwhile character, readers, and I wish they had not removed her when creating the new timeline.
Mirax Terrik Horn: Mirax was the wife of a former Corellian Security agent and Rogue Squadron pilot Corran Horn. Corran was a Jedi Knight descended from a long line of Corellian Jedi who consistently and repeatedly broke the Order's ban on marriage without trouble. Mirax Terrik Horn may have been slightly less well-known than her husband in the old EU, but she was no less of a fighter.
It is probable that Mirax never dreamed she would marry Corran, since he was the son of the man who sent her father – smuggler and known Rebel sympathizer Booster Terrik – to the spice mines of Kessel for five years. Booster never thought his daughter would marry Corran, that's for sure. But when the Force-sensitive Horn began flying with Wedge Antilles and the Rogues, he met and became close to Mirax Terrik.
Outside of the Hand of Thrawn Duology, I have never really "met" Mirax. But from what I have read about her, she struck me as a no-nonsense, tough-as-nails woman who was even more sympathetic to the Rebellion/New Republic than her father. She and Corran married before the Thrawn Trilogy, when he was just beginning to learn about his Jedi heritage. More battles elapsed before he could go back to home to her, so Corran was sincerely looking forward to the peace of being with his wife. This made it a nasty shock when he discovered that, during his absence, Mirax had mysteriously disappeared.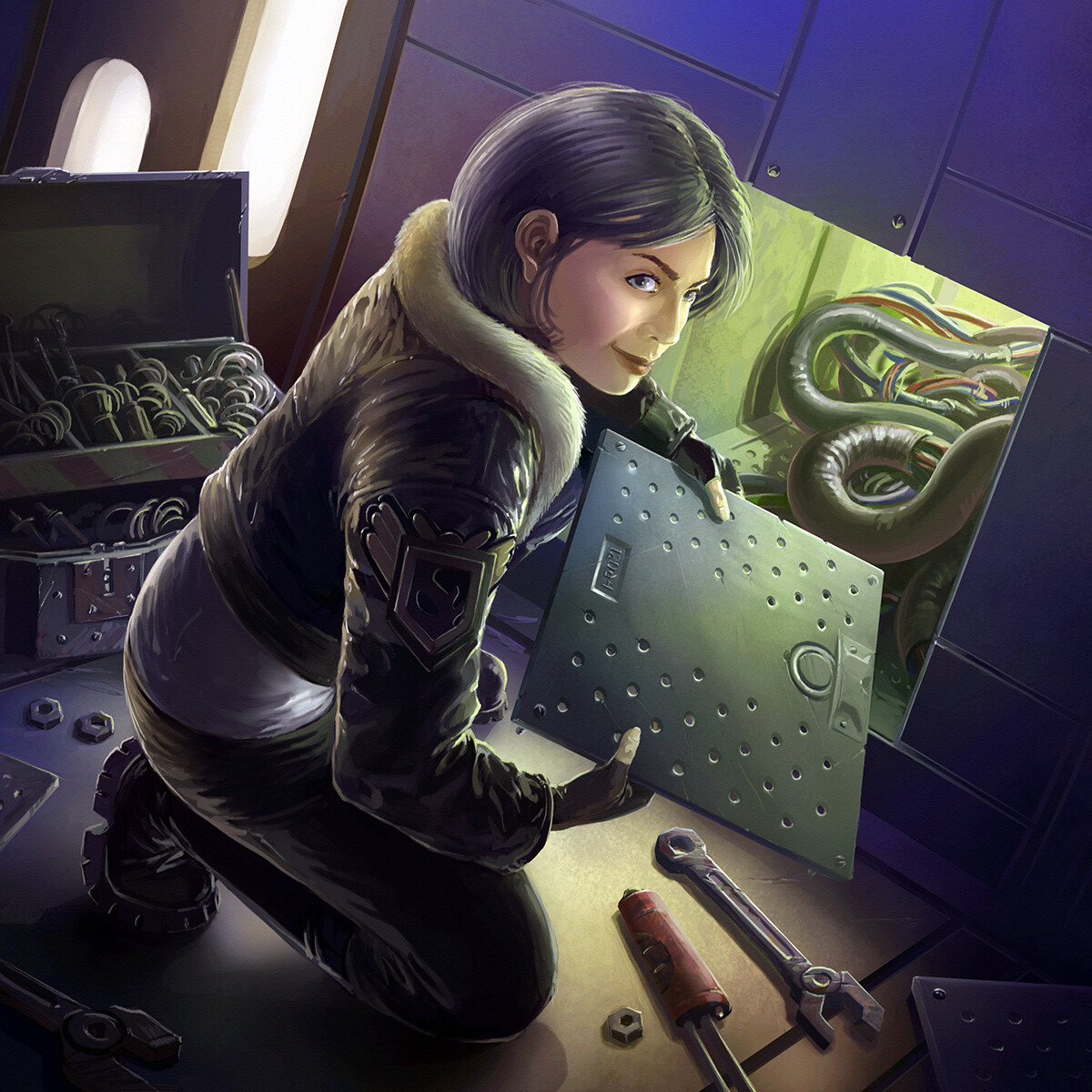 In order to find her, Corran threw himself into Force training at Luke's new Jedi Academy on Yavin IV so he could acquire the skills he would need to locate Mirax. Needless to say he was successful in recovering Mirax, and the two went on to live quite happily together, running around the New Republic on separate missions between their times at home. They had two children – a son named Valin, a family name for Corran, and a daughter named Jysella – who followed in their father's footsteps and became Jedi Knights.
Disney's erasure of the old EU sadly prevented Dave Filoni from bringing Mirax, Booster, and the rest of their crew into Rebels. I think there would have been plenty of story material for the writers here, as the Ghost crew worked with pirates and smugglers who were actually in the fight more for the cause than for the money. I would have loved to have seen Mirax, Booster, and crew rushing around to help the fledgling Rebellion get up and running in Rebels, dang it, and so would a lot of other people!!! Rrrgh….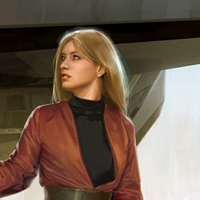 Iella Wessiri Antilles: Iella Wessiri's career started in Corellian Security. Married to a man named Diric Wessiri, the two were partners with Corran Horn in "CorSec," and all three were fine agents. They were so fine, in fact, that when Imperial pressure on CorSec became too much for them, they escaped Corellia together and joined the Rebellion.
But unlike Corran, Iella and Diric did not become part of a fighter squadron. I don't think they even joined the ground troops. No, they put their CorSec training to more immediate use as Rebel/New Republic agents (spies). Wedge Antilles first ran into Iella while undercover in Imperial City, where she was also spying for the nascent New Republic.
If you are wondering how Iella could have married Wedge when she was already married to Diric, it is a heartrending story. Diric and Iella's jobs for the Rebellion/New Republic often separated them. More to the point, while they were loyal to each other, the fact is that their marriage was not very strong. Their love was not particularly deep, but that did not mean they fooled around with other people (though Iella came close once).
On one of his missions, Diric was captured and brainwashed by Ysanne Isard, the former head of Imperial Intelligence. After this, she had him work against the New Republic he had sacrificed so much to enter. Worst of all, Diric was completely aware of what he was doing while being absolutely unable to stop himself.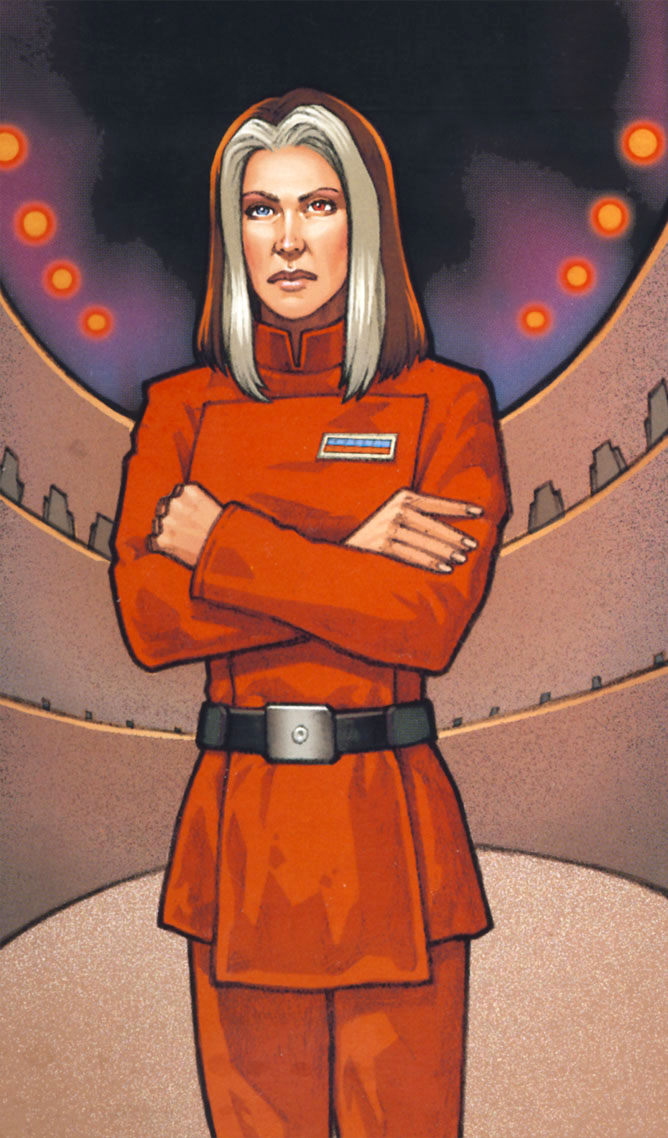 Ysanne "Iceheart" Isard
This situation could not go on, and it didn't. Diric was eventually ordered to kill an Imperial officer captured by the New Republic – one whom his wife had been assigned to guard. He pulled the mission off, hiding his identity under a hood that prevented Iella from recognizing him. She shot her husband through the heart after he killed the Imperial, discovering her fatal error moments later, when she pulled his hood off.
Iella was naturally distraught and tried to apologize, but Diric used his last breath to thank her for freeing him from Isard's brainwashing. This meant, naturally, that Iella had quite the bone to pick with "Iceheart," as Isard was known. When the wannabe Empress tried to retake her captured Star Destroyer/prison-and-brainwashing center, the Lusankya, Iella was waiting for her. She shot Isard dead, bringing the former director of Imperial Intelligence down for good.
After this, Iella kept working for New Republic Intelligence, until she met up with Wedge Antilles again at Adumar. It was during this mission that they decided they were a good match, leading them to tie the knot a little while later. From what I can tell, Iella really loved Wedge. Their marriage was much stronger and better than her marriage to Diric had been. They had two children together, both girls: Syal and Myri, named for Wedge's older sister and his friend Mirax Terrik Horn.
Myri was groomed by Iella to follow in her footsteps as an Intelligence officer. She went on to become a freelance investigator who made a fortune gambling daily on the casino deck of Booster Terrik's ship, the Errant Venture. Meanwhile, Syal followed her father and became a top X-wing pilot. Despite the fact that he could not be around a lot while they were growing up, it appears both girls knew and dearly loved their father. Even after becoming a pilot and serving under Wedge for some time, Syal continued to call him "Daddy" – no matter who was around to hear her do it.
I have not managed to "meet" Iella yet, which really bugs me. If they had been able to include her in Star Wars Rebels I would have been ecstatic; she is an amazing character who could have done a lot with the Ghost crew. I have hoped to run across a story in which she has a part for years, but so far I still have not had that luck. Can anybody point me to a novel or comic book wherein she has a part, please?
Syal Antilles Fel: Syal was older than Wedge Antilles by ten years. Their parents ran a refueling platform above Corellia, but it was a job that Syal considered boring. So when Wedge was seven years old, she left home – without saying a word to her parents or her brother – to become a holofeature actress. She used the stage name Wynssa Starflare and created quite a career for herself in the holofilm industry, prior to and during the Rebellion era.
This meant, naturally, that she wasn't home when a CorSec patrol spooked a smuggler who had just pulled up to the family refueling station. Wedge was with family friends Booster and Mirax Terrik that day, so he wasn't home, either. But he got to watch the smuggler disengage from the station prematurely in order to escape the CorSec patrol, which resulted in the entire complex exploding. Both of Wedge's parents, Jagged and Zena Antilles, died in the blaze while evacuating people from the platform.
After this, Wedge became a member of the Rebellion while Syal remained an actress. She had intended to return home at some point to visit her family, feeling bad for running out on them with no explanation. But she never got back to apologize to her parents; though the tragedy had little effect on her career, it naturally upset her a great deal. This is probably one of the reasons why she became so devoted to her own husband and children after her marriage.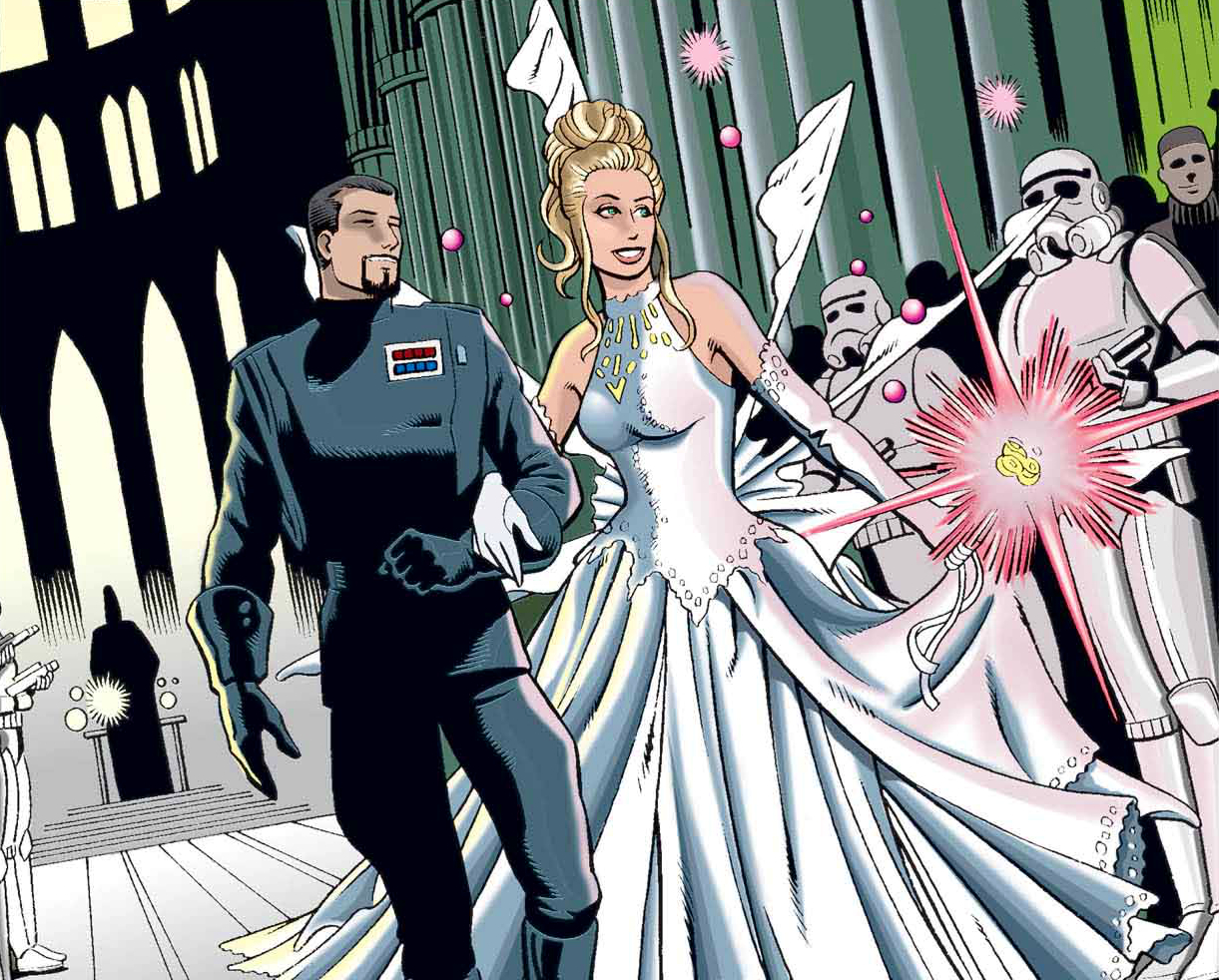 Some time before Endor, Syal met Imperial Major and Baron Soontir Fel. The "Red Baron" for the Galactic Empire, Fel's flying and fighting skills were already legendary when he met his future wife. A year after they first began dating, Fel proposed to Syal, and they got married a little while later. But before they wed she told Fel her true name, adding the fact that she was the sister of a Rebel currently serving in the fight against the Empire's tyranny.
Instead of telling the Empire about her, Fel helped Syal set up a contingency plan which would allow her to safely disappear if her connection to Wedge should ever be discovered by Imperial authorities. After the Battle of Endor, when Ysanne Isard took over the Empire and allowed corruption to run rampant in the government, "Iceheart" sent Fel and his squadron to defend the Imperial world of Brentaal. It was a hopeless battle for the Imperials and Fel knew it. His paramount sense of duty, however, led him to fly the mission anyway.
Fel's squadron was decimated in the fighting, and he himself was finally shot down by his brother-in-law's fighter squadron. The Rogues took him into custody only for him to say something along the lines of, "You can't capture me – I'm joining you!"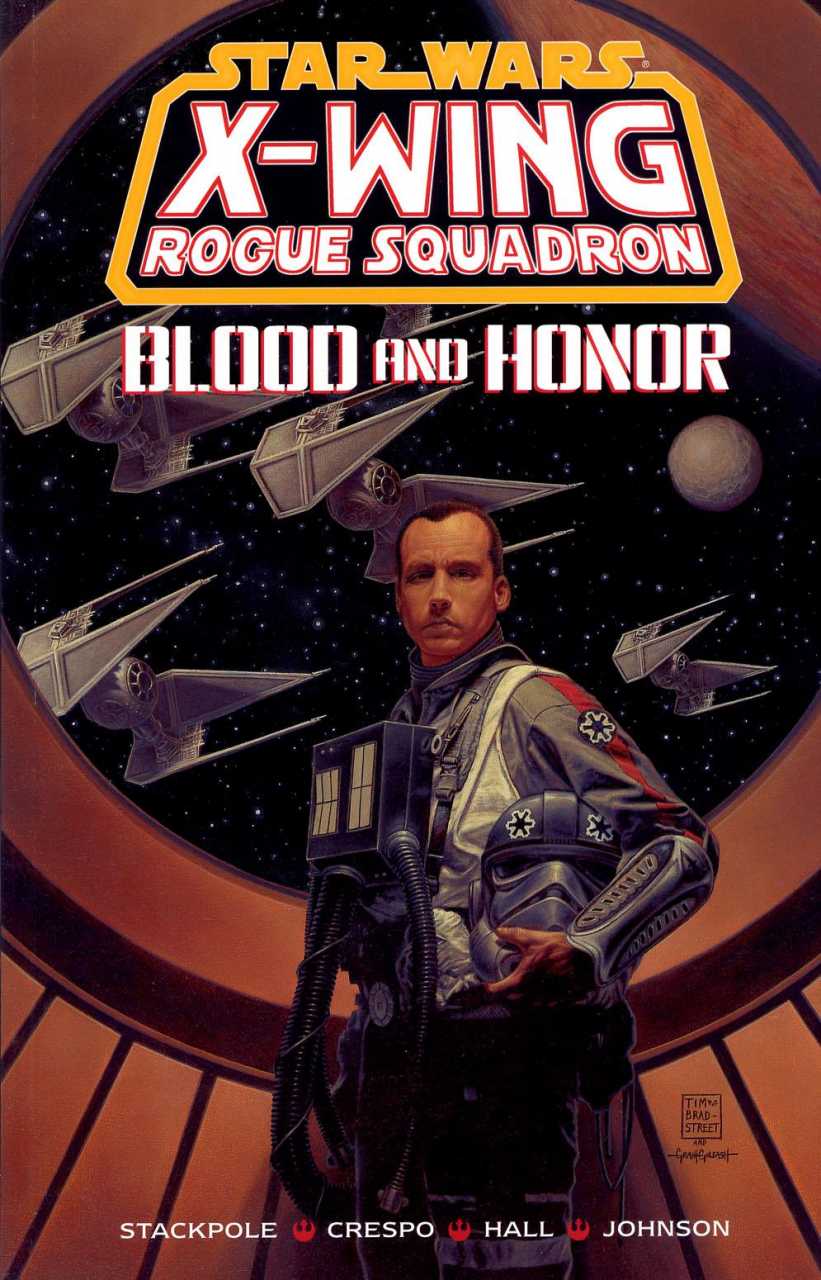 The minute Fel switched sides, Syal went into hiding with their two sons, Davin and Chak. They fled moments before Ysanne Isard's agents could grab them in order to use them against the Baron. Fel and the Rogues spent ages working to find her and the boys, which they eventually managed to do. This allowed Wedge a chance to get to know the sister he barely remembered, since his parents did not want to discuss Syal after she left.
Unfortunately, their brother/sister reunion was short-lived. Syal's husband proved to be such an annoyance to Isard that she went to Thrawn and asked him to get the Baron out of her hair. Thrawn wanted Fel's tactical genius and flying skills for his own reasons, so he formed the plan Isard used to eventually capture the legendary pilot.
With Thrawn's help, Fel then arranged to have Syal join him in the Unknown Regions. The two went on to have six – yes, six – children together. The oldest were Davin and Chak; then came Jagged, who was named for his maternal grandfather. Jagged eventually married Jaina Solo in the old EU and became the head of what remained of the original Empire. His descendants maintained control of the Empire for three generations after his and Jaina's reign.
It makes no sense to me why Jagged, Jaina, and their marriage were not kept for the new Star Wars films. Keeping this relationship in the universe would have allowed for an abundance of stories for the Antilles, Solos, and Fels, along with a lot of material for Rebels. It would also have been interesting – and fun – to watch Hera matching her skill with Soontir Fel's. That guy could fly!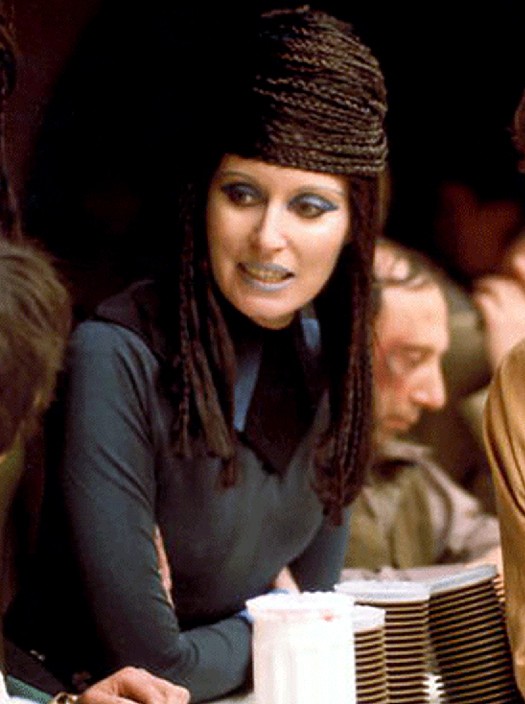 Shada D'ukal undercover in the Mos Eisley Cantina.
Shada D'ukal: Alongside the Noghri and the Mandalorians, in the old EU there is a lesser known – but no less impressive – warrior group that is made up entirely of women, as far as I know. Hailing from the burned out world of Emberlene, the Mistryl Shadow Guards work as bodyguards and assassins in order to feed and clothe the millions of refugees who scrape by amidst the ruins of their destroyed homeworld.
Shada appears briefly toward the end of The Last Command, but she has a much bigger role in the Hand of Thrawn Duology, and gets a few mentions in Survivor's Quest as well. Her first appearance, however, is in one of the short story collections under the lable Tales from the Mos Eisley Cantina. I have never read those – but that doesn't mean I do not know how Shada's history with the Rebellion predates our glimpse of her in The Last Command. 😉
In the Thrawn trilogy, Shada had just begun her bodyguard assignment to a smuggler chief named Mazzic. Apparently the Eleven (the rulers of Emberlene and the commanders of the Mistryl), thought Mazzic's organization would bring them more opportunites in the future. Shada did her duty and stuck by the man for twelve years, despite the fact that she hated the fringe in general and, by the Hand Duology, believed that she had wasted the past dozen years of her life in service to a crook.
None of this meant, however, that she wanted him to be murdered. So when her old friend and fellow Guard, Karoly D'ulin, caught her taking up a position to protect her employer while he cut a deal with another smuggler, Shada was surprised and suspiscious. She went from suspicion to disappointment when Karoly explained that Mazzic was no longer her concern, then added that he wouldn't be anyone's problem in a little bit. Turns out, Shada's old partner and a number of other Mistryl had been hired to help kill Mazzic.
Unlike the rest of her fellow Guards, though, Shada still believed in right and wrong. She defeated Karoly and killed the assassin, saving Mazzic's life. But this act of justice and honor put her in the Eleven's crosshairs, since doing the right thing meant she had defied their direct orders. Disobedience only had one punishment in the new Mistryl order: death.
Shada is a very interesting character. Though cynical and jaded, she did not lose her firm appreciation for principle and her determination to be virtuous. Even after twelve years "wasted" serving a no-good smuggler, Shada continued to believe in the values which first attracted her to the Mistryl's service twenty years prior. She does not abide by wrongdoing or vengeance, even when it could save her life.
And boy, can she kick butt, readers!
If you want to know more about Shada D'ukal, pick up Tales from the Mos Eisley Cantina or the Hand of Thrawn Duology today. I wish the writers for Rebels or Clone Wars had included the Mistryl in some of their stories. This is an organization I want to know much, much more about!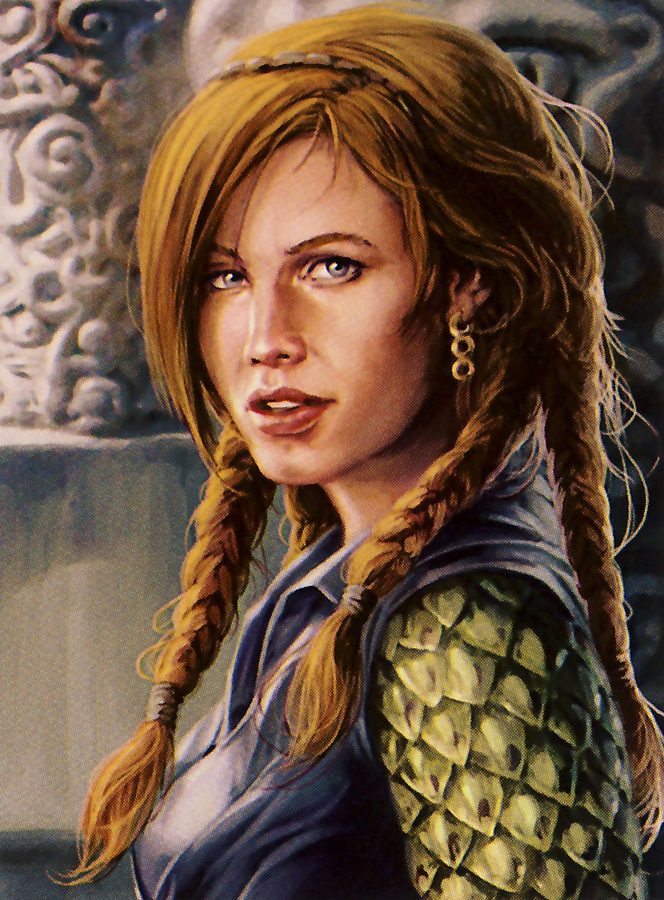 Tenel Ka Djo: Tenel Ka hails from two original EU cultures which are matriarchal, but that's about the only similarity between them. The daughter of Prince Isolder from the Hapes Consortium and the Dathomirian Force-witch Teneniel Djo, Tenel Ka was technically a princess of higher galactic standing than Leia Organa Solo. The Hapes Consortium, a matriarchy run by their Queen Mother, consisted of sixty-three planets. That's right; I said planets – sixty-three (63) of 'em. Everything important on these worlds was run by women. Men were second class citizens/slaves in the Consortium.
That was roughly the same case on the primitive world of Dathomir, which in the old EU books is entirely different from the one seen in The Clone Wars TV show. In the original Star Wars EU, Dathomirians were close enough to human that you could not tell the difference between them on sight. In fact, the original Dathomirians were probably fully human. They were also able to use the Force to tame the Rancors that lived on their world so they could use them as war mounts. Yeah, they were a very tough bunch. 😉
Dathomir in the old EU was run by matriarchy, as it was in The Clone Wars. But in the old EU, not all the Force-sensitive Witches on Dathomir were Dark Siders. Only the Nightsisters specifically used the Dark Side. The rest of the witches were either Light Side users or they did not tap into either side of the Force enough to qualify as servants of the Light or the Dark side.
Tenel Ka would never have been born if, five years after Endor, Leia Organa had not traveled to Hapes to negotiate their entrance into the New Republic. Having grown apart from Han Solo at that time, she opened the negotiations with the Queen Mother's younger and only surviving son, Prince Isolder. Isolder grew fond enough of Leia that he was about to propose marriage to her when a jealous Han Solo intervened. He kidnapped Leia and ran off, Prince Isolder hot on his heels. The three ended up lost on Dathomir not long after this, where Han's harebrained scheme to rewin Leia's affections actually worked. The two were married not long after this.
Before that happened, though, Luke followed the three of them to Dathomir and was "captured" by Teneniel Djo. On Dathomir, when a woman "captured" a man, she did not just physically detain him. That was usually a precursor to marrying said man! Luke managed to wriggle out of this trap when Isolder somehow arrived. It was love at first sight (or something like that) for Isolder and Teneniel, and he took her back to Hapes. He then had to put his foot down when his mother, the Queen, tried to talk him out of the match. (Not an easy thing for a man to do in a matriarchy, that's for sure.)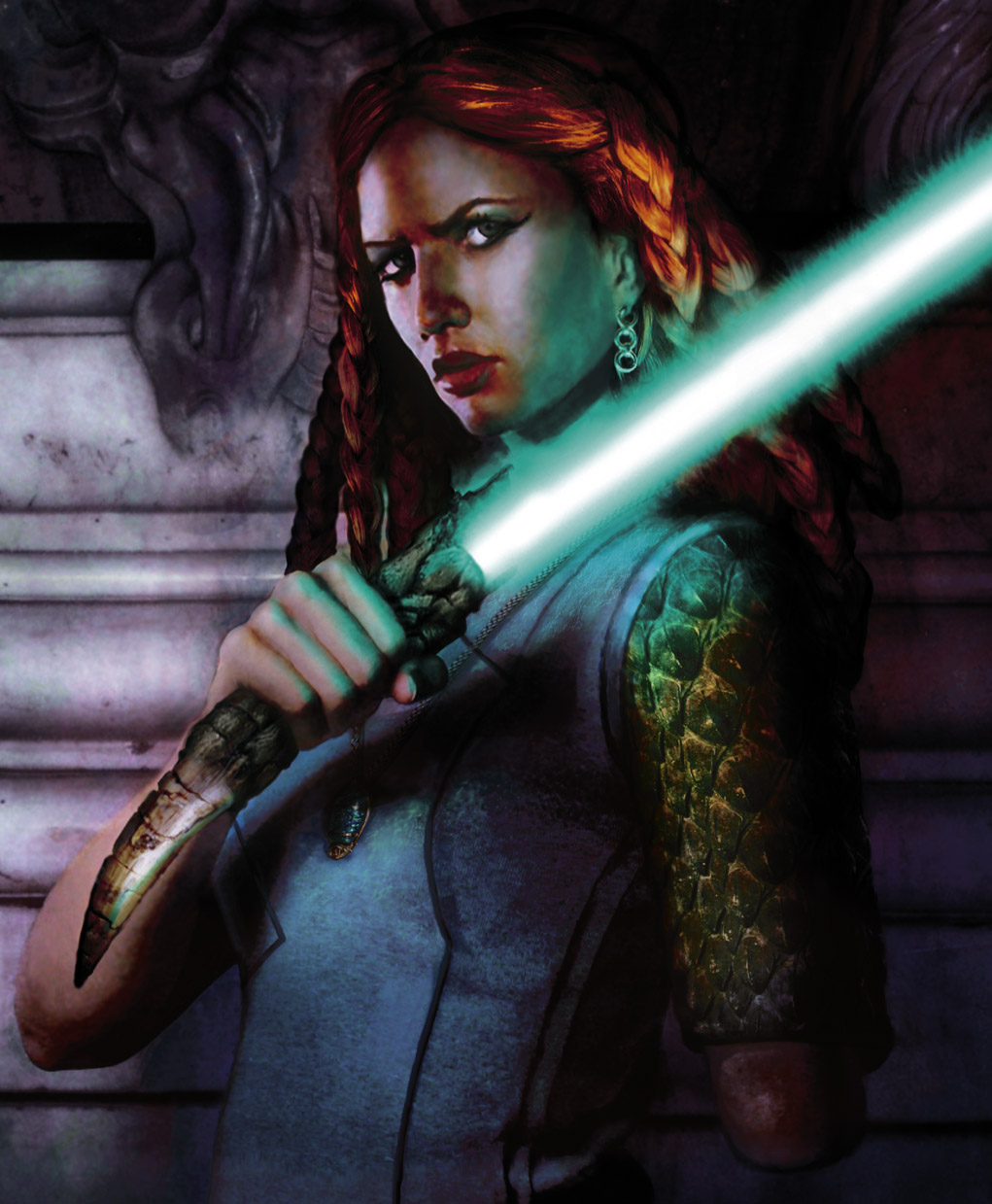 You now have some idea of Tenel Ka's origins. The product of two matriarchies with radically different technological levels, Tenel had the deadpan attitude of Hapan royalty mixed with the fierce strength and warrior spirit of her mother's homeworld. She split her childhood between Hapes and Dathomir, adopting the customs of her mother's people rather than her father's. She liked to wear a lizard scale shirt and pants and she wore her red hair in elaborate Dathomirian braids. When she went to Luke's Jedi Academy on Yavin IV, Tenel would do calisthenics in the morning before going indoors to listen to the latest lesson.
Jaina and Jacen fell in with Tenel when they arrived on Yavin, and it was soon apparent to anyone with eyes that the older Solo boy was head over heels in love with the princess. He would tell bad pun jokes in her presence to try to make Tenel loosen up and smile, since she kept herself outwardly impassive. For her part, Tenel kept her royal heritage a secret from the twins and their other friend, Chewbacca's nephew Lowbacca, up until the four built their first lightsabers. Tenel took some shortcuts in the manufacturing process, which allowed her saber's blade to die in the middle of her practice fight with Jacen. As a result, he accidentally cut off her left arm above the elbow.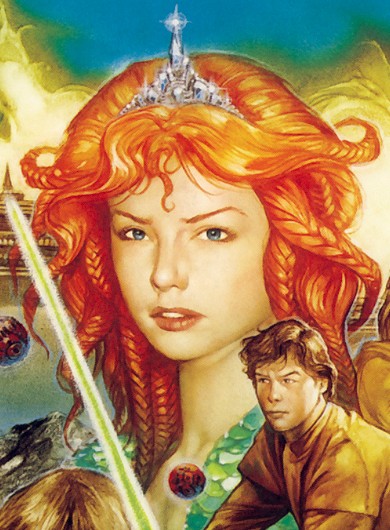 Tenel was immediately rushed home to Hapes to be outfitted with a cyborg prosthetic, which she Force-fully refused once the shock finally wore off. She got by, as far as I know, with her left arm ending in a stump for the rest of her life. Tenel Ka eventually made a new lightsaber with a turquoise blade and learned to use that effectively with only one hand.
Years later, after the Yuuzhan Vong War, Jacen and Tenel Ka finally became an item. This resulted in Tenel giving birth to a daughter, Allana, about the time Jacen went over to the Dark Side. He redeemed himself somewhat after his death by appearing to Tenel as a Force ghost, screaming a warning about a poison someone had set off to kill both her and Allana. Tenel and their daughter escaped the poison, but she decided that the life of a Hapan heir was no life for Allana. Before the old timeline was cut off, their daughter was living happily aboard the Millennium Falcon with her grandparents, Leia and Han Solo. To date, she is the only grandchild I know they had by either of their sons in the old EU.
I don't see why the writers didn't keep Jacen's descent into the Dark Side a part of the new timeline. That way, instead of having Ben Solo/Kylo Ren, we could have had Jacen Solo/Kylo Ren. Tenel could have appeared in Episode VIII with the Hapan navy to help the Resistance/New Republic forces escape the First Order. Like in the books, the writers could have had her give Allana to her grandparents for safekeeping, as they all did their best to keep the New Republic from burning down around everyone's ears. But unfortunately that is a story for an alternate universe, not for this one.
Whew! Well, readers, I am wiped. Tomorrow I will come back to finish telling you about the some other heroines from the original Star Wars timeline. I really, truly do not understand why Disney's leaders condemned them to "Legendary" status for the rest of time; they could have gotten so much mileage out of these heroines, inside and outside of the new film trilogy…..
Oh, well, what's done is done. Until tomorrow, readers, may the Force be with you all!