I have never seen a swan in flight, readers. I have seen swans, but I have never watched them fly. I have no idea if they are poetry in motion while in flight; they are beautiful "baubles" on a lake. I only know that the ones I have seen are gorgeous creatures, and I wish I could see some again.
Why do I bring up swans? Check out the video below before you read on:
Beautiful, aren't they?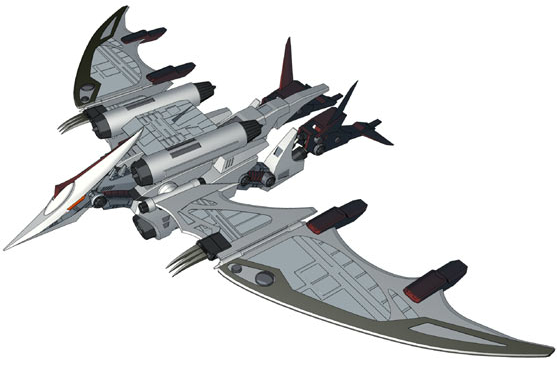 These magnificent zoids are Storm Sworders. The fastest aerial zoids on Zi, the Storm Sworders were developed by the Helic Republic during the last days of their war with the Guylos Empire. Lightweight and able to reach Mach 3.2, Storm Sworders are the equivalent of American fighter jets. They are poetry in motion during flight – and during combat.
Storm Sworders come in two varieties: the white, "older" model Storm Sworder was the first type built. Lightly armored so that it can reach Mach 3.2 and keep together at that speed, these Storm Sworders are nimble Pteranadon-type fighters. They are single-pilot zoids with a back seat, making Storm Sworders capable of carrying two people. In a pinch, four rather small people can fit in the cockpit, which is behind the Sworder's orange eyes.
Storm Sworders come equipped with missiles attached to their wings. These can be fired off like jet fighter missiles to strike down enemies ahead of or around them. Faster than anything else that flies, the Storm Sworder can outmaneuver every other aerial zoid in seconds. They can twist and turn, tumble and rise far faster than any other air zoid.
For close combat, Storm Sworders have a pair of blades or "swords" in their wings. (You didn't think they were called "Storm Sworders" just because it was a cool name, did you?) Extended and charged with energy, these swords will cut through other zoids like a knife through butter. Most other air zoids have no prayer of avoiding a Sworder's blades; they are simply too slow to dodge them.
Storm Sworders are also equipped with mini-machine guns behind the claws on their wings. The claws flip down to lie flat against the wing, the gun barrels pop out, and budda-budda-BOOM! 'Nother enemy down! In addition to these weapons, Storm Sworders have something called "sword missiles." These are long, thin blades which can be fired from the forehead area of the Sworder, as well as from the "wrists" of the zoid's wings. Most pilots do not use these missiles in battle.
The zoids also have a blade, or sword, hidden in the "crest" on their foreheads. This flips up and is charged with energy to cut through an enemy the same way as the "wing swords." All this makes the Storm Sworder one giant rapier, which can be piloted through the sky – to deadly effect!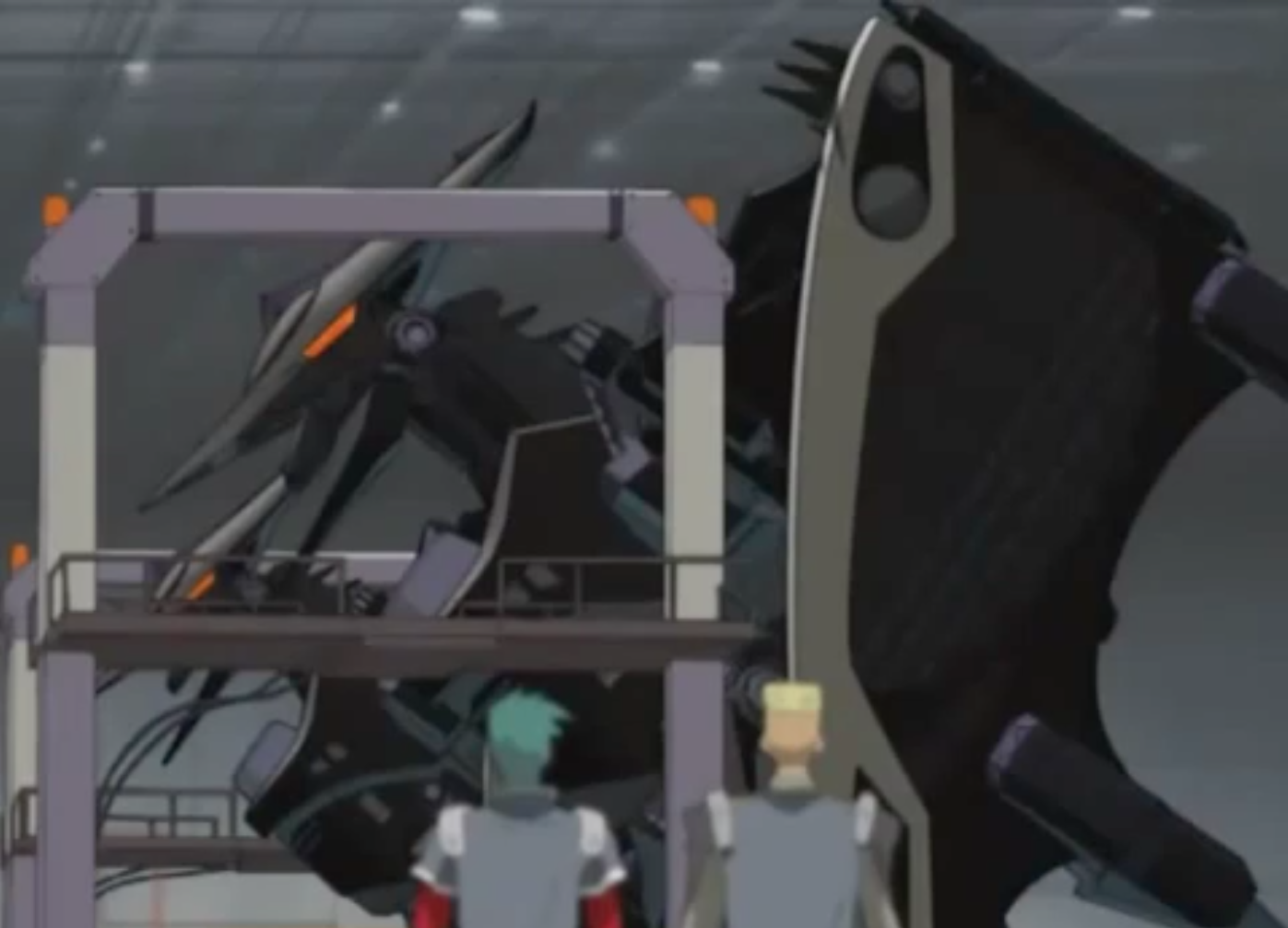 The second variation of the Storm Sworder is the Triple S. Short for Storm Sworder Stealth-type, the Triple S is painted black and has the ability to remain undetected by radar. Otherwise, it is the same as the white, "older" Storm Sworders – just more sneaky. Of course, a Triple S that is "painted" by the enemy so radar can pick it up is in big trouble. But if you are not prepared for a Triple S to show up, you will not have the chance to "paint" it to see it on your radar.
A pilot for the Storm Sworder has to learn to manage the intense speed at which the zoid travels. Mach 3.2 is fast, readers! It is "tough on the body," and a pilot incapable of taking the stress is not going to last beyond his first flight. This is also true for the zoid's agility and nimbleness. Though such maneuvers cannot be executed at Mach 3.2, the zoids will still be carrying momentum from traveling at that speed when they get into a dogfight. The pilot has to be able to withstand the force of travelling at Mach 3.2 and be able to handle the zoid when it drops down to its lower speeds. Otherwise, the pilot's a deader.
Rosso and Viola, characters from Zoids: Chaotic Century, are the best Storm Sworder pilots I have ever seen. (Actually, they are the only capable Storm Sworder pilots I have ever seen.) Of the two, Rosso is the better pilot. This is an interesting twist on the story, because Viola was the one who initially piloted flying zoids.
Rosso's great skill with his Storm Sworder seems to come from his special attunement to the zoid. He lectured one pilot – twice – about the need to "guide your zoid with your spirit, pal! With your spirit!"
Almost every main character in Chaotic Century has a special bond with their zoid, the way Western cowboys bond with their specific or favorite horses. Rosso is one of the characters whose bond with his "mechanical combat unit" is the most noticeable and poignant. Rosso is tall, muscular, and would give Robin Hood's friend Little John a run for his money. Yet he pilots the swan-like Storm Sworder flawlessly, as a samurai would wield a katana.
I wish I could take piloting lessons from this guy, readers. I really do!
The Storm Sworder is the pièce de résistance of aerial combat zoids. This is definitely a zoid I wish I had, for the simple fact that I would love to fly that high and that fast!
May the wind be at your backs, readers!
The Mithril Guardian