You may or may not have seen my post "Star Wars Rebels' Zero Hour and Season 3 Review." It was a long post. In that article, one of the things about Rebels' season three which I noted was Agent Kallus' defection to the Rebellion from the Empire. Some people were surprised by his change of heart this season, and I admit to being taken aback that he became the new Fulcrum.
However, I was not in the least bit astonished that he turned Rebel. If you are in the mood to look up my previous posts on Rebels, you will find in one or two of them that I mentioned a belief that Kallus would change sides. I knew right from the start that Kallus had "the heart of a Rebel."
Of course, this begs the question: How did I know?
A friend asked me that a little while ago. It is a good question, one I cannot answer in a scientific manner. I knew when I saw the first advertisements for Rebels that Kallus would be an Imperial goon; that he would be an antagonist. I knew that his name comes from the word callous, which means "being hardened and thickened…feeling no emotion; feeling or showing no sympathy for others: hard-hearted." (Merriam-Webster Dictionary)   But even as I watched Spark of Rebellion, I looked at Kallus and thought, "You'll be a Rebel someday, pal. Just you wait and see!"
How did I know? There were lots of little giveaways, I think. Not many people would notice them, especially among the show's target audience. I have been a child before. I know how they see things. I gave up on lots of characters fighting on behalf of evil as a kid, only to be blindsided with shock when they became good guys later on. It is totally understandable that kids would see Kallus as nothing but a hopeless baddy, irredeemable and undesirable. One even gave him the nickname WAFAR: Walking Advertisement for a Razor, in reference to his huge sideburns.
Despite helping to create the moniker and adopting it myself, I did not see Kallus as a hopeless villain, and below are some of the reasons why.
From the get-go, I noticed that Kallus did not mind going into battle at the head of a legion of Stormtroopers. When Vader steps on the scene, he is usually the central point of the conflict. He is neither with the Stormtoopers nor goading them on from behind. If there are Stormtroopers present when Darth Vader enters the scene, they are in the background, firing at the heroes. Vader takes center stage whenever he shows up.
Kallus was different. He was not in front of the Stormtroopers, like Vader typically is, he was in the front line with them. This is also a departure from the aloof attitude demonstrated by most Imperial officers. They are all safely behind the Stormtroopers when they appear on screen. We have never really seen an Imperial officer, agent, or other bigwig dive into the thick of a fight against the Rebels. The obvious reason for this is that the Imperials are perfectly willing to dish out the pain, but they are not willing to experience it themselves.
Kallus is different. He is willing to fight. He is willing to brawl. Whether he is using a blaster, his Lasat bo-rifle, or his own fists, he enjoys the thrill of combat. He is not afraid of getting hurt, though he is not reckless and does not wish to get himself killed. Nevertheless, from the start it was obvious that he enjoyed a good scrap.
This, I think, was my first hint that Kallus had the makings of a Rebel. Another hint was that he was not prone to preening, as most Imperials in Star Wars are. I do not recall seeing Kallus boast over anything he did while with the Empire, even his successes as an ISB agent. One Star Wars encyclopedia claims that he turned down numerous offers of promotion in order to stay on the front lines. So he did not have an unhealthy, inflated opinion of himself. Hmm, not your typical Imperial reaction to success, eh, readers?
To the observant viewer, this shows that Kallus is not interested in power or advancement in the Imperial bureaucracy. He is interested in his job as an ISB agent because he enjoys it. He wants to be on the front lines, fighting what he thinks is the good fight. His scrupulous attention to his job, his lack of interest in prestige and power, his love of combat because he is at his physical peak, hinted that he had a sense of honor. Though he kicked a Stormtrooper down a Kessel mineshaft and did some other, similarly nasty things, Kallus definitely possessed an aura of real dignity which is lacking in most of Star Wars' Imperial characters.
Hint number three about Kallus' eventual change of heart was that he was smart. Most Imperials are so busy trying to "get ahead" in the Imperial power structure that they have lost whatever imagination they had before they became part of the Emperor's machine. You watch them while they are working on the bridge of a Star Destroyer or some such place, and they are all vying for "their fair share" of the glory. This means that they never look beyond their own nose. Because they are so busy looking out for good ol' Number One, they do not understand the Rebels.
The Rebels would never leave a man behind if they could find a way to save him. Kallus realized this at the start of the series and, like Grand Admiral Thrawn, he began to profile our heroes. He did not do it through studying art, as Thrawn does, but by assessing their actions in combat.
There are benefits to both kinds of deduction, obviously. Thrawn's fascination with art and what it shows about a particular artist's or species' mindset is a superpower all by itself. It is what allows him to make such great, overarching plans. If there is one thing Thrawn is proud of it is his intellect, the fact that he is the smartest man (or Chiss) in the room, and so he holds all his subordinates and enemies in contempt. Kallus' understanding of the Rebels is based more on their performance in combat, and so he never held them in complete contempt.
Kallus is not a genius, like Thrawn, but he is intelligent. He analyzed the Ghost crew's patterns of attack and would be ready to meet them when they came running to the bait he had set up. His hand-to-hand battles with the Ghost crew, particularly Zeb, taught him their personal strengths and weaknesses.
In a way, this knowledge gave him a more realistic and basic picture of the Rebels than the one Thrawn has drawn up. Thrawn understands how they think; Kallus knows why they think the way they do. Thrawn is detached from his knowledge of the Rebels. With very, very few exceptions, he has not engaged them in personal combat. He has studied their tactics, yes, but he has done so through secondhand reports. Though thorough, these reports do not equate to actual experience.
Kallus has not engaged the Rebels simply with his head but by fighting them physically. He knows, therefore, that they will do the totally unexpected, not because of a picture they painted on a wall or a mask they left lying around. They will do the totally unexpected because they are determined to survive long enough to get a Rebellion against the Empire up and running. If someday they have to die so that a Rebellion can be born, then they will do it. But if they can find a way to survive they will take that chance, however slim or insane it seems to be. That is all there is to it.
Thrawn thinks he can synthesize thousands of years of art and battle tactics into an efficient metric by which to plan out the perfect battle. To an extent, he is right. But what Kallus knows and what Thrawn has not recognized is that heart beats brains every time. The Ghost crew's determination to win, to look out for each other, trumped his every plan to bring them to face what he believed was justice. And all of his plans were remarkably neat, for an "average" Imperial. So how can someone so smart get beaten so often by people who, logically, should be easy to defeat?
The writers finally answered Kallus' question in The Honorable Ones. After bushwhacking the crew in an Imperial factory orbiting Geonosis, Kallus follows Zeb as the Lasat tries to return to the Ghost via an Imperial escape pod. The two end up fighting while the escape pod jettisons, damaging the controls in the process and landing on an ice moon as a result. Zeb is knocked cold by the landing while Kallus breaks his leg.
The episode is actually nothing special, from the point of view of the plot. Two enemies who hate the other end up stranded together and have to work with one another if they hope to survive to rejoin their respective forces. We have seen this device used time and time again. It is not a particularly spectacular plot and, if handled badly, it leaves an awful taste in viewers' minds.
But The Honorable Ones pulls it off very well – and not just because of all the "freak-out noises" Kallus makes. Having watched Zeb for so long, we know how he is going to react when he realizes that Kallus cannot fight because of his busted leg. Kallus, however, believes that Zeb will take the first opportunity to kill him. He repeatedly tries to get his hands on a weapon, but Zeb disarms him and does not hurt him, in spite of pointing out how easily he could kill the ISB agent.
Zeb then makes a crack about how Geonosis is supposed to be a desert planet. He knows very well that they are on one of the planet's moons – a frigidly cold one, at that. But in order to ease the tension of their situation, he makes a joke about it. Kallus misses the joke and takes him seriously. He lectures Zeb as though the Lasat was a child, asking how he could be bested time and again by an ignoramus like him.
Zeb's curt reply – "Get a sense of humor, Agent!" – must have surprised him. Due to a bad experience with a Lasat mercenary some years before, Kallus held all Lasat in contempt. Because of this past encounter with a member of Zeb's species, he probably knows more about the Lasat as a race than anyone but Zeb and Thrawn. This hatred of his for the Lasat blinded him to their better qualities.
So Zeb pointing out that he was joking and Kallus not grasping it is one of the things that makes the Imperial agent sit up and pay attention. Zeb is not a genius but neither is he stupid. He was having a bit of fun at their expense, like any soldier who still held hope of rescue would. If Zeb had been a human or a fellow Imperial, Kallus might have understood that his comment was a joke. Instead, his bias blinded him to Zeb's sense of humor.
Throughout the episode Kallus slowly learns to take off his dark glasses and look at Zeb as he is and not how his hatred has painted him. What he finds is an intelligent, honorable Lasat who is tactically bright. He also realizes that Zeb has something he does not. Several somethings, actually…. He has friends. Friends he believes in and trusts to come for him no matter what. Friends he knows will risk their lives for him because they have done it over and over again. Friends he will in turn risk his life to protect and help.
Kallus has no friends, not because he does not want them, but because they do not want him. With the Imperials, friends are extra baggage. They can get you demoted or put you on the chopping block for their mistakes. The Galactic Empire of Star Wars reminds me a great deal of Lewis' description of Hell in The Screwtape Letters. Almost everyone in the Empire loves nothing greater or better than himself. They all hate each other to some extent and cannot wait to show up the person sitting next to them so they can climb the ladder to the Empire's upper echelons.
And in The Honorable Ones, this is what Kallus finds out. He finds out that he has not been fighting for the right side at all. He has been working for an evil Empire, doing evil deeds in its name.
The way this is shown in the episode is when he apologizes to Zeb for what happened on Lasan. The initial mission statement was not to massacre the Lasat. At least, this was not the mission statement that Kallus and everyone below him saw. The Empire meant it to be a massacre from the beginning, but they knew that not all of their soldiers would gleefully agree to exterminate an entire species. So the Empire had to feed them this idea that they were fighting just one little battle but it spiraled out into an inevitable world-clearing assignment.
Kallus bought the lie hook, line, and sinker because he already hated the Lasat. Though he admired an individual Lasat's honor and courage by accepting that warrior's bo-rifle before the latter died, he did in general despise the species. It made him willing to listen to and obey the Empire's lies even when part of him balked and said, "Maybe this isn't actually the right thing to do."
The real clincher comes at the end of the episode, when Kallus watches Zeb's reunion with the Ghost crew from a distance. The kids rush up to Zeb, shouting with relief, while Hera offers the milder, "You had us worried," line. Kanan's brash, "I told you he was all right," is the more manly way of expressing relief. It is clear that the crew is genuinely happy to see Zeb, that they love him as part of their battle family.
Kallus' reception aboard the Imperial Star Destroyer is the exact opposite. No one rushes up to see if he is okay or even to take him to sickbay for his broken leg. The one man aboard whom he knows by name, Admiral Konstantine, has his nose in a datapad when Kallus tries to get his attention. Konstantine's brush-off is totally at odds with the Ghost crew's joyous discovery of Zeb, alive and well, on that Geonosian moon.
Disappointed and shocked that no one aboard cared whether he lived or died, Kallus limps to his austere quarters and sits down on his bed. The one colorful thing he has is a meteorite Zeb found and gave to him because it generated heat, which Kallus needed more than he did because he could not walk. Somehow, I think Kallus realized then that, if he and Zeb had been friends and he had been lost, the big Lasat would have welcomed him back to the ship heartily.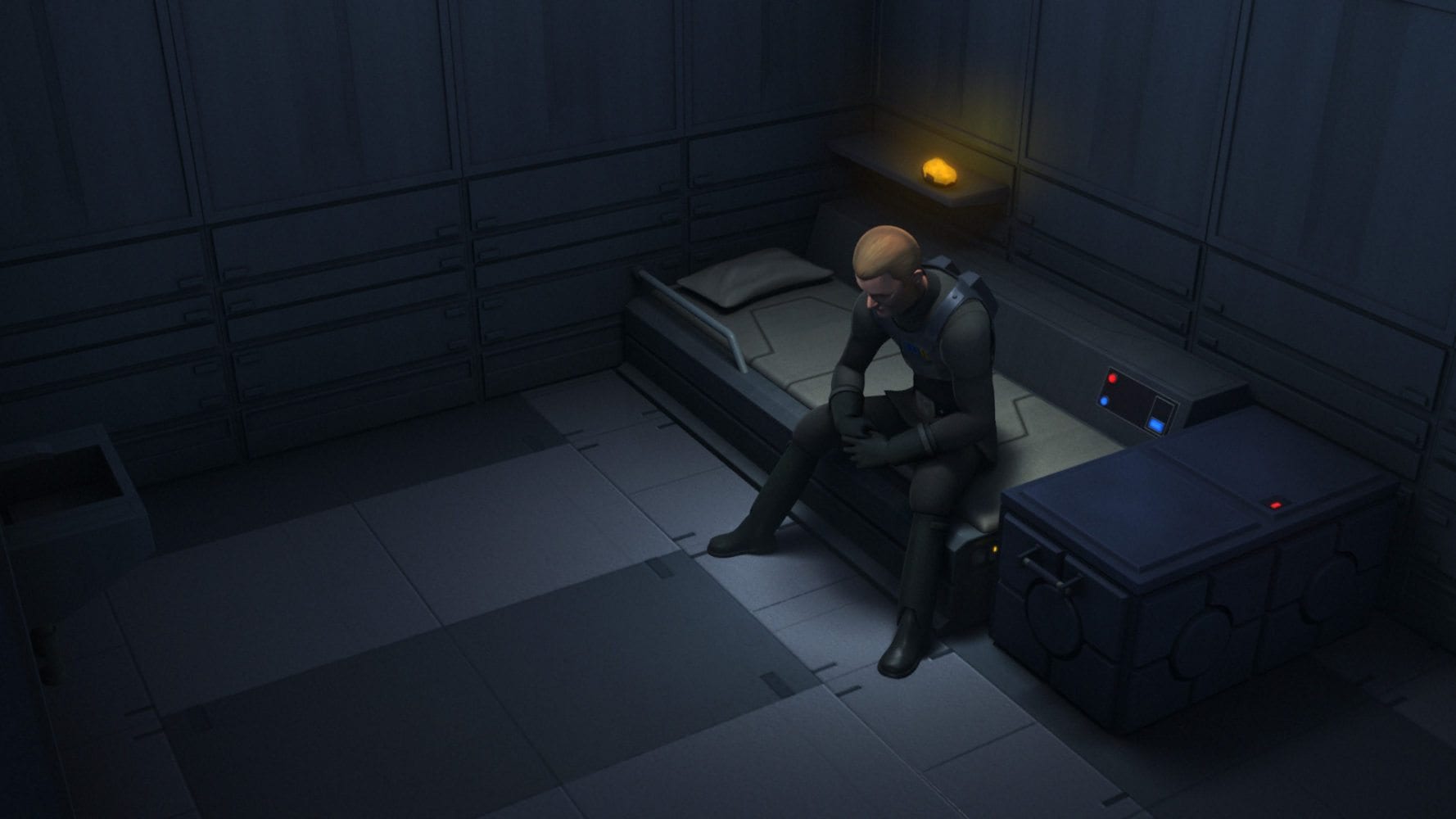 Though he always respected the Rebels' fighting abilities, Kallus finally realizes after this episode that they are in the right and he has been wrong this whole time. It must have hit him hard; finding out that you have been fighting for and doing the work of someone evil is pretty awful. But the interesting thing is that Kallus does not let his feelings overwhelm and destroy him. Instead of staying in bed, wracked with guilt, he follows Zeb's advice: he starts asking questions, looking into what the Empire is actually doing, not what it says it is doing.
The answers he finds spur him to join the Rebels as a spy, feeding them vital information from the first episode of season three onward. Despite not being a hundred percent successful in helping the Rebellion all the time, Kallus' information comes in handy more often than not. It is so valuable, in fact, that when the Phoenix cell gets word he might be discovered, they try to get him out of the Empire.
In this way, they recognize Kallus' true value more than he does. They see Kallus as more than a useful tool that can get them intelligence which could mean the difference between life and death. They see him as he is: a man of inestimable worth in and of himself, a man who does not deserve to be murdered by the Empire. They are willing to sacrifice any future lifesaving intel he could gain to save his life.
But Kallus' more practical, Imperial-tinted view of his role in the Rebellion means he is not yet ready to break away from the Empire. He stays behind to keep feeding the Rebels information, feeling he can do more good from the inside than from without. A noble idea, certainly, but in the end his decision is almost disastrous. Thrawn uses Kallus' next transmission to find Phoenix Squadron's base, methodically destroying the Rebel fleet assembled overhead to put a halt to the TIE Defender factories on Lothal. Kallus' warning barely alerts the Rebels in time, allowing them to mount a defense against the attack.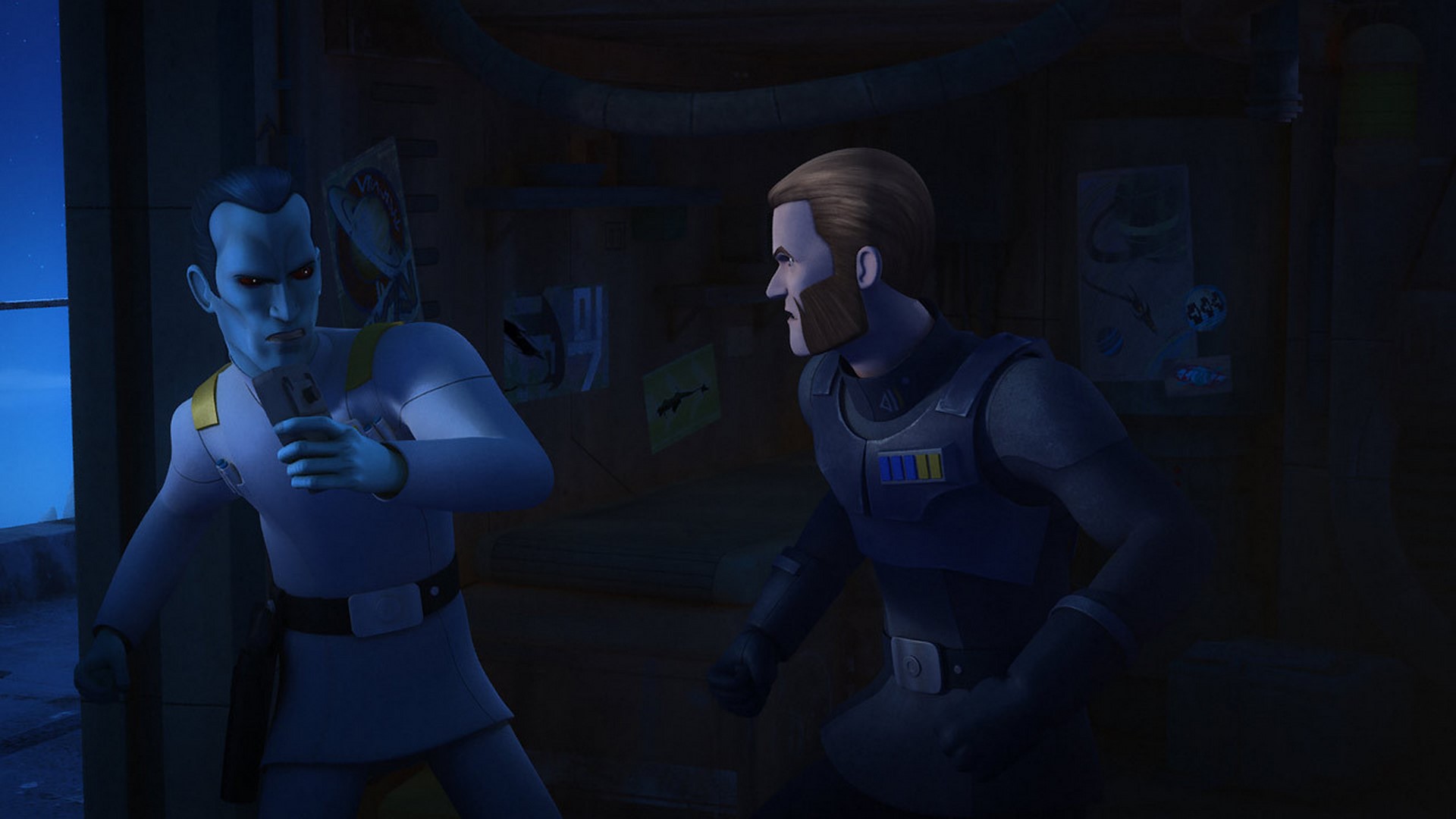 It is, however, a costly defense, with many Rebels lost in the battle, along with most of the supplies they stored in the base which they are just able to abandon. Kallus is forced to watch the people he decided to help get killed before his eyes, held as he is aboard the Chimera's bridge, powerless to act on their behalf. Though he eventually manages to escape it is clear he is not very happy with the day's events at the end of Zero Hour, Part 2.
It is not too hard to guess why. Kallus thought he could be of more help to the Rebels from inside the Empire, that he could be useful to them as a spy. Instead he got them discovered, which led to many of their men being killed in action and lost them a well-stocked hidden base. He is lucky that they decided to take him in despite all that, which is why he thanks Kanan for accepting him.
Kanan, through his Force-sensitivity, must sense what Kallus is feeling. He also knows the man will not accept coddling. He cannot. He is a grown, responsible adult, which means he has to deal with his feelings as an adult should.
This does not mean that Kanan cannot tell him how much the risks he took on behalf of the Rebellion, on behalf of the Ghost crew, mean to them. He thanks Kallus for risking so much for them, for doing the right thing.
Kallus' expression after Kanan leaves is very interesting. In fact, it is comparable to Ezra's expression after he helps Sabine and Zeb take crates of food to feed hungry Lothal refugees in Spark of Rebellion. After one of the denizens of Tarkintown thanks Ezra for the food, thinking he is part of the Ghost crew, Ezra's face falls with shame. "But I didn't do this," he mutters. "I didn't do anything." He was looking out for himself when he got caught up in the Ghost crew's raid, but the people in Tarkintown did not know that. To them, he is a new member of the crew of benefactors that supplied them with the necessities they could no longer acquire themselves. This leaves Ezra feeling guilty, a guilt which helps spur him to join the Rebellion because it helps bring him out of himself, showing him that there is a larger battle to fight. That he can, in fact, make a difference and help people in a way that matters.
From Kallus' expression, it is clear he is running up against the same feelings Ezra did. He does not think that he risked much, not the way the rest of the Rebels have been for years. He is a Johnny-come-lately to the Rebellion; it has been building for years, and he never considered it anything less than evil until recently. In fact, he actively worked to destroy it. Kanan, Hera, Ezra, Sabine, Zeb, and even Chopper saw this evil for what it was from the beginning. Kanan has paid for his Rebel service with his eyes, for Pete's sake, yet he is thanking Kallus for risking his life as a mole in the Empire! They have been fighting it, risking their lives to defeat it, far longer than he has. "But I didn't do any of this," he is thinking as Kanan leaves. "I didn't do anything."
Kallus is a big boy, and sooner or later he is going to realize that this assessment is not entirely true. Yes, he was not an enemy of the Empire from the beginning. Yes, he fought and killed Rebels before he joined their fight. Yes, he will be making up for lost time now that he has become a Rebel.
But he did risk his life to give the Rebels important, lifesaving information. He did warn them in time, not just in Zero Hour but in Warhead as well. He did throw off Governor Pryce's command capabilities by upsetting her, reminding her of the consequences of failure in the Empire. He did, at last, escape the Empire's clutches and join the Rebellion. He is, finally, becoming more of the person he was meant to be.
That makes him pretty darn important. It makes him worth thanking. It makes him worthy of the Rebels' respect. And it is going to make him a heck of a Rebel, readers. I cannot wait to see him kick some Imperial backside in season four!
Journeying with Kallus has been almost as much fun as following along with the Ghost crew. I hope he gets to the party on Endor at the end of Return of the Jedi, where our Phoenix Squadron friends can slap him on the back and offer him some of the local cocktail. Maybe, in whatever series follows Rebels, we will get to see more of Kallus. He is an intriguing character I would hate to lose as a viewer. As a writer, I would have to have a pretty good reason to kill him off.
But we will have to wait and see what Dave Filoni and his crew have in store for our heroes. The final season of Star Wars Rebels is going to big and probably painful on a series of levels. As the song says, "We may lose and we may win/But we will never be here again/So open up, I'm climbin' in." I've followed the Ghost's hyperspace vectors this far, readers. I cannot turn back now. If you have come this far with us, I know it is the same for you.
So…may the Force be with you, readers and Rebels alike!