Today's book is an anthology created by Jerry Pournelle with John F. Carr. Published through Baen Books, the collection contains quite a few short stories, several poems, and numerous essays. Each of the above are directed at a single point: what is the difference between a republic and an empire? Which is the best form of government – that is, which provides the most room for freedom and mankind's success? Most importantly, is tyranny confined only to an Empire, or is it a state of corruption that can ruin either type of government?
It is not hard to guess that this volume is densely packed. These are weighty questions, none of which can be defined easily or answered lightly. Although a Republic offers more freedom than an Empire, it is no less susceptible to the cancer of tyranny. And so the writers' created stories and essays to explore what it means to be free and what it means to be a Republic…or an Empire. In keeping with the ideal of liberty, they leave the audience to make up their own minds on which of the two is ultimately better than the other.
Due to the solidity of this volume's philosophical points, I will not be discussing the essays within the anthology. Suffice it to say they are thought-provoking, if a little pedantic and/or academic. If one wishes to skip past them to read the stories, doing so will certainly make the reading go faster. On the whole, though, I would recommend reading them – either before or after the stories they proceed/introduce.
Some of the stories do contain adult content, though. It did not bother me too much, but Younger Readers ought to keep it in mind if they decide to pick up this collection. This blogger will make a note of which stories have explicit scenes that conscientious youths may wish to avoid.
As a final notice, I did not read the last story in the compilation. This is a tale called "Shipwright," which was written by Donald Kingsbury. Since the person who gave me the book wrote "Not a Good Story" next the title, this blogger accordingly avoided it. I also skimmed "These Shall Not Be Lost" because…well, the story just didn't appeal to me. It felt out of place and boring, so I am afraid that this blogger cannot comment on it, either. If you want to know how these tales go, readers, you will have to find out yourselves. I cannot help you here.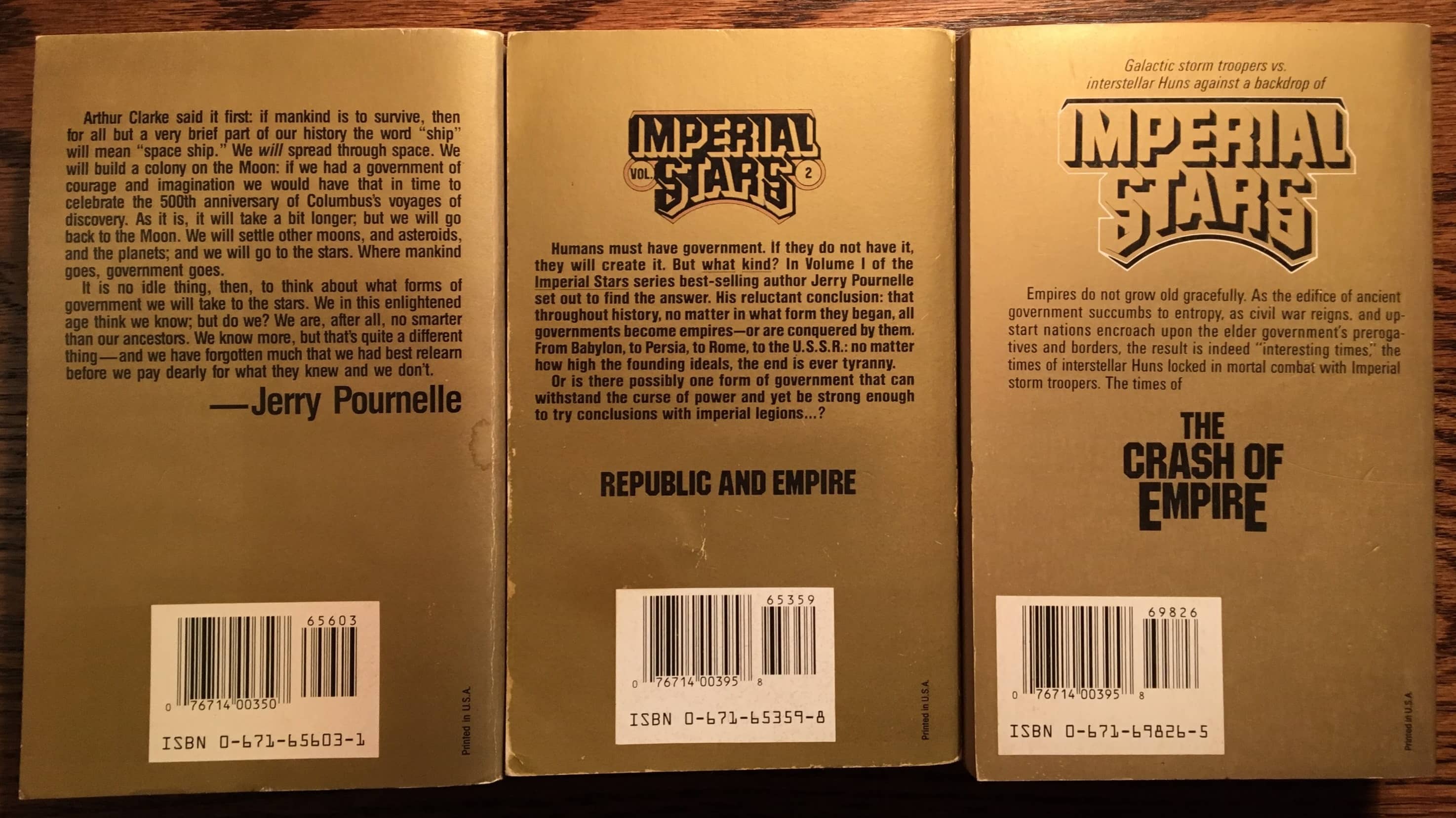 Okay, with all of that out of the way, we can get down to business. The first story in the book is "Outward Bound," by Norman Spinrad. This is a very good piece, with no sex scenes, gore, or foul language. In this tale space travel takes years, Earth-time. A man aboard ship can be eighty years old physically, but by Earth standards he will have lived eight hundred years.
This means that good ol' Terra has her sixty colony worlds under her heel. Because of the time lag between them, Earth is the undisputed ruler of this tiny corner of the galaxy. No matter what they do, the colonies will always be sixty, eighty, or a hundred years behind the homeworld.
For man the only freedom to be found is aboard trading ships, such as the titular Outward Bound. They can go where they wish and have no worries that Earth will yank their chain, bringing them to ground. Dealing in knowledge of scientific techniques rather than money, the Outward Bound arrives on the planet of Maxwell to trade the plans for a force field. Maxwell doesn't have much to trade; all they have of near equal value is a fugitive scientist from Earth. And since Terra never pursues a criminal this far into space the captain of the Outward Bound, Peter Reed, knows this scientist has something they want badly. And that means whatever knowledge he has is valuable – perhaps incalculably so. Thus, after a bit of haggling, he trades the force field for Dr. Ching pen Yee.
But Dr. Yee's knowledge isn't just valuable, it is a game changer. It could not only alter the future of space travel and Man; it could bring down Terra's tyrannic control of her colonies. Reed has to decide if profits will rule the day or if Man will at last own the stars.
This is an enjoyable story, and one this blogger highly recommends. I do not know what else Norman Spinrad wrote (yet), but I intend to look up his other works and take a crack at them. "Outward Bound" was that good.
After this comes a less appealing tale written by Wayne Wightman. Titled "In the Realm of the Heart, In the World of the Knife," it shows readers a world where tyranny and corruption have won. Revolution has brought down the previous order and established a new, "perfect" administration – complete with death camps, gulags, and state-sanctioned murder of those who offend their overlords in even the slightest manner.
This is not one of my favorite stories in the anthology. I recommend reading it because it is important, but it is not a likable or inspiring tale. While there are no explicit scenes, there are reminiscences of romantic interludes. The story also describes various forms of death and dismemberment that will probably startle Younger Readers.
None of this should make them avoid the story forever, since it shows the face of evil so and makes it more easily recognizable in the real world. But they should be aware there will be some disgusting things described in brief during the course of "In the Realm of the Heart, In the World of the Knife." It will be unpleasant, of course, but evil always is. If we want to have good, then we have to know the face of wickedness in order to fight against it and preserve what is true. "In the Realm of the Heart, In the World of the Knife" makes this point quite memorably by showing readers what is lost when tyranny wins.
"Doing Well While Doing Good" follows "In the Realm of the Heart, In the World of the Knife." Now "Doing" is actually a fun piece. It is a bit convoluted at first, but the finale clears up most of the confusion. Hayford Pierce, the author of this tale, certainly came up with one of the most ingenious answers to the pollution question that this blogger has ever heard! 😀
Following this is a story titled "Minor Ingredient," by Eric Frank Russell. Now this is a good story; no gore, no romantic interludes, and no language. Warner McShane arrives at the Space Training College for officers. A pilot-navigator on track for leadership training, he is taken through the college to his dormitory.
Once there, McShane is presented with a most unwelcome accessory. This would be Billings, his batman or personal servant. Scorning the idea that he would need someone to nanny him, McShane sends Billings away. But when the officer in charge of his dorm arrives and discovers this, he demonstrates why Billings' presence is needed: the batman knows all the etiquette for the school, down to the proper arrangement of McShane's clothes in his dresser drawers. Without him, the young man cannot hope to succeed in following the house rules, which will undoubtedly get him tossed out of the academy.
Unhappily, McShane agrees to take Billings back. Testing the older man to see just what he can and cannot get away with, the prospective officer finds himself frustrated at every turn. Over time, however, he comes to value his batman as a great friend and mentor, realizing how much the serving man and his fellows are doing for him and the other students.
This is a really, really sweet story. I cannot recommend it enough. More than worth the purchase price, "Minor Ingredient" is the piece de resistance of this collection. If you find it in a volume of a different kind, readers, snatch it up at once. This is a tale that should be on every book shelf in the country.
Next in line is Philip K. Dick's "The Turning Wheel." This is an odd piece which I still do not know what to make of, since it is rather bizarre. Set in a post-apocalyptic Earth, it shows a rigid caste system that has developed since man blasted himself almost back to the Stone Age. I say almost because the Bard Caste – the highest level in the caste system – uses rusting ships, viewscreens, and robots. The technology diminishes the further down the castes one goes.
At the bottom of the caste system are the Technos – the Caucasians or "Caucs" for short. Considered stupid, boorish animals, Technos are treated as pariahs by civilized society. But some of them have begun to challenge the ruling castes' beliefs (which are a weird mixture of Buddhism, Christianity, and science). Known as the Tinkerers, this heresy is a threat to the ruling Bards.
The Bard Sung-wu has been sent to the Detroit area to check on reports of Tinkerer activity. He is not eager for this assignment. Due to die in the near future, he is more concerned with atoning for the adultery he committed with the wife of another man in order to avoid reincarnating as a carrion fly on another world. Unable to admit that to his superior, Sung-wu accepts the assignment and leaves – only to discover that, maybe, the Tinkerers aren't so bad after all.
As I said, this is a weird story. It's also a bit explicit in places, and so may not be appropriate for Younger Readers in the 12-15 age range. While it is a wacky piece, the tale is not necessarily a bad one. It is certainly worth reading at least once.
"Custom Fitting," by James White, is next. This is a straightforward tale about a tailor who receives galactic recognition for his work. Hired by the government in secret to design clothing for a Centauriform alien, George Hewlitt is struck dumb with fury when he discovers what type of clothing the administration wants him to design. A true craftsman, he sets out to fulfill his clandestine contract – the way he believes it should be done.
This is definitely a worthy story. It is readable for anyone of any age, with no objectionable content whatsoever. A fun romp, it is more relaxing than most of its fellows in this anthology.
Following this is Vernor Vinge's "Conquest by Default." This is a very disturbing thought experiment about how an anarchic government could be achieved. Anarchy is, and will always remain, an impractical form of governance in reality. You cannot have everyone running around doing their own things and still maintain a unified, ordered front.
Of course, that is not the point of this story. "Conquest by Default" is science fiction and thus it suspends this rule of reality to make a point about what anarchy would do to a society if it could be made into a workable frame for governance. A sad tale with an enormously important message, it has some objectionable content and may not be good for youths to jump into at once.
I did not like "The Skills of Xanadu," by Theodore Sturgeon, very much on the first read through. The second reading left no better impression than the initial one. Young Bril of Kit Carson arrives on the world of Xanadu to exploit its people and technology. Although human, the Xanadu people appear childishly simplistic. They wear strange belts that produce a filmy energy outfit that hardly covers them and live in idyllic innocence.
But for a people that should be easy to conquer, Bril finds them almost impossible to outmaneuver. Whatever attempt he makes to learn the secret of their magnificent belts and skills is solidly stonewalled. It is like dealing with gullible, indolent children who have somehow crafted fantastic powers of the mind and technology one hardly notices.
For me, this story did not work. It is hard to say just why without giving anything away. Suffice it to say that the resolution feels too…effortless for this blogger to accept it. Although the message of the story is an admirable one, it is highly unrealistic, moreso than that found in "Conquest by Default." Perfection is not possible in this life, and every time a story resorts to this trope, it bothers me because it is so implausible.
So, while "The Skills of Xanadu" is worth reading, it may not be particularly satisfying. You will have to make your own decision about it, readers, if you wish to read it. Young Readers may find some content a bit disconcerting, but there is not one explicit scene in the story.
Jerry Pournelle
The same cannot be said of the final piece in the collection that this blogger can review. "Into the Sunset," by D.C. Poyer, has a couple of romantic interludes. Something of a reverse 1984, the story has a good point despite these scenes and some other irritating tropes. I definitely recommend reading it, since one does not have to like the lead character or some of his actions to appreciate the story.
Admittedly, I cut the lead character a lot of slack because it is really nice to have a tale that shows a Party losing. One of the most depressing things about George Orwell's 1984 is that it ends in despair. "Into the Sunset" does not have a happy ending for the protagonist, but it certainly is not as discouraging as 1984 was. I will take what I can get.
Whew! This author is wiped, readers. Hopefully she will be back again next week with something new. I am not sure what this will be just yet, but it will certainly not be another anthology. I am taking a break from those! 😀
'Til next time!
The Mithril Guardian