Forgive the deep sigh, readers, but after Avengers Assemble's satisfying third season I did not expect to begin tearing into the show's writers again. I never seem to learn my lesson about these people.
Avengers Assemble is taking a dive into the current comics' attempt to rewrite reality through its "All New, All-Different" character roster. Now I have absolutely no problem with the addition of Black Panther, Vision, and Ant-Man to season four's character lineup. I have already stated that I wanted them on the team, so actually having them here is great. But I was surprised and saddened at this series' depiction of the Wasp. Since I have already listed my issues with the two Marvels elsewhere, I will not go into that here.
The two-part introductory episode "Avengers No More" began well enough. In this installment we had our wonderfully forged team of interesting, fun, beloved heroes trying to rescue Tony Stark from whatever dimension Dr. Strange sent him to last season.
We also got to meet this universe's Jane Foster, who did quite nicely during her debut. The hint that she and Thor know each other from a prior time, not to mention the romantic spark which passes between them in the first episode, was a nice touch. Hawkeye and Panther trading quips was a great throwback to the Earth's Mightiest Heroes, and I had hoped we would get to see them do it more often.
There was only one thing which bothered me in this episode, and that was Thor's fixation on protecting his teammates. It seemed to be a bit overplayed; the writers looked like they were trying to give him PTSD or something. At the very least, I would say they were a tad too heavy-handed with this aspect of the show.
The second half of "Avengers No More" is where I had A LOT of problems. Panther came through the show with flying colors, naturally, and Vision is always fun to see. I actually rooted for the Enchantress when she tangled with Captain Marvel, but I was not happy with Scott Lang's reduction to the team joke. I enjoy his quips and his fun-loving attitude, but the man is NOT stupid. He can get touchy-feely from time to time, not to mention be serious when the situation calls for it. The episode "Sneakers" proved this.
But it seems that the writers have decided that if they cannot make Hawkeye the class fool, they will do it to Scott Lang instead. Newsflash, people, we do NOT want our heroes to be fools of any kind. We do not mind it when they make mistakes, or goof up, or when they occasionally pull pranks. They are human and we like to see them behaving like real human beings do.
What is going on here, however, is none of the above. One of the reasons that this overdose of juvenility on Ant-Man's part does not work is because it is so utterly inhuman (pun intended). No one who is that goofy can last in a position of authority, power, and danger for very long. To make us try to believe that they can will not work because the world will not let it work. Sooner or later, it will beat the truth into us that humor and goofiness has its place – and that place is not in the middle of a firefight.
Wasp (Hope Van Dyne)
My other problem is with the Wasp. Originally, I looked forward to having her in the series; Janet Van Dyne is one of my favorite Marvel heroines. She has been since EMH. So although this Wasp is her daughter, Hope, I thought she might at least come close to the fun, cheerful character Jan was in Earth's Mightiest Heroes. I had also thought to see her come into the series perfectly synchronized with her partner, Scott Lang.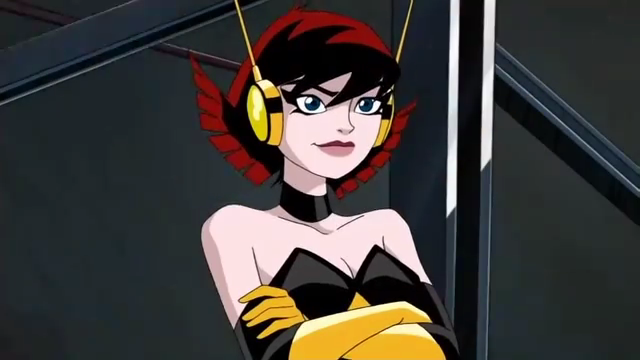 Wasp (Janet Van Dyne)
What I got instead was a character with a chip on her shoulder, determined to dominate the man who should be her colleague. As in "Prison Break," Hope has realized that no one can or is holding her back except herself. However, she still comes across as hard nosed, grim, and anti-social. This prevents her from connecting in any meaningful way to Scott, something I have faint hopes of seeing as the season progresses.
More to the point, readers, this is not the Wasp I enjoy watching. Hope is not her mother, and I respect that difference. But I will not accept a character which is so obviously designed to carry a grudge against the world in general and her teammates in particular. I do not want or need that kind of negativity.
To tell you the truth, I find the difference in her deportment in this series puzzling. From what I saw of Hope in the Ant-Man film, she was not angry with her father because he would not let her use the suit. That was part of it. Most of the reason she was angry at him was because he would not tell her what had actually happened to her mother; he shut her out of his life after Jan's disappearance, and this is what made her so angry with him.
By this point, Hope should have no reason to carry her anger into Assemble. While she has thrown out some good zingers in the show (not counting the ones at Ant-Man's expense), the fact is that Wasp was never an "I am Woman, hear me roar!"-type character. Even in the film, there was none of the "Girl Power!" motif to be found in the axe she ground against Hank Pym.
Her dad wanted to keep her safe, both because he loved her and because she was the living link he to the wife he could not protect. Kevin Feige went to the trouble of specifically saying that Hank did not think Hope couldn't handle the power of the Ant-Man suit. Feige said the reason Hank would not let her use the suit was because he did not want to lose his only daughter as he had his wife. There was no "holding Hope back" in the mission statement; there was only "shield Hope at all costs."
Is this impractical? Yes, but any mother or father worth her or his salt will have that kind of reaction regarding their child/children. It is how they handle it which may need work or may deserve praise.
Also, my heart hit my shoes when the phrase "All New, All-Different" was used in the second half of "Avengers No More." In the comics the "All New, All-Different" tagline is shorthand for "let's make the elites and critics happy and who cares if we alienate our loyal, paying fanbase while we do it." This has led to Captain America being reworked as a Nazi/Fascist and many other equally destructive "rewrites" to well-beloved heroes and heroines.
Marvel, as I have said elsewhere, is no longer run by people who want to build up the characters and tell good stories with them. It is managed by those who have an unhealthy and destructive agenda which they are now trying to force feed us through the cartoons.
This must make you wonder why I bothered to watch the next five episodes of season four. Aside from the fact that it is good to know what the other side is doing, I have already invested a lot of ink/pixles in reviewing the series Avengers Assemble for you. If I were to stop now I would fail you, my audience, as well as myself. No one said I have to watch the season or like it, but my duty seems clear to me here: I started reviewing this series and so it behooves me review it to the finish, whatever that may be.
I must admit to disliking most of the episodes which follow "Avengers No More." Not only do these shows avoid telling us where the original Avengers are, they essentially try to sell us a silk purse made from a sow's ear. For instance, "The Sleeper Awakens," wherein the Avengers' B Team has to face down the Red Skull, is only saved by Vision.
When the newbies move into Black Panther's ambassadorial mansion, their headquarters for the season, Ant-Man suggests Vision get a pet calculator after the android makes a comment about his large pet ant. Scott comes to regret this proposal when Vision reprograms one of Red Skull's robots to think for itself and asks if he can keep it for a pet.
The byplay between Vision and "Skully" is the only saving grace for the show. Panther has to pull the rest of the weight for the episode while Scott is allowed some helpful hints. But in the end, the only reason to watch "The Sleeper Awakens" is Vision.
As for "Prison Break," watching that show was nothing short of pure torture. It started out on a good note, with Wasp promising to take down Captain Marvel in a ping-pong match. While I would still like to see that happen, the rest of the episode was nothing less than "I am Woman, hear me roar!" pandering.
The major battle in this installment takes place in the Vault, a high security supervillain prison built into a mountain. Yelena Belova, now going by the moniker Crimson Widow, attacks and tricks the B Team into taking her to the prison. This is so she can get rich by freeing the villains held there.
Once inside, she takes down her escorts – Danvers and Wasp – before freeing Zarda and Typhoid Mary. Danvers and Wasp come to and then have an insipid heart-to-heart, during which Hope admits she thinks everyone in the universe is trying to hold her back. The only thing which was even mildly entertaining here was watching Zarda throw Danvers around. Why?
During "Prison Break" there was no sense of tangible threat to the heroines. We knew going in that Zarda would get beaten by Danvers; just because the writers and animators let her get kicked around first didn't change that fact. We also knew that Crimson Widow and Typhoid Mary were going to lose. Danvers was the big stone around the show's neck, but the second biggest was the chip on Hope's shoulder.
Her "daddy/Scott/the Avengers held me back" speech was moronic. She is new to the gig, so the Avengers either did not know about her or they wanted her to get some more experience under her belt before they gave her a call, the same way you have to have something on your resume before you send it in to get a high-paying job. Scott could not hold Hope back, up, or down if he tried, and we already discussed the fact that her father was not holding her back from her full potential at the beginning of this post. It was blatantly obvious in "Prison Break" that the only thing holding the Wasp back was Hope Van Dyne.
And I am sorry, but the contest between Captain Marvel and Zarda was not worth getting excited about in any way. They are two macho women who like to punch down people/walls/buildings, and hearing Zarda list Danvers' myriad false praises to the skies almost made me physically sick.
If the writers had pitted an actual heroine such as Mockingbird, Lady Sif, the Scarlet Witch, Spectrum, Firestar, or even She-Hulk against Zarda, I would have been more interested. But a struggle between equally strong opponents when the outcome can never be in doubt is a boring way to spend an episode.
Some of you are now doubtless shouting at the screen, saying, "How can you say that Zarda and Danvers are equally strong opponents, Mithril?! Zarda's an immortal from Utopia – she's even more powerful than Thor! How can you say that Danvers, who only has Kree DNA bonded to her body, is Zarda's equal?!?"
My response: Oh, give me a Hulk-sized break!!!! First, we do not know if Zarda is more powerful than Thor. Her Sledge of Power operates on a different principle than Mjolnir does. It takes more power to be worthy than to be strong or "powerful," readers. Zarda will never be able to lift the hammer for the simple reason that all her strength and prowess does not make her worthy. It just makes her a good bully.
Also, remember that Danvers and Zarda are both narcissistic, they both have more muscles in their upper bodies than between their ears, and there is no way in Nick Fury's underwear drawer that the writers would ever avoid letting Danvers K.O. Zarda. We knew that going in because the big, flashing neon sign screaming "Girl Power!" was melting our eyes from the minute that Wasp and Danvers first clashed with Belova in Panther's mansion. This told us everything we needed to know about the plot and the outcome of the episode before we were ten minutes into the show.
Now the reason that I say having Sif fight Zarda would have been more interesting is because Sif is not a Femi-Nazi. She made it into Asgard's warrior corps on her own merit; she is interesting, vulnerable, and fun. And, what is more, she would never have let Zarda throw her around like a ragdoll just so she could look cooler when she finally flattened the Princess of Utopia.
Spectrum (Monica Rambeau)
Put Spectrum up against Zarda, and you have the potential for a good to great fight. Monica Rambeau can become intangible and fire energy beams from her hands, not to mention turn her own body into a beam of light or energy. She is a former cop and a member of the New Orleans Harbor Patrol. She maintains her own patrol boat for this reason, she has spunk, and she has her weaknesses. Are you telling me she couldn't handle Zarda? She could take her down without strain or sweat if she wanted to do so!
If you threw the Scarlet Witch at the Princess of Power, she would be dancing to keep up with Wanda's skillful, smart attacks. Firestar is a mutant capable of flight and generating heat/fire blasts from her hands. You think she couldn't have handled Zarda in an interesting way and still beaten her? Yeah, right!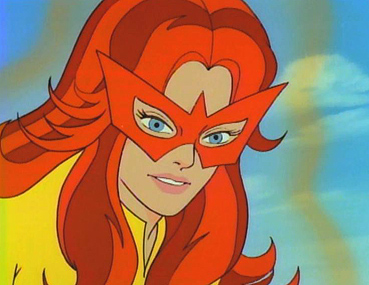 Firestar (Angelica Jones)
Heck, putting Zarda up against She-Hulk would have been more interesting. While Jennifer Walters' alter-ego barely escapes the Strong Female Character stereotype, the fact is that she is no pushover and she is (rarely) bland. A fight between her and Zarda would have at least been attention worthy; the fight between Danvers and the Princess of Power was so dull that I barely glanced at more than a few scenes of it.
But for my money, setting up a match between Mockingbird and Zarda would have been the ultimate catfight. Bobbi Morse has no superpowers (or she should not). A normal woman with extensive hand-to-hand combat and SHIELD training, I would have loved to have seen Mockingbird wipe the floor with Zarda by continually outsmarting her.
But the writers did not go for smart, just as they did not go for classy. And they certainly did not set up a battle between equally deadly foes. "Prison Break" was nothing but a root-for-us-because-we-are-strong-women piece with Marvel-ous window dressing. It was a rigged match from the start that meant absolutely nothing because it had no stakes, which gave the audience zero satisfaction when the conflict finally ended. The chip on Wasp's shoulder made her defeat of Belova just as tedious.
Things did not improve overmuch in "The Incredible Herc." I do not know if Marvel's Hercules has always been this much of a nitwit, but color me unimpressed with his exploits in this chapter. This is a shame because I like the mythical stories about Hercules. I am also a fan of Hercules: The Legendary Journeys with Kevin Sorbo. Show this character (or Sorbo) any disrespect and you sink in my estimation.
Another irritating thing in this episode was watching Captain Marvel and Black Panther vie for leadership of the B Team. It is not that I cannot see this fight occuring; I can totally see Danvers trying to wrest control of the team from Panther. What I cannot see is Panther claiming "male privilege" to secure his position.
This is obviously the point behind his words when he says "I am a king!" during the debate over who should be leader of the Avengers' B Team. The fact is that Panther is not a better leader than her for the reason that he is a king or due to the fact that he "sees the big picture." He is the better leader because he is actually capable of analytical thought and all she wants to instinctively do is smash obstacles to pieces while taking all the glory from the battlefield.
My ability to swallow his respect for Captain Marvel, whom the writers have set up in Cap's place in the series while he is bopping around the multi-verse, is nil. Danvers is a loose cannon, just like Hercules, but with far less charm and value. The writers think they can keep the message they want her to bear and not lose her while doing it.
But the fact is that this will not work. It never has. This is why she was never allowed to "take center stage" before. Danvers melts in the spotlight, demonstrating spectacularly to the audience that the Feminist claims she embodies are nothing more or less than lies.
This is something Marvel's previous writers knew and which they did not allow to happen. But Marvel's new writers have bought the lie hook, line, and sinker, leading them to try and amp up the power behind the broadcasting system. So they are surprised that people have continued to tune out the message, leading them to try to increase the power to the circuit so they can get the "necessary" attention.
It will be interesting to see their reaction when the whole thing self-destructs in their collective face.
I managed to miss the first few minutes of "Show Your Work," readers, but the truth is that there was not much to miss. The episode was nothing less than an attempt to make Ms. Marvel/Kamala Khan look good, and you cannot make a token character look good any more than you can make pyrite real gold.
Not once during this installment did Khan show any real vulnerability to Taskmaster's supposed charm. Her claim that she saw through his charade from beginning to end also defeated the purpose of the entire subplot between the two of them. Other characters might have pulled it off, but because of her flawed design, Khan is completely incapable of making her emotional reactions look real – even when she geeks out while meeting a new hero/heroine.
Besides, in Ultimate Spider-Man, Taskmaster did not show near this much interest in or respect for any of the kids he encountered. The one-eighty degree turn he does in this episode for Ms. Marvel's benefit absolutely smacks of politically correct condescension on the part of the writers.
Taskmaster is not a nice guy, readers; he respects nothing and no one. He fights and kills for cash, and he would keep doing it until the Earth blew up underneath him. Whoever he is/was under that skull mask, he is a ruthless murderer bent on getting as much money and pleasure out of his job as he can. Softening him up for Khan's benefit is nothing short of patronization toward the audience on the part of the show's writers.
Khan's statement to Taskmaster that "Reboots are all the rage right now" was another demerit for the show in my book. A reboot, as I understand things, is supposed to revive a television series and its characters in a fresh way for a new generation. They do this by tweaking the original stories and characters, not by fundamentally rewriting them and their universe.
This means there is nothing fresh or good in the "reboots" Marvel has been feeding us since 2015. If we can have the ancient myths, the Tales of King Arthur, and The Merry Adventures of Robin Hood retold to us over and over and over again with just a few minor changes to the original platform, then what makes Marvel's writers think we cannot handle the same thing in regard to their heroes?!?!
Vision was the only bright spot in this show, and he did not save it. Duct tape would not have been able to save this episode. Wasp still had a visible chip on her shoulder here, Scott was made to look the fool again, and Panther was not allowed to really flex his leadership muscles. As a result, "Show Your Work" earns one big, long, drawn-out "Booo!" from this viewer.
Now "Sneakers" was actually a good chapter because it played to T'Challa's strengths and Scott was allowed to be more than the team pratfall. The two had to work together to save Wakanda from Baron Zemo (strange how I knew his redemption in season three would not last).
They did it in an interesting way and, while Scott did not come out of the battle totally free of juvenile "humor," he did not play the useless waste of skin the writers made him appear in the earlier episodes. Vision also had a cameo or two which lent vigor to the show and the dialogue. All of this made "Sneakers" the only one of the five premier installments for Secret Wars worth watching.
So far, I am more than a little frustrated with Avengers Assemble's season four. I had a sense it would disappoint – the title Secret Wars was the giveaway. And the retitling of the series' fifth season (Black Panther's Quest) does not inspire confidence in the upcoming period, either. How can it be Avengers Assemble if Black Panther is the lead – or possibly the ONLY – character in the series at this point?
None of this is to say that I would not love to see him in season five. T'Challa is one of the best, most well-developed and intriguing characters Marvel has, and I enjoy watching him. But I do NOT want to see more of T'Challa at the expense of Cap, Hawkeye, Hulk, Black Widow, Falcon, Iron Man, and Thor. I want to see him fighting alongside them, learning with them, and integrating into their team. A Black Panther and Avengers team up, or a Black Panther plus his Avenging sidekicks storyline, will not deliver on this.
With the arrival of new villains such as Skurge and the Enchantress, I would also like to know why we cannot have more heroes and heroines added to the Avengers' roster in this series. I am still waiting for the appearance of Quicksilver and the Scarlet Witch, everybody. And I would like to have Spectrum, Bucky Barnes, Mockingbird, War Machine, Firestar, Lady Sif, Luke Cage, Iron Fist, and many others appear here as well. Having Songbird and at least one or two of the Thunderbolts return would be great, too, as would the reappearance of Inferno.
And seriously, why do we not have the X-Men, the Fantastic Four, Daredevil, and other Marvel heroes weaving in and out of this series? Just what is wrong with that idea? No one ever seemed to have a problem doing it before. Why the hesitation now?
The Marvel Universe is – or was – a dynamic and varied place with plenty of amazing characters to enjoy. The fact that the writers will now build stories using only the critically "sanctioned" heroes and heroines (often with a liberal twist) is assinine. It limits them as storytellers; they have gone from "going where no man has gone before" to "going where no one wants to go."
It is a weak, stupid move, and it is hurting them just as much as it is hurting their audience. But Marvel's current writers and hierarchy won't stop doing this – not in short order, anyway – which means we are going to suffer along with our heroes through mile after mile of relativist swampland until the people in charge clean up their act.
This seems like a sour note to end a post with, doesn't it? I will not end a post on a sour note if I can help it, so here goes with the positivity: things can be repaired. New, good stories can be told using the same great characters. The continual retellings of the ancient myths, the stories about King Arthur and Robin Hood, prove that you do not need to "get with the times" to have relevant heroes, heroines, and stories, readers. A good story, well told, with great characters is all you need to entertain/instruct an audience.
One of these days, someone at Marvel is going to figure this out. Or they will hire someone who knows this. Or they will be bought out by someone who knows it and who will hire people who know it. Eventually, the tide will change, the trash will be swept out, and the house will be refurbished.
We just have to hold out until that happens. We have to hold on to the characters and stories so we can clean up the mansion and put everything to rights again at some point in the future. So, rather than say, "Make mine Marvel no more!" I will say this –
Avengers – ALWAYS!!!