On and off over the last few years this blogger has hoped to write a review of Andre Norton's Three Hands for Scorpio. But despite her best efforts, until today this blogger did not manage to find the time. And on closer reflection that may have less to do with her schedule and more to do with the quality of the book itself.
Scorpio was the last novel Andre Norton wrote before her death in March 2005. Already ill for some time before this, she lived long enough to see the cover art (pictured above) before passing through the last gate she referenced so often in her fiction. Though she did her best and turned out a good story, comparing it to her previous works shows that Norton was at the end of her time when she wrote Three Hands for Scorpio.
Set in a fictional version of England, the book blends sixteenth century and Medieval Britain, with mixed results. There are snaplocks (guns) and swords used alongside alien magic and ancient sorcery. A church under the head of a queen is the primary religion in the characters' home country, while a strange religion that brutally mistreats women has taken hold in the northern land of Gurlyon. Amidst these two countries lies a third land hidden in a ravine. This country is filled with strange creatures and even weirder inhabitants. Known as the Dismals, it is a land where many go but from which none have ever returned.
Andre Alice Norton
Normally, Ms. Norton could have sewn this tapestry together seamlessly. But due to her illness, she did not succeed as well as she could have. Although the story is entertaining there are scenes that do not seem to be related to one another, yet are said to tie together. Descriptions, one of Miss Norton's strong points, wander off base from time to time or focus on matters that have no importance. Some could accuse her of always engaging in this practice, but previous Norton novels always used descriptions of weird temples, places, or beasts/plants to help enhance the sense of strangeness and wonder in her fictional worlds. Three Hands for Scorpio tries to do this but does not quite succeed.
I think, personally, that the reason for this failure rests entirely on the author's deteriorating powers. Ms. Norton was not far from death's door when she wrote Three Hands for Scorpio. After a point, I believe, she simply could not focus well enough or spend the energy to finish tying off the various threads of the story without using up what time remained to her.
In all honesty, despite its flaws, I appreciate this novel precisely because it is Ms. Norton's last. She held on long enough to give her fans one final story, a book to cherish because she fought death to give readers an enjoyable parting gift. That took a great deal of strength, commitment, and courage on her part, and I believe it behooves readers to give her the respect she earned in her final months on this Earth.
Having said this, it is now time to take a look at the tale itself. Three Hands for Scorpio follows the adventures of the three daughters of Earl Scorpy of Verset. Verset is on the Alsonian border, right across from the northern country of Gurlyon. A great battle waged on the day of the sisters' birth ended the ongoing war with the North, though border raids and kidnappings remain a part of life in and around Verset.
The three Scorpy girls – Tamara, Sabina, and Drucilla – are identical triplets. Tamara is the oldest, the one who enjoys horse riding and combat training the most. Sabina's talent is herb lore and healing. Drucilla enjoys weaving tapestries, often basing her patterns on things she has seen in her dreams.
Each sister possesses the Talent, a measure of Power with which they were born. It seems to operate on the same basis as the Talent in the Witch World even though this country is in an alternate universe. All three girls can communicate telepathically, constantly talking among themselves mind-to-mind. They are also able to speak to their mother, who is a strong sorceress, and their father in this manner. While he has less Talent than the women in his family, that which the Lord of Verset does hold is quite formidable.
The story starts with the three sisters embroidering a tapestry Drucilla dreamed up. As they are working Sabina comments that there is something off about the design, prompting Tam and Cilla to take a closer look at it. Just as they realize the drawing is of Dark origin, their mother steps into the room and demands to know what is going on. Learning that Drucilla dreamt the design and did not of her own volition choose to begin weaving it, the Lady of Verset has her daughters repudiate the evil behind the picture. She then has the family's wise woman, known as Duty, take the embroidery to be destroyed.
Once the offensive weaving has been removed from the room, the Lady of Verset tells her daughters that their father has at last secured a truce with the neighboring Gurly lord, who will bring a priest of the alien religion along in his retinue. Rumors about this creed's view of women have reached the castle already and the girls are advised to be on their best behavior. Angering the priest may jeopardize the treaty and begin the war all over again.
Now one would think Cilla's dream and near-disastrous embroidery would have served as a warning to the family that something nasty was coming. And the Verset family is certainly cautious. However, despite their best safety measures, trouble erupts. The priest traveling with the Gurly lord calls the Verset ladies openly insults the ladies of Verset, and the noble's second son speaks to Tamara as though she were a prostitute at dinner. Infuriated by his lack of honor, all three sisters immediately stand up. Mincing no words, Tam explains why they are leaving the table, further humiliating the young lord. Then she marches off with her sisters to their tower room.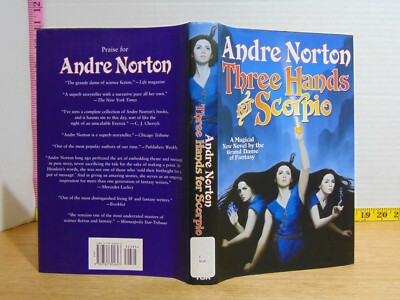 Thinking over their behavior after they have calmed down, the three are none too sure they acted rightly. When their mother arrives they expect a scolding. However, while she admits their abrupt exit caused a scene, she holds them blameless for the dilemma. Their father likewise absolves them when he joins their mother in holding court in the girls' bedroom.
Explaining that the three will remain home when their parents go with the Gurly lord to sign the treaty elsewhere, the sisters' parents tell them that while they are technically "grounded," they essentially have to hold the fort while the Lord and Lady of Verset are gone. This night's trouble has been a baptism of fire, meaning the sisters have now unofficially entered the world plotting and scheming the adults have dealt with for so long. Therefore they must be prepared to ride to war – metaphorically speaking. They are officially "grounded" and confined to the tower for the foreseeable future, after all.
So for the next few days the Scorpy girls maintain their training regimen at the same time they monitor the castle. As they wrap up fencing practice two of the maids run in to tell them about a peddler, one who says he has no news of the North. Since every peddler usually has news from Gurlyon, the three are immediately suspicious. They send the women to buy some of the trader's finery and learn more about what he has or hasn't seen. They also have the castle bailiff try to get information out of him via games and drink.
What information the sisters' receive isn't unreasonable but it is still odd enough to set them wondering. With dusk becoming night the three head up to bed, suddenly quite tired. Before hitting the sack, though, one of them draws a symbol for warding over the door to their chamber. When asked why, she admits she did it on instinct.
Too tired to think about this very hard, the three fall into bed. In the middle of the night, Sabina awakes to find she cannot move. Nor can she speak, telepathically or with her voice. Helpless, she witnesses strangers pull her and her sisters out of bed, tie them up in rugs, and take them out of the castle into the wilds.
After a time of hard riding Tam, Bina, and Cilla find they have been captured by a Breaksword, one who survived a hanging. Though he has been hired by the Gurly noble's son to bring the Scorpy girls to him, he also wants revenge on the Lord of Verset. Since Lord Scorpy had him hung, this Breaksword is happy to take the job of kidnapping his daughters just to make him suffer. When the castle rouses from the spell laid on it and the residents come looking for the sisters, he has them thrown into the Dismals – where the adventure really begins.
As I said above, the novel is not very well tied together. The description of the sisters' abduction does not flow the way previous kidnappings Norton orchestrated did. Scenes like it also fall apart as one tries to read them. The active transitions from place to place or scene to scene literally become a near-incoherent mess for two or three paragraphs (in this reader's mind) before straightening out into intelligible writing. It makes the story hard to read and can give even the most committed reader a headache.
Now, this does not change the fact that the story is good, or that it was a strong effort on the part of a dying author. It does, however, mean that readers will have a difficult time making their way throughout the narrative. Norton did her best – she really did. But it was not enough to make Three Hands for Scorpio the equal of her earlier works.
Clearly, this book is not for the casual reader. It may not even appeal to die-hard Andre Norton fans. I really cannot recommend this book to anyone in either category who looks at my opinion and says, "Nope, not going to wade through that to find the gem!"
I understand that. I really do. And I respect readers who feel Scorpio isn't worth their time. However, I do suggest giving it at least one read through. Norton was not at her best when she wrote Three Hands, but she was determined to go out with flags flying. That is an effort that is worth a glance, isn't it?
'Til next time,
The Mithril Guardian