Left to right: Wilykat and his older sister, Wilykit
Earlier this year an article about Tygra, a member of the Thundercats from the series of the same name, appeared here at Thoughts. When asked if more posts on the characters would be forthcoming, this blogger promised to write at least a two before the year was out. She is now endeavoring to follow through on that assurance with this Spotlight! post.
Having covered three of the adult members of the original cast from Thundercats, we now turn to their junior members, the Thunderkittens. Apparently, among the Thunderian race, children are known as cubs and teenagers are called kittens. Wilykit and her younger twin brother, Wilykat, are both in their early teens (they appear to be thirteen or fourteen years old). As such they are usually referred to as the Kittens, though the adults will sometimes call them kids.
The Thunderkittens are thought to be based on wildcats. They have no obvious markings which identify their species of cat, so this is primarily conjecture on the part of the audience. Since it is such a likely classification it has stuck throughout the years.
Born into nobility, Wilykit and Wilykat are technically older than Lion-O, who was around twelve when they left Thundera. When they left their dying homeworld the two were expected to treat him as a younger brother – albeit one who would someday be their king. Upon finding the younger cub had grown to adulthood in his sleeping capsule the Kittens were quick to jump on him for his pride in his newfound strength.
Although their statements were accurate, they also showed that the Kittens were rather jealous of him. They no longer had someone they could boss around and with whom they could just be kids. Lion-O was physically mature and therefore had to assume his responsibilities faster than anyone had anticipated. Although he never lorded his power over them and became an older brother figure to the two, all three felt the sudden gap between them keenly during their first days on Third Earth.
As their names imply, Kit and Kat were masters of the art of trickery. Each sibling carried a pouch full of colored, cats-eye style magic pellets that would do a variety of things when they struck the ground. The capsules could be the equivalent of flash-bang grenades or they could be bubble gum. Even the Kittens didn't always know what was in a given tablet before they used it. Although the items inside were hardly ever improper for the situation at hand, on a few occasions they did prove to be a bust.
In addition Kit and Kat carried "trick lassos" that they could use to tie up an opponent or to enter/exit a battle. Since they were teens neither Kitten could match their opponents physically, despite their own naturally increased strength. The lassos were generally a method for swinging into or out of a battle. They were also a temporary measure that enabled them to hold an enemy in place for a brief period of time. During those few precious seconds the twins could pull off a ruse or keep someone pinned in place long enough for one of the adult Cats to arrive.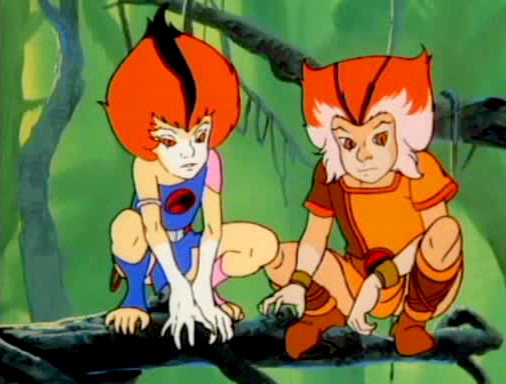 Unless they had the opportunity to operate one of the weapons built into Cat's Lair, the Thundertank, or another vehicle the twins' fighting style was based entirely on speed, agility, acrobatics, and/or a mischievous ploy. Exceptional climbers even by Thundercat standards, the twins often raced through the trees both to fight and flee as well as to have fun.
Only one twin had a special move similar to the adults' innate powers. Wilykit had the ability to curl up into a ball and zing around a battlefield, allowing her to knock over, hit, or stun much larger opponents. Her power was useful but could also be detrimental; while fighting animated stone gargoyles, hitting them at speed in her ball form "nearly threw [her] back out." If she had struck the monsters at a higher velocity, she would have seriously injured herself.
Wilykit did not use this ability too often, preferring to rely on her native wit and skills to fight. She and her brother tended to combine both these traits with their piloting ability. Each Kitten had a special, surfer-style hoverboard specifically designed for them by Panthro. Regularly flying around the environs of Cat's Lair, the Kittens could provide impromptu air support and reconnaissance. They could also act as advance scouts or even bait.
Conversely, they could also become the catalyst for a conflict by being captured while gallivanting about on the hoverboards. Kids will be kids, after all, and it wouldn't be healthy for the Cats to keep the twins indoors or within sight of Cat's Lair all the time. Besides, with no other resources to rely on as they became denizens and then protectors of their new homeworld, the Kittens often had adult responsibilities thrust upon them. They rarely abused the trust the mature members of the party placed in them, willingly accepting the discipline imposed on them when they realized how badly they had erred.
My earlier article on the two Thundercats TV series gives details about how the writers for the comics treated the Kittens. Not only was it illogical, it was downright evil. The 2011 reboot did not touch on that, thankfully, but it was not entirely generous in its depiction of the Kittens, either.
For one thing, the reboot made the twins much younger than they had been in the original series. They were also given tails and turned into street urchins rather than young nobles. Wilykit's ball form was replaced with a flute she could use to hypnotize a target, and the Kittens' ears doubled as their hair. Wilykit became a spiritual adviser to Lion-O in the 2011 series as well. While that was not a bad alteration per se, the role would have had more weight if she were a noble trained to such a position or if she was assuming her hereditary duty. Since she was a former street urchin and a cub rather than a Kitten, it seemed a bit out of place.
The reboot also expanded on the Kittens' origins, showing them with their parents and twin younger siblings. While this was a fine addition to the original story (we never did find out what became of Kit and Kat's parents in the '80s), what followed was not. After their father was killed in a tornado, the Kittens' mother apparently began selling herself to make ends meet so she could feed her four children.
Although realistic, this turn of events is both uncharacteristic of the original Thundercats material at the same time it was mishandled terribly. Nothing within the series overtly hints at the position of the Kittens' mother following the loss of their father, thankfully, but the fact that this was put in a children's show is more than a bit disturbing. There were other jobs they could have given to the Kittens' mother which would have been better for viewers young and old to empathize with.
Likewise, the fact that they have the twins run away from home in the middle of the night to find a mythical city of gold strikes a false note. Didn't their mother worry about them? Didn't she try to find them? Why are they stealing for themselves just to keep body and soul together until they find El Dara, the city of gold? There were jobs they could have found, even at that young age, which would have helped take care of their mother and siblings rather than leave home in such a way as to add to their troubles.
All of this serves to make the previous point that the reboot, while it has entertaining and good aspects, is far inferior to its predecessor. While it has its enjoyable moments, the places where it falls down on the job make it difficult to completely enjoy. The '80s show was not perfect, but it did not need to be. It just had to be good.
Well, readers, that covers all the major characters in the series except one. Oops, actually, there are two left. Lion-O will be next on the list, but after his post will come an article on the hero who received the most hate in the '80s. He never bothered me the way that he did others, though, so the post about him will be very interesting indeed.
Until next time, readers: "Thunder…. Thunder….
Thundercats, HO!!!"