Sometime back I was watching Captain America: Civil War – again. During this viewing I noticed something very interesting and rather disturbing.
At the beginning of the movie, as the battle in Lagos ends, we watch Crossbones blow up three floors of a skyscraper. We are treated to a view of citizens huddled in the bazaar in terror, while Cap and Wanda gaze upward in horror as they realize that people have died in a blast which was much bigger than they anticipated. Steve calls Falcon and tells him to get emergency responders on the scene as fast as possible, while Wanda collapses to her knees in grief…
And then we cut to Tony having a public therapy session with a room full of his best friends – and however many people are watching his speech on television, youtube, facebook, snapchat, and I have no idea what else.
It hit me while watching this that these scenes are very jarring in the way that real life actually is. Here, Cap and Wanda are standing amidst Crossbones' explosive carnage. Then we cut to Tony, who is having a public psychotherapy session with thousands of his closest friends. The two scenes are light years apart. One shows mourning for the loss of life while the other demonstrates an intellectual distance from real mourning, real sorrow, and real death.
Now, Cap and Wanda did not intentionally kill twenty-six people in Lagos. This is something which no one in the movie – and no one reviewing the film – pauses to note. It was an unfortunate, heart-wrenching, horrible accident. Miles and miles away, physically and mentally, Tony is mourning a mistake he made in his teens. He did not say good-bye to his mother the day she died. There is no real comparison for the two scenes.
Allow me to explain. There is no one in that MIT auditorium – or very few people – who have dealt with what Cap and Wanda are dealing with in Lagos. This includes Tony. I do not mean that he has never seen anyone die before. He has, and he has helped some of those people die. And I mean the terrorists and HYDRA agents when I say this, not the innocents caught in the crossfire during a battle. [Author rolls eyes at the insinuation of the pack of idiots who believe otherwise.] Tony actively avoids killing innocent people on purpose, just like the rest of the Avengers do.
What I mean is that Stark has not dealt with death. He has not accepted it. This is made manifestly clear by the fact that he is still not reconciled to the deaths of his parents. He has not "processed [his] grief" over his losses. Translation: he does not want to admit that he was a total brat to them on the last day they were alive, when he could have treated them with love and respect instead. Well, yeah, Tony, you could have done that throughout your entire life, too!
This leaves him at a distinct disadvantage when dealing with the deaths of others, such as the son of the woman who emotionally ambushes him in the back hall of MIT. Tony is insulated, just like those kids in the auditorium, from facing reality thanks to the belief – which they and Tony share – that technology can cure every problem and conquer every aberration. This includes, naturally enough, death. It is the one thing which we all run from on a daily basis. Most of us do not admit it, realize it, or are really prepared to face it someday. Only the very, very lucky are capable of these things.
Cap and Wanda do not have this cocoon. Thanks to Crossbones and other villains, they have both seen death before. Wanda lost her parents at age ten, a more tender age than Tony's presumable sixteen, when HYDRA murdered the Starks. And she sensed her twin's death in Age of Ultron. She has seen death up close and personal throughout her young life and properly mourned for those she has lost.
Cap fought in World War II. He saw the Grim Reaper in action plenty of times during that conflict, and he has seen him in the battles from Loki's invasion attempt onward. He has mourned his losses and accepted the deaths of his friends, just like Wanda has. This means that neither Cap nor Wanda is insulated from death. They have seen it too many times not to know what it looks like. And so they are not insulated from the pain and sorrow that come with it, either, two other things which Tony and the MIT students have never truly faced.
I bring this all up in relation to Vision for the simple reason that, like Tony and these MIT students, he is insulated. Unlike Tony and many others in that auditorium, he is not willfully insulated. He is a new being, a child genius living in a synthetic adult body. He is, in a word, innocent, and this is because he lacks real-world experience.
This is why he backs the Accords. Having no human experience prior to this past year of his life, he has no frame of reference for such mysteries as sorrow, love, death, grief, and pain. He also has no firsthand experience with these things. The only way he understands them is through science, mathematics, theory, and the reports of others.
The former do not get you very far in this fallen, mysterious world, readers. Reports are not equivalent to personal experience, either. They are simply that – arid, dusty records.
Yes, there are things that can be scientifically identified and defined and mathematically calculated in this world. We also have theories of all kinds coming out of our ears. But – as a for instance – can you seriously look inside yourselves, readers, and say that all your thoughts are the results of chemical reactions in your brains? That the reason you are thinking about a great piece of art, a wonderful song, or this very movie we are discussing right now, is all the result of a series of chemical reactions in your bodies/brains?
That is utterly impossible, and if you are honest with yourselves, you will see that. One can say they feel hunger because the body's chemical reactions are telling one's brain that the stomach is empty and needs filling. But one cannot say he is contemplating a movie simply because a series of neurons are firing in his brain. The neurons firing are only an indication that he is thinking. They do not prove what he is thinking about, and anyone who claims otherwise is either being extremely unreasonable or making a complicated sales pitch.
Vision, however, has not recognized this truth. He is a totally synthetic being. His body is made of vibranium, so all its components are mere mimics of the human body. His brain and personality, although based off of the previous Stark butler, the human Edwin Jarvis, were once a computer system named after said butler. Nothing about him is natural, physically speaking. He is a synthetic, not a "real," person.
But this does not prevent him from wanting to become a real person, just as the Velveteen Rabbit wanted to become a real rabbit. Vision is trying to learn how to be human. This is proven when he phases into Wanda's room, thinking that the door being open is a sign that she is not in the room, is open to having guests, or something like that. He never does get to explain why he thought that, because the door was open, it was okay for him to ghost straight into the room.
Whether or not Vision picks up on Thunderbolt Ross' thinly veiled threats is hard to tell. One would think he would have detected the belligerence in the man's tone, but without any previous experience with bullies, it must not have clicked that the Secretary of State was being a controlling jerk. So it is not surprising when Vision decides to support the Accords, citing the modern philosophy that "strength incites challenge, challenge incites conflict, and conflict…breeds catastrophe."
If that were the case, then no one would ever get anywhere. You cannot live without some inherent strength, readers. Babies cannot grow up to become children who become adults if they do not get stronger as they grow. The fact that some are born physically stronger than others is irrelevant; true strength comes from the will, a product of the mind, not the body.
This makes conflict an inescapable fact of life, since we are fallen creatures prone to sin. Pride, the root of all the world's ailments, is always one of our weak points – especially if we believe ourselves "the best and the brightest" person/people in the room, and that we "know what is best" for everyone else.
Vision has never been sick in his short life, nor has he ever been proud. And the only one he knows of who could directly challenge his strength was Ultron. Thor, along with the Hulk (possibly), might have been threats to him. No one else on Earth, normal human or otherwise, can hold a candle to him, physically speaking. Aware of this, Vision does not want to use his strength for the wrong things. That is why he is an Avenger, after all.
He also understands that not everyone trusts him. The Avengers are the exception because they know him. They may have their issues with him, but they do trust and appreciate him. The rest of the world…not so much.
This is the other reason why Vision accedes to the Accords. In order to convince the public that he is not evil, he agrees to be shackled to the U.N. as a lapdog. What he and none of the other pro-Accords Avengers realize is that he is not a lapdog. None of the Avengers are. They are all individuals with free will. They have all made a commitment to, as Vision so eloquently stated in Ultron, defend life. They are the good guys, and Vision seeks to mollify the suspicious into believing this truth.
He needs to brush up on his Tolkien. With the notable exception of T'Chaka, almost everyone behind the Accords is a Saruman. They want to control everything, to be worshipped in place of God. Some are trapped in their own rhetoric while others are megalomaniacs hiding behind the cloak of rationality. Like Saruman, they do not impose their collective will on the Avengers by absolute force at first. They impose it by traitorous whisperings through their own version of Gríma Wormtongue, a.k.a. Thunderbolt Ross. And because Vision is completely innocent, he falls for the lies because they appear coherent. They "look fair and feel foul." (The Lord of the Rings: The Fellowship of the Ring.)
Vision is not big on feelings right now, as he still relies on science to understand the world around him. The arguments for the Accords are not sane, of course. Evil never has been sane. And do not gasp in surprise that I said evil in relation to Thunderbolt Ross and the U.N. Was or was not Saruman evil? He had his puppet Wormtongue poison the mind and will of King Théoden of Rohan and his niece, Éowyn. Then he invaded and tried to destroy Rohan when his attempt at subtlety was foiled by Gandalf. He tried to kill Frodo after the hobbit spared him, despite the damage the fallen wizard had wreaked on the Shire.
Saruman. Was. Evil. So are many of the bureaucrats and politicians behind the Sokovia Accords. So is Thunderbolt Ross.
The next time we see Vision, he is trying to cheer Wanda up while keeping her confined in the Avengers' Compound. The scene is cute on a number of levels, not least for those of us who know the history of the romance the two shared in the comics. (They were married for a couple of decades in the books.) In a way, this scene is reminiscent of many a high school drama story: Vision is the typical geeky science whizz kid trying to impress the most beautiful girl in school. He absolutely adores Wanda, who does not seem ready to reciprocate his budding feelings, although she definitely likes him and considers him a good friend. He did save her life, remember. It is hard not to like someone for doing that.
After this awkward, then sweet, then awkward moment, Vision disappears for a while. When Clint arrives at the Compound to pick up Wanda and take her to Germany to meet up with the rest of Team Cap, his distraction interrupts Vision's version of sleeping. Turns out androids can sleep standing up. Or, in Vision's case, he sleeps by hovering above the floor in an upright position.
Suitably distracted by Clint's explosives and the resulting fire, Vision leaves to see to the problem – allowing Clint to enter the room, set up a trap for him, and try to get Wanda out of the building as fast as he possibly can.
Vision is understandably unhappy about this. I mean, friends do not set off pyrotechnics outside their friends' house in order to lure them out on a wild goose chase. And friends' do not steal their friends' crush.
Without doing a full review, we already know that Clint has no romantic inclination toward Wanda at all. They are friends; mentor and student. Her brother died to save Hawkeye's life, and he owes him for that. The best way to pay the debt is to take care of his sister. Plus, Hawkeye convinced her to become an Avenger. That makes her his responsibility in situations like this.
I am not entirely sure that Vision sees it that way. He is learning to be human by degrees, and I think part of the reason he got a little testy is the same reason that a jealous teenager with a crush would. Wanda is his idol, and that means NOBODY ELSE gets to touch her, even if she lets them.
Getting trapped in an electromagnetic field probably did not help his mood. So when Clint has to give Wanda another pep talk, Vision has time to escape his trap and turn the extraction into a fight.
It is actually a bit terrifying – and I am not saying that simply because Hawkeye is one of my favorite Marvel characters. If Vision's manner of stopping a friend is this harsh, then I would really hate to see him pull out all the stops in a fight with normal humans. The results would definitely not be pretty.
Vision incapacitates Clint easily, of course, stating the obvious fact that the archer is no match for him. "I know," Hawkeye answers. "But she is."
This makes Vision look at Wanda, who is drawing up quite a bit of power in her hands. "Vision, let him go," she says, "I'm leaving."
"I can't let you do that," Vision replies, totally ignoring the fact that Hawkeye is very close to falling unconscious in his tight, though not life-threatening (presumably), grip.
Wanda is not going to ignore that. And she shows it by making Vision drop him.
Vision is literally shocked by this. To his mind, Wanda has done the inconceivable by challenging him. Her ability to commandeer his powers notwithstanding, she has turned her back on the Accords he swore to uphold. It is likely that he feels she is turning her back on him by doing this as well, not to mention throwing away any chance of convincing "the public" that she is not dangerous. She is manifestly dangerous.
But so is Vision. So is Hawkeye. So is Captain America. So are Tony, Natasha, Scott Lang, Spider-Man, War Machine – all of the Avengers are dangerous. As Gandalf pointed out to Gimli in The Two Towers, they are "beset with dangers" because they are so perilous in and of themselves. It is the when and the where and the how they choose to be hazardous which makes them a different kind of dangerous than HYDRA, Zemo, or Ultron. They only become dangerous when it is necessary to save the lives of others or to protect their own lives. That is why Wanda decides to be perilous here and now. Vision was seriously hurting Clint, and she was not going to let him be hurt any further than he already was.
She is also done with letting "the public," Ross, the media, and the U.N. hurt her. In his attempt to make her turn away from her choice and back (he thinks) to him, Vision tells Wanda, "If you do this, they will never stop being afraid of you."
Wanda has one of the best comebacks I have heard out of a character in years: "I can't control their fear, only my own!" Vision is letting the fears of others control him.
Okay, you say, but what about Wanda going all-out in the airport battle? She does go all-out, but she does not go wild. She fights in a very controlled, methodical manner. This is because she is done being afraid of herself and what she can do. That does not mean she is going to go completely insane using her powers. If that were the case, she would have done more than throw Natasha into a trailer. She would have hauled off and seriously injured her. She did not.
As for her attacks on the other members of Team Iron, let's face it: metal suits are great protection. That means the bar for causing actual damage to the person wearing the suit is pretty high. Remember, ten cars landing on his body only gave Tony "multiple contusions." Those are not broken bones, those are bruises. They might be big and painful, but they are not going to rob him of life and limb. They just make it uncomfortable for him to move, as he is left really sore by the hits.
None of Wanda's tactics when she fought War Machine, Iron Man, and Black Panther qualified as deadly because they were wearing very good protective suits. She could throw plane parts and cars at them all day long, and all they would have afterward were A LOT of big bruises. And equally sore egos.
But Vision cannot really claim the same thing, now can he?
We will get to that in a moment. For now, let us inspect the minutiae of the fight after Vision joins it. Is it not interesting that, in order to bring Team Cap to a halt, Vision ends up drawing the proverbial line in the sand? "I dare ya ta cross this line!" Bugs Bunny used to say.
"Captain," Vision says after lasering a line in the concrete, "I know you believe in what you are doing. But for the greater good, you must stand down." Okay, Vision, but who decides what the greater good is? You, or the U.N.? I would think that, if you could have your druthers, you would let Cap and the others go stop Zemo. Right?
Oh, but wait. You signed away your right to choose when you acquiesced to the Accords. So I guess that means you have to do what you are told, even when it is something you do not want to do. Hmmm. You did not factor that into your equations, did you?
One of Vision's first acts after Scott Lang grows to Giant-Man is to save T'Challa from a bus the big guy kicked. Very cool move and reminiscent of the comics, where Vision could and would use his density shifting ability to block such attacks. I always thought that was a neat power to have. But he later uses this same ability on Giant-Man's ribs. Ow, that is kind of mean. After disorienting Scott in this way, he flies through him and out his back. Seeing Bucky and Cap running toward the jet, Vision decides to stop them by dropping a control tower in their path.
The most interesting thing here is the look on his face. For the first time ever, Vision actually looks angry. Why is he angry? And, more to the point, does he even realize he is experiencing a human emotion?
It does not appear that he does realize this. Following this attempt by Vision to stop the guys Wanda, in an astonishing display of strength, holds up the tower so that Cap and Bucky can get to the jet. For those of you wondering why she could handle this and not Crossbones' Viking funeral, the tower was collapsing, not exploding. There is a BIG difference between those two things. Then War Machine hits her with his sonic and she lets go of the tower, which collapses all the way.
But why was Vision angry when he shot the tower's base?
There were probably several reasons. For one, Cap is among the most reasonable people that Vision knows. That he should persist in what Vision believes is an error to the point of engaging in combat with his pro-Accords teammates must have made the android pretty cranky. Like a teenager insisting his father is wrong, Vision lashes out at Cap without seriously examining his own position to see if he actually is in the right.
It is somewhat similar to Vision's own comparison of the Accords to an equation. Say someone asks you to add ten and fifteen. But instead of hearing the person say ten and fifteen, you hear ten and sixteen. You therefore add these two numbers together and get twenty-six. The person who asked you to add the numbers hears your answer and says, "That's not right." You say it is, but you forget to mention that you added ten and sixteen, which makes twenty-six. The person who asked you to add the numbers looks at you like you are crazy and maintains that you have the wrong answer to his question.
So you do the equation again, without changing the numbers. You get the same answer and tell it to the person who gave you the equation. He still says the answer is wrong. Now you start to get mad as you redo the equation, still using ten and sixteen instead of ten and fifteen, as you were asked. The entire scenario devolves into a vicious argument as you continue to claim that twenty-six is the answer, while the other person continues to say it is not.
This is Vision's problem right here. Although Cap states the parameters of the Accords in the plainest language possible in the Compound, Vision turns the simple addition problem into a far more complex equation. He does not do this on purpose; he does this because he is following the modern idea of rationalism. This rationalism is a false equation. But because it adds up, Vision does not realize this. He is adding ten and sixteen, not ten and fifteen, and does not see his mistake.
So the fact that Cap and the rest of the Avengers on Team Red, White, and Blue keep insisting he has the wrong answer makes Vision angry enough to stop being careful. This is why he knocks over the control tower. Although he does not realize it, Vision is acting like a young child who is too angry to listen to the teacher explain to him why he got the equation wrong.
Next we have the scene of Vision touching down beside Wanda as she recovers from War Machine's sonic blast. It is obvious here that the writers are going down the same road as the comics. Comments from the Russo brothers about Avengers: Infinity War have confirmed that Vision and Wanda are going to be doing the Romance Two-Step in the next film. This scene could not be a clearer hint.
Then we come to War Machine yelling in Vision's ear, telling him to get Sam off his back. Vision turns and looks up. He sees Sam, focuses visually on the wing pack, and fires his laser.
But even before Falcon dodges the shot, Vision's aim is off. Instead of hitting Sam's wing pack, he shoots higher than Falcon's previous position and hits Rhodey's arc reactor. This results in Rhodey tumbling out of the sky to land in the dirt two hundred feet below. The impact shatters several vertebrae and leaves Rhodey at least partially paralyzed.
Vision, we notice, looked pretty angry when he fired that shot. And War Machine was the last one to attack Wanda. Was this a case of unconscious payback?
I highly doubt it, for one reason and one reason only: Vision was looking at the thrusters on Sam's wing pack when he fired. He was not looking at Rhodey at all. So why did he miss? His concern and budding love for Wanda? That was part of it. Another, bigger part was simple irritation. How do we feel when we are getting yelled at and told to do something right now?
Here is another teenage allusion: Mom asks teenage daughter to take out the trash. Teenage daughter is on the sofa texting her BFF. She says she will get the trash in a minute. Two minutes later, Mom reminds daughter to get the trash, since daughter has not done what she was asked. Daughter shouts back that she will. Five minutes later, Mom is yelling at the daughter to get off the phone and take out the trash right now.
Furious, teenage daughter jumps up off the couch, goes to the kitchen, yanks the bag out of the trash can, ties it up, and heads outside. She wrenches open the back door, stomps outside, and slams the door shut behind her. Later, a crack is found in the older, weather-beaten door jamb, and it is deduced that the teenage daughter put it there in her fit of pique when Mom told her to take out the trash. Does that sound like what Vision did after having Rhodey snarling in his ear two or three times?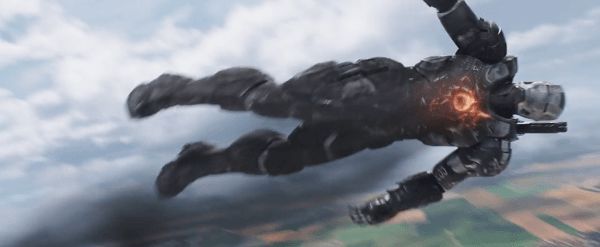 Yep, it does.
In this scenario, Vision missed for the same reason the teenage daughter in the hypothetical scenario above cracked the door jamb. He was focusing on Wanda, on being there for her in her injured state. Then Rhodey begins yelling at him to take out Falcon. Of course, being occupied with Wanda, Vision does not automatically turn and fire at Sam. So Rhodey yells again, louder and more insistently. Like an irritated teenager, Vision turns and shoots in Sam's general direction. It was a close shot. But close only counts with horseshoes and hand grenades. And in combat, close in not always good enough – especially where the lives of your teammates and friends are concerned.
There is also this to consider: up until Rhodey told Vision to take out Sam, Vision had not shot anyone in the battle. He had not shot anyone in any previous battle in the movie, either. He shot the concrete, he knocked over the control tower, he rammed Ant-Man, whom he could have shot when the other was ant-sized….
But he never actually shot any of the members of Team Cap. Then Rhodey tells him to make Sam's wing pack a glider. He was telling Vision to actually shoot someone, and shoot to harm.
Vision has never shot at another human being before. The only other person Vision ever shot was Ultron, and he does not count because he had no soul. He was an inhuman monster that needed to be destroyed. Sam is neither inhuman nor a monster. He is an Avenger and Vision's friend. How are you supposed to be okay with shooting down a friend – a friend who did not attack you at any time during the battle?
This is probably one of the other reasons Vision missed. He was either planning to miss and make Sam pull away, or he had one moment of conflict in his mind about the morality of shooting down a friend. That one moment of doubt, combined with his concern for Wanda, was enough to throw his shot off course so that it hit Rhodey's arc reactor and knocked him out of the sky.
Not long after Rhodey hits the ground, Vision flies over to see if he is all right. He is obviously shocked and horrified by what he has done. Vision really was not aiming for Rhodey, and he certainly did not mean to hurt him. But he has, just like that teenage girl did not mean to damage the door jamb, but she did.
This is Vision's first real lesson in the fact that actions have consequences. And it is a pretty hard lesson. He has severely injured a man he considers a friend, a man who was his teammate. The fact that he did not mean to do it does not change what has happened. Vision's concern for Wanda, his reservations about shooting down Sam, distracted him in a very human way. And that threw off his extraordinary calculating abilities, leaving Rhodey very badly hurt.
When we last see Vision, he is sitting at the lounge table in the Compound, playing with a chess piece and staring off into the distance. Chess is a game of strategy. It is very good for the mind. There are even programs for veterans suffering from traumatic memories and battle shock – known these days as PTSD – using chess to help them get back on their feet. (Totally cool idea!)
Vision's mind does not need improving or bringing back into balance. What he is doing here is trying to figure out where in the Sam Hill everything went wrong. Having him playing with a chess piece, a game of clear strategy with lucid moves and end results, shows that Vision is trying to retrace his steps and understand his mistake.
Now you and I, readers, could tell him that it all went wrong when he sided with Tony and signed the Accords. This is because the Accords were designed to split the Avengers down the middle and destroy them from their inception; they were never about saving anyone or preserving people's safety. If that was the case, then German Special Forces would not have sent in a chopper with a mini-gun to turn Bucharest buildings into Swiss cheese. They did.
The Accords were never for the good of the Avengers or the human race. The Accords were designed so that the Avengers who signed them would be the only Avengers, while the rest got swept under the rug and forgotten. That was the U.N.s plan. That was Ross' plan.
It is not working very flawlessly, is it?
The fact that this was the intended design of the Accords does not make Tony a villain. It makes his decision to sign them stupid as hell, but nobody's perfect. And this is what is really bothering Vision; he was designed to be perfect. But he is not. And he has to come to face that fact in the most uncomfortable way possible – by hurting a friend.
So, readers, there is only one question left to ask now. Which side will Vision join before helping the Avengers gang up on Thanos in the next Avengers films?
We will have to wait and see!