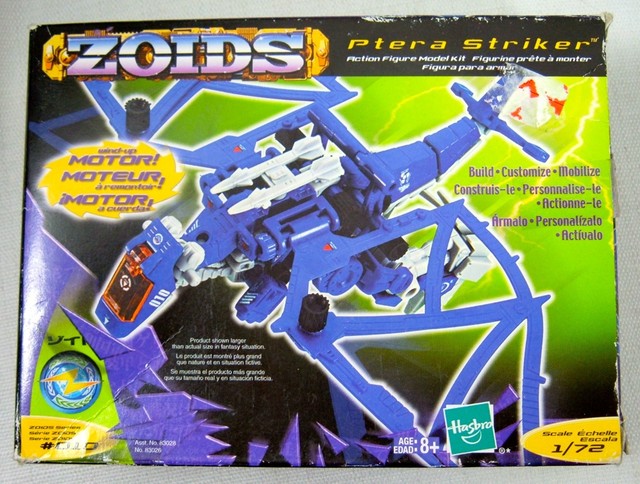 Once more we return to the desert sands of Zi, readers! In all the hustle and bustle this year, I almost forgot to fulfill a promise I made in 2018. That pledge was to discuss the merits of the Pteras Striker, a Republican airborne zoid that was mentioned in the post about Moonbay. Luckily, this blogger realized in time that she had neglected this duty, a turn of events she intends to change right…. Now!
The Pteras Striker – Pteras is pronounced like "terrace," just so you know – is one of the most familiar air zoids in the Republican air corps. A blocky Pterasaur-ish type bio-machine, its color scheme is usually blue and grey. The only other colors seem to be blue and yellow or grey and silver. There do not appear to be many variations in the paints used for this mechanical combat unit's armor.
It is worth noting that the silver Pterases (pronounced like "terraces") are faster than the average model. Why this is, yours truly cannot say. It may be that silver Pterases are equipped with booster packs or have lighter armor, allowing them to go faster. No explanation is offered within the series, so either guess may be accurate. This is mere conjecture on this author's part, as she attempts to fill in the blanks left by the English translation of the show.
At first glance, it looks as though there is no way for Pteras Strikers to fly. Their wings are full of holes, after all. Doesn't that negate the ability to soar? When this blogger asked that same question as a child, her father provided the explanation. Pterases fly by virtue of the electric current that flows through their wings. Although I no longer remember for certain, my father may have mentioned a type of real-life plane that operates on the same principle.
So if anyone knows about an aircraft that can do this, please mention it in the comments! This blogger would dearly love to know for certain if her memory has held up over the years. (Plus, if there is an existing plane that flies via this method, it just has to be cool! :D)
In terms of combat capabilities, the Pteras is…not this writer's favorite zoid. The Pteras has light armor and is far slower than most of its competition, though it can be quick in close quarters or with the right pilot. While only the Raynos – a zoid from the sequel series Zoids: New Century Zero – could outclass the Storm Sworder directly in terms of speed, the Pteras seems unequal to the task of facing even an ordinary Redler in combat. The fact that we never saw these two air zoids clash during the series did not help the Pteras' image.
Neither did the mechanical combat unit's myriad crashes. The Pteras Strikers in both Zoids: Chaotic Century and New Century Zero were basically cannon fodder for heroes and enemies alike. There are many, many scenes in both series of one or more Pterases being shot down and tumbling out of the sky. Jamie Hermos, the pilot of a Pteras in New Century Zero, was the only character who ever seemed distressed by the loss of his zoid. Other pilots who, admittedly, used Pterases far less frequently and were less attached to them, often shrugged their loss off.
Besides their relatively thin armor, Pterases usually have two types of weaponry: light armaments and heavy artillery. One could argue silver Pterases maintained a nice middle-ground in the weaponry department, but the fact is that their weapons tended to be relatively light as well. Still, silver Pterases did have the better end of the armament stick, in this author's opinion.
A basic Pteras model comes equipped with two missiles on its back and a mini-machine gun on the right side of its mouth. And when I say mini, I mean mini. The gun barrel is probably only a little wider than a man's hand with all fingers spread.
The bullets fired from this gun are enough to seriously bother ground-based zoids and bring them up short, but they do not seem capable of causing major damage to their four-legged targets. New Century and Chaotic Century show the mini machine gun's bullets as mere pinpricks that make a ground zoid's armor bounce uncomfortably. So while annoying and potentially deadly (at least to the pilot), only prolonged exposure to the bullets would inflict definite harm on an opposing bio-machine.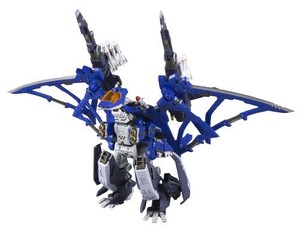 With regard to the missiles, while they could deliver a substantially higher payload, there were only two of them. That would significantly reduce the Pteras pilot's ability to fight off numerous opponents if he has to escape a battle, or if he is facing a better-armored zoid. It was not an especially encouraging armament for a mechanical combat unit sent into an active (or even an inactive) war zone. Given the Republic's lack of wealth to procure materials, however, it made quite a bit of sense in context of the series.
Of course, "sense" does not mean "helpful." In order to make the Pteras useful on the battlefield, Republican technicians and scientists added higher powered cannons to the wings of the Pteras Striker. These weapons packed more punch than the missiles on the zoid's back and enabled it to carry more ammunition. Smaller arms that were still bigger than the Pteras' "mouth cannon" were set alongside these larger guns, giving the zoid enough firepower to act as legitimate air support.
Naturally, though, this added weaponry put quite a bit of extra drag on the Pteras Striker. While nimble enough, the zoid was already inferior to most of its competition in the speed department. So throwing more guns on it only made it slower, meaning it became a more appealing and an easier target for Imperial forces. Again, not something that is particularly helpful in a war.
Silver Pterases, in contrast, came equipped with large machine guns on their wings. These were light enough not to interfere with the zoid's mobility at the same time they provided it with significant firepower. Combined with their greater speed, these items made silver Pterases preferable to the basic models and their more heavily armed counterparts. Due to the lack of Republican resources, though, these zoids were not seen much during the war in the first season of Chaotic Century. For some reason, they never even had an appearance in New Century Zero. At least, this blogger does not recall seeing the silver Pteras in action during that show's run.
Given these limitations, it makes sense that the Pteras would more regularly be used as a recon zoid. Replacing the missiles on their backs with a radar dish for greater range, the Pteras could provide the military with detailed reconnaissance. Even though this made the zoid even more vulnerable to attack, it was a pretty good idea – especially for the cash-strapped Republic.
Clearly, this blogger does not prefer the Pteras Striker as a combat zoid. It is a pretty mechanical combat unit, in its own way, but it would certainly be one of the last bio-machines I would choose to pilot in a fight. The only times this writer would take it out would be for a Sunday flight or if she was desperate. Or if the zoid was slated for dismemberment and cruel experimentation, but we will discuss that subject another time.
I hope you enjoyed this look at the Pteras Striker, readers. This will be my final Zoids post of 2019; there will be more next year, but since we are coming up on the Christmas season no more such posts shall be forthcoming this month. I have a couple of different articles planned, but you will have to wait and see what those will contain. 😉 Until next time –
See you on the battlefield, readers!
The Mithril Guardian