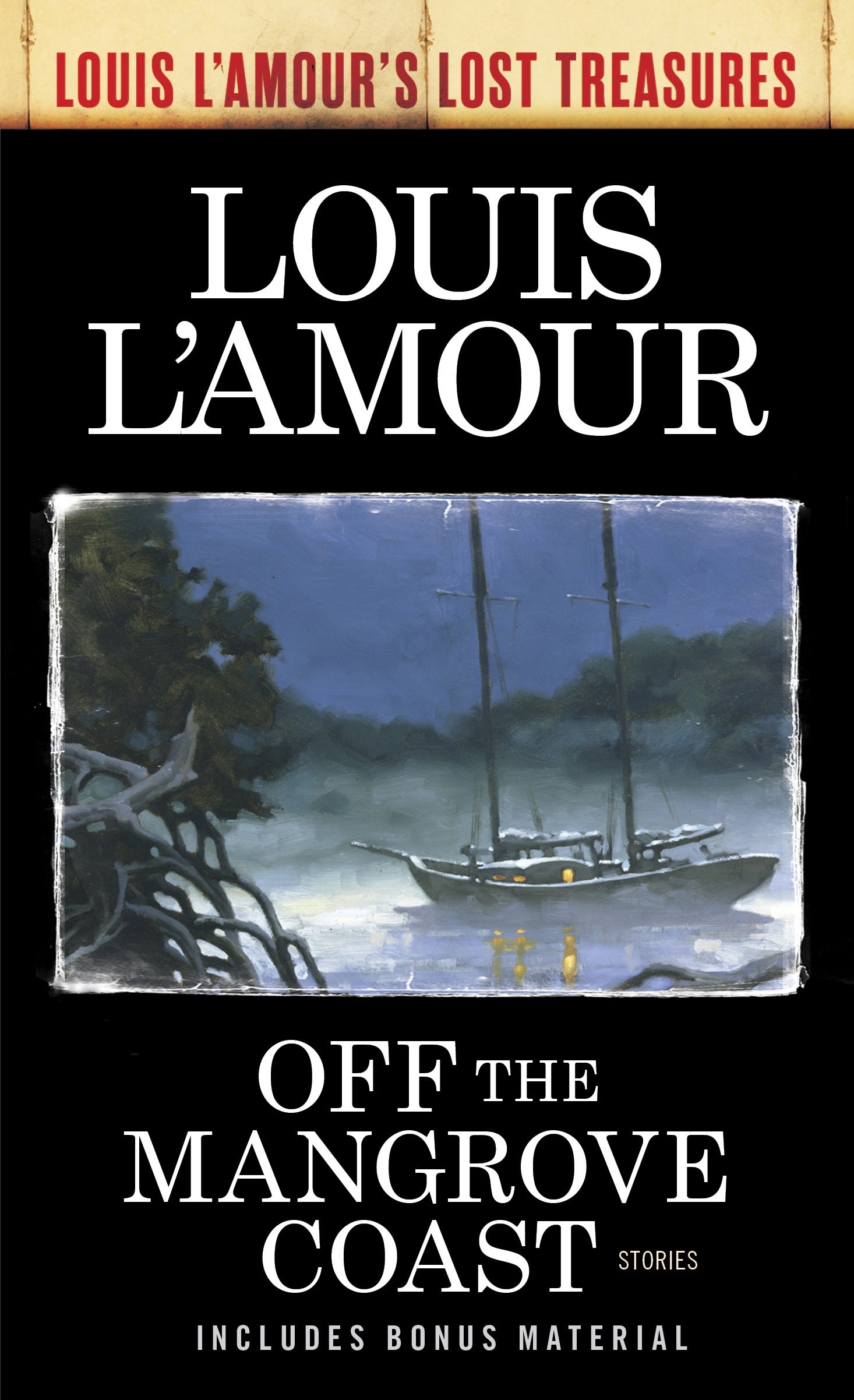 Louis L'Amour is a household name due to his wonderful tales of the men and women who made the West. But he would not have gotten there if he had not started his career as an author writing short stories for magazines. Since his father's death Mr. L'Amour's son has been going through the author's archives to collect the short stories which the publishers did not have. Those he finds are put into collections such as the one we will look at today.
Off the Mangrove Coast, while the title story, is not the first piece which we encounter on opening the book. That is "Fighters Should Be Hungry," which focuses on one Tandy Moore, a young man with boxing potential who is currently a hobo. Entering a hobo jungle outside Astoria, Oregon, one of the fellas his own age makes a comment which irritates Tandy. He shakes the guy a little, only to be told by one of the other tramps to let the kid alone. Tandy rounds on the older man and gets socked in the mouth after trying to start a fight with him.
Friendships have many strange beginnings, and the camaraderie between Tandy Moore, Gus Coe, and Briggs is no exception. Realizing that Tandy can really fight, the two fellas take him under their wing and teach him some moves before they put him in the ring. But it isn't just money these men want; they're intent on taking down a criminal and the boxer who works for him. Tandy especially wants a crack at the other fighter for something that happened a long time ago….
Next we have "It's Your Move," a short story set somewhere on the Northwest Coast. It's about a dock worker who likes to play checkers and is good enough to whip everybody else who works there.
So what do you think happens when he meets a guy who can beat him?
After this comes "Off the Mangrove Coast," a straight-up treasure hunting story. It focuses on four men who go in search of a sunken ship in the South China Sea. This ship was carrying a gold shipment when it went down and, when there is gold involved, trust becomes scarce. The young hero of this story is not close to any of the men he sails with, and two of them look less than friendly when they talk of the prize they seek. The third, a black man named Smoke Bassett from Port au Prince, seems much nicer. But when the chips are down, who will stand beside their friends, and who will end up shark bait?
I liked these first three stories a fair bit. Smoke Bassett is one of the L'Amour characters I think the most of, even though he only appears in this story. He was a good fella and a strong friend – and yes, I am dropping a veiled spoiler on you here. Therefore, we will go to the next story, which didn't entertain me near as much as these three did. This would be "The Cross and the Candle," which is set not long after World War II in France. Here the unnamed hero meets a fellow American who lived and worked in the country before WW II broke out. He had a girl who worked for the Resistance during the Nazi occupation, but she was killed by a traitor. Ever since, this man has been searching for her murderer – and he thinks our unnamed protagonist can help him catch the guy.
"The Diamond of Jeru" is the next story in this collection. It is funny; when I was a child, my father would mention "The Diamond of Jeru" on occasion. So when I saw the title in Off the Mangrove Coast, it rang a bell that took some time to bring back the memories from my youth. For some reason, this title always made me think of an Indiana Jones adventure someone had written up but which I had never seen.
To be fair, "The Diamond of Jeru" does have some Indiana Jones flair to it. This tale is about Mr. Kardec, a man who went to Borneo in search of diamonds. He found – and lost – a fortune of them, which left him stranded in the country. With no money to pay his way home he has guided others up the Baram River in search of the gems. It means he can meet his bills while keeping body and soul together… but it does not earn him enough to buy a ticket home.
So when a Mr. and Mrs. Lacklan arrive and offer to pay him to be their guide, things begin looking up. Until two problems arise: one, Mrs. Helen Lacklan is younger than her husband, being nearer in age to Kardec than to her man. She is also strong, able, intelligent, and courageous as well as physically attractive. Two, Mr. Lacklan wants to take her up the river with Kardec and himself, which could attract the attention of the natives. But since Kardec desperately wants to go home, he works out a deal with the two despite these problems. Then, a few days before they are to go, the Lacklans return so that Mr. Lacklan can tell Kardec they have found someone who will take them up river much cheaper.
Kardec is angry at first, mostly because everything had been set up and this cancellation is on very short notice. Then he figures out that the Lacklans are being set up by an old head hunter who lives up the Baram – Jeru. Using an enormous diamond, Jeru has lured other treasure hunters up the river, none of whom have ever returned. Kardec tries to warn the two about this but, since it was one of Jeru's followers with the diamond and not the old man himself, Lacklan decides Kardec is just making trouble. Further angered, Kardec says it's their funeral and lets them go…
However, the thought of Helen's head being added to Jeru's collection finally gets to him, and he packs up to follow the couple upriver.
While this was a riveting story, I cannot say it was one of my favorites. It is much darker than L'Amour's normal fare – and Indiana Jones' stories, for that matter. Also, L'Amour rarely had this type of love triangle go on in his stories, but when he did do it, I always found it annoying. So though "The Diamond of Jeru" was well done and relatively interesting, it isn't a story I like to reread much.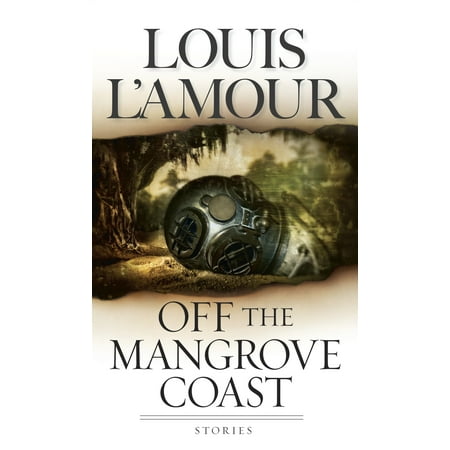 This means that the piece following this one, "Secret of Silver Springs," was a breath of fresh air when I picked up the book first. As the title suggests, this is a Western; four men meet on a stage route and, being short on cash, they decide to rob the next coach coming down the line. Instead, they end up saving it from men who want to kill the passengers on said stage. The story starts with this intriguing reversal and, though it gets a bit dark, it is in general the type of Western I have come to expect from L'Amour, making it well worth the read.
Following this we have "The Unexpected Corpse," a detective piece about a PI who gets a call from an old friend who is now an actress. Having found a dead man in her home, she calls our hero to "hush…up" the mess, but he calls the cops instead. Though he knows the woman has the ability to kill, our detective is ninety percent sure she didn't commit this crime. But it all comes down to proving that – before the police put her behind bars.
While this story was a little dark, it is not as sinister as "Jeru." Nevertheless the next tale, "The Rounds Don't Matter," was a much better installment. Patty Brennan, an up and coming boxer engaged to the daughter of a police chief, is trying to help the cops catch a mobster who works as a boxing manager. This mobster likes to have the other boxers throw the fight so his man wins the match; those who won't take the money get taken out. One of those honorable fighters was Patty's best friend, and he intends to see this guy pay for murdering his pal.
After this we come to the final story in the book, which is called "Time of Terror." This has to be the darkest story L'Amour ever wrote – it is certainly the most frightening one of his that I have ever read. While having a drink at a bar one night, the hero of this tale sees a man walk into the bar – a man who should be dead. Turns out that this old friend isn't so friendly; he made a fortune faking his demise, but there are a few loose ends he has to wrap up before he can feel safe enough to live on his ill-gotten gains.
One of those loose ends is our hero.
In all, Off the Mangrove Coast was not a bad read, though "Jeru" and "Terror" both creeped me out. None of that blights the other tales in this collection, however, which is why I recommend it. Off the Mangrove Coast would be worth the read for the title story alone, but add "Silver Springs," "The Rounds Don't Matter," "It's Your Move," and "Fighters Should Be Hungry" into the mix, and you can pass a good evening with this collection.
Despite my criticisms, "Jeru" and a couple of the other stories here were interesting for their historical accuracy. (Plus, the husband in "Jeru" proves that the rotten professor isn't a recent development, so L'Amour gets points for that.) The only piece in this book that I wish I had not read is "Time of Terror." THAT was a spooky read. *Shivers.*
These are my opinions, of course; if dark tales are to your taste, you may like the stories I hate and hate the ones I like. All this blogger has done is praise the pieces in the collection which she found most enjoyable. "Terror" and "Jeru" might be right up your alley, readers.
But you won't know that for sure until you check this book out! 😉 Have fun looking up Off the Mangrove Coast, readers – and feel free to come back with a comment telling me which stories you liked best!
'Til next time!