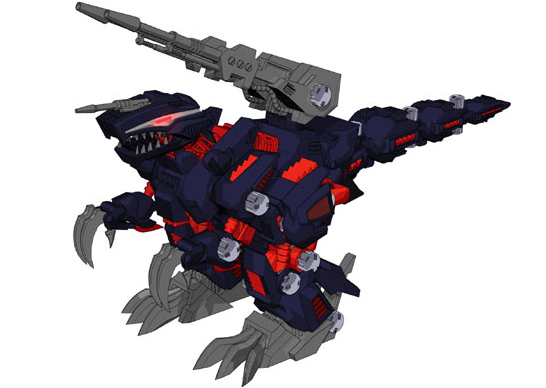 Throughout my Spotlight! posts on zoids, I have been hinting about some of the more powerful "mechanical combat units" which inhabit Zi. I did not want to spoil anything before I had covered the other wonderful and amazing zoids in the series. But by this point, I have almost run out of zoids which I can describe before I turn to these more powerful mechanical animals. The Redler, as I stated, is not an impressive zoid to me, and this signals trouble. If I consider the Gustav a more interesting subject than a zoid that makes up most of the Guylos Empire's air force, I need to pull out a trump card or two before I lose focus entirely.
It is for this reason that I am going to describe today's zoid: the Genosaurer.
Now, before we go any further, you pronounce it gene-o-saur-er. I have heard the zoids called everything from gene-o-saur-us-es to gen-o-saurs, and I will NOT accept these as legitimate pronunciations of the species. Please bear that in mind for future reference, readers.
The Genosaurer's origins are integral to the plot of Zoids: Chaotic Century, and so I will not be saying anything about them here. If you want to know the details, watch the series. I am not giving you any more spoilers than I absolutely have to in this post.
The Genosaurer is based on the Tyranosaurus Rex, despite having three claws on each "hand." The reason it has three claws may be an homage to the Japanese dragon, or it may be due to the fact that the Genosaurer's claws are attached to cables and can be fired out to grasp another zoid.
I do not know the exact reach of these cables, but I do know that they are strong. When the Genosaurer's pilot "reels" these cables back into the Genosaurer's arms, they can drag an enemy zoid, even if it is a Blade Liger, in toward the Genosaurer. Though short, the zoid's arms are flexible enough that, in close quarters, a pilot can lash out with them and slice through the armor of an enemy zoid.
Unlike most zoids, the Genosaurer's cockpit is not in its head, beneath those terrifying red eyes. It is in the zoid's torso or abdomen; the position is relative to the angle of the camera shot, but that is the general area where the cockpit is situated. There is a reason for the cockpit's position, which we will get to momentarily, readers.
The Genosaurer comes equipped with a double barrel pulse laser cannon on its back and a smaller one just above its nose. These lasers can either bring down an opposing zoid or they can do a fair amount of damage to it. The zoid's teeth can also be used offensively. The Genosaurer's frame is strong, allowing it to bend over and pick up a smaller zoid in its mouth. It is also strong enough to raise its head with said struggling zoid between its teeth and close its jaws on the part of the zoid it is holding in this manner. When the pilot does this, it is bye-bye time for an opponent.
The zoid is also strong enough to go toe-to-toe with an Iron Kong and match its physical power. And the Genosaurer's tail is a weapon in its own right. Since the zoid is so maneuverable and flexible, its pilot can swing in close to an opposing zoid and slap it with the appendage to send it rolling across the battlefield. The Genosaurer is also capable of kicking a downed zoid across the combat zone. This means it can step on a downed zoid repeatedly and suffer no damage, though it will severely damage or destroy the enemy "mechanical combat unit." Never underestimate those legs, readers.
Part of the reason for the zoid's speed is that it has boosters in its heels and along the backs of its legs. This allows the zoid to make great time across long distances; with the right pilot, the Genosaurer could travel from Guygalos, the capitol of the Guylos Empire, into Republican territory in a few days or even a few hours. This means that it can outmaneuver most of the zoids it encounters on the battlefield. Only a Command Wolf, a Lightning Saix, or a Blade Liger can come close to or match the Genosaurer's speed in close combat.
But the Genosaurer's most fearsome weapon is lodged in its mouth. Before I describe this gun, readers, please view the videos included below:
When you see the Genosaurer lock down to the ground with its footlocks (those silver "fourth toes" at the back of each foot), the fins in the tail pop out, and the gun slides forward from the back of the zoid's "throat" – get out of Dodge. The white light that coallesces in front of this gun's barrel is a ball of charged particles, which can be fired out as a stream for a few seconds. This stream of charged particles will incinerate whatever and whoever is in its path. This is the reason why the cockpit is not in the zoid's head; there is no room for it and the gun in such a limited space.
Only Van's Blade Liger could deflect the charged particle stream after its shield had been modified, first with the Liger's own extended blades, later with tweaks to the zoid's shield itself. Other shields were no defense against this gun, as Van found out when his first zoid, the Shield Liger, was destroyed by a charged particle blast. Zoids without shields are utterly unable to defend themselves against this gun. Even air zoids like Redlers cannot outfly this deadly stream of "fire breath" that the Genosaurer can emit at will.
There is a catch, however, to using the charged particle cannon, one which I have already touched on. The charged particle cannon's recoil is so great that the Genosaurer must use those "fourth toes," known as footlocks, to anchor itself to the ground. Otherwise, the power of the blast would send the Gensaurer skidding backward, and it might throw off its aim as well.
The second weakness of the charged particle cannon is that the Genosaurer cannot turn its body when it fires this gun. The footlocks hold it in one position; try to turn the zoid, however slightly, while you are firing this cannon and you will break at least one of the Genosaurer's ankles.
You may wonder how I know that this zoid is capable of so much, readers. The answer is only one word: Raven. Van's archnemesis, Raven piloted two Genosaurers during Chaotic Century's run. And as I have said elsewhere, Raven was the Winter Soldier of zoid pilots. If you thought he was scary in a Zaber Fang, then let me tell you that you have not seen him scary until he took the controls of his first Genosaurer.
And after that, he only got scarier.
Though the Genosaurer's color scheme looks purple to us, the characters in Chaotic Century call it black. Raven's first Genosaurer had the black/purple color scheme with lighter purple highlights. His second Genosaurer was darker and had red highlights in place of the purple ones. There is a reason for that, readers, but I will not tell you what it is just yet. I am saving that story for later.
Also in Chaotic Century, we saw Reese acquire and use a blue Genosaurer. While most of this zoid's equipment was virtually the same as the weaponry used by Raven's Genosaurer, Reese's zoid had a more powerful laser attached to its nose in place of the pulse cannon on the noses of Raven's Genosaurers. Her Genosaurer also had lighter blue, or perhaps indigo, highlights. Most of Reese's attire and equipment was blue, so this made sense. In the case of her Genosaurer, however, the color gave the zoid an almost feminine cast.
But the black color scheme for this zoid is predominant, showing up again in New Century Zero when a team of unscrupulous pilots were given three Genosaurers by a member of the Backdraft Group. (For some reason, the translators had them pronounce the name gene-o-saur-us-es, which was very irritating.) The only other color variant for the Genosaurer was seen in an episode or two of Zoids: Fuzors. That Genosaurer had the regular black armor, but it also had yellow hightlights in place of the expected purple or red. I do not know if that qualifies as intimidating, exactly, but it will certainly get your attention, readers.
This is all that I have to say about the Genosaurer. I do not want to spoil too much about Zoids: Chaotic Century and the other series until I have to. And I will have to, soon enough. Aside from Zoids: Fuzors and Zoids: Genesis, I can describe almost all of the zoids we see in Chaotic Century and New Century Zero in a handful of future posts. Sadly, we are coming up on that ending sooner than I wanted. I will be able to stretch it out for a while, but eventually, there will not be anymore Spotlight! posts about a zoid here on Thoughts on the Edge of Forever, for the simple reason that I will have described every one which I know about.
This is the reason why I keep encouraging you to watch the TV series, readers. You cannot get all of your answers from me if you want to discover the wonderful world of Zi. I will have nothing more to tell you after a point, and you will have to either watch the series to get your zoids fix or forget that they even exist. I would prefer the former to the latter, but the choice is yours, not mine. I can only offer what I know to you and hope I whet your appetite for the adventure.
Until next time, I will "see you on the battlefield!"