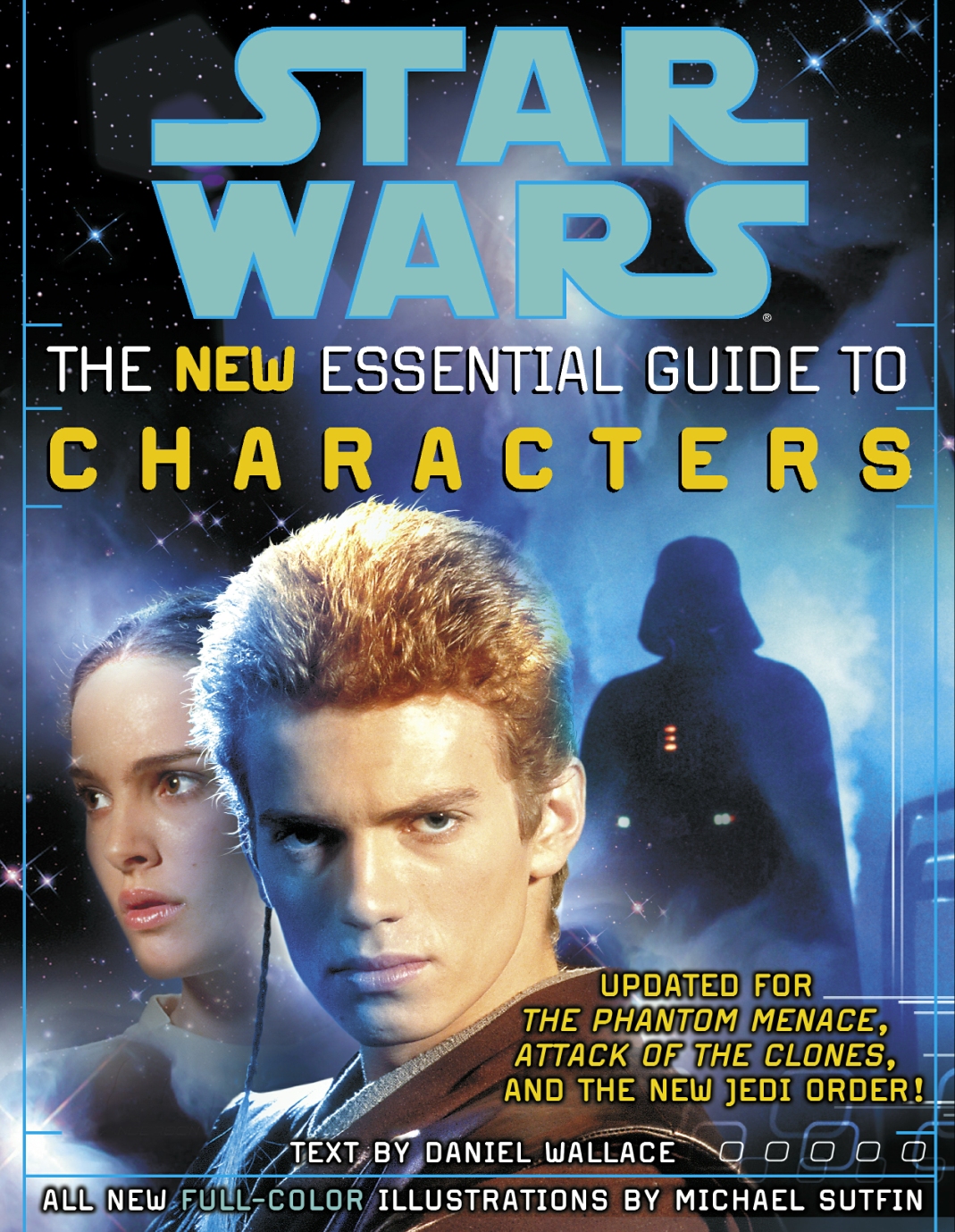 Star Wars: The New Essential Guide to Characters (the edition published in 2002), was my first introduction to the franchise's original Expanded Universe. While my parents had copies of several Star Wars EU novels and encouraged me to read them, I was young enough at the time that the volumes appeared too large and adult for a child of my age to understand. So I left the books sitting on the shelf, planning to dive into them when I was older and had a better chance of appreciating them.
Then, on a trip to the library, my father found The New Essential Guide to Characters. It was in the "for sale" shelves, so he picked it up and bought it for me – even though I was not truly interested in it at the time. Not long after he purchased it, however, I cracked the tome open to at least look at the pictures.
Over the years, "looking at the pictures" became "reading the profiles." Gradually, I began to understand the Star Wars timeline outside of the films, which were my only source of Star Wars material up to that point. (Hey, I was a child! How many rambunctious tweens and teens do you know who prefer a good, big book to watching a movie?) But even as I began to put the Expanded Universe and film timelines together, I did not necessarily realize which characters were where and did what.
That all changed when I finally read Mara Jade Skywalker's file. A New Hope, as I have said elsewhere, was the Star Wars film I loved best when I was young. Han getting frozen in carbonite kind of turned me off of the sequels until I was in my early teens, so the rest of the trilogy was something of a mystery to me for a while.
So when I learned that Luke had actually gotten married after Return of the Jedi, and to a woman who hated him and had vowed to kill him, I was thrown for a bit of a loop. I struggled with the idea for a bit, but eventually came to accept it, reading and rereading her profile along with all the others.
After a couple of years doing this, I decided enough was enough. Mara sounded pretty cool, from what I had read. So if she was this interesting in a character summary, she had to be twice as amazing "in person" – that is, in the novels. Not long after this I picked up one of the books I had been offered as a child and started reading, learning quickly that the Guide had undersold Mara Jade completely. She didn't live up to her reputation; she exceeded it.
What does all this have to do with the Hand of Thrawn Duology by Timothy Zahn? Well, if you remember your own days as teenager, you remember that we sometimes start at the end or the middle instead of the beginning. I did not meet Mara in the Thrawn trilogy or even in Specter of the Past. I just jumped right into Vision of the Future and started reading.
The book knocked my socks off, readers. To this day, I would say it is my favorite Expanded Universe novel, and none of the new timeline books have beaten it. I rather doubt they ever will.
Specter of the Past is the first book in the Duology. It starts, naturally enough, with a Star Destroyer. (Zahn always follows the original films' format by showing us the Empire ahead of the Rebellion/New Republic.) Admiral Gilad Pellaeon watches the Chimera try out a new computer said to be able to predict an enemy's attack pattern and then destroy their opponent while the ship is cloaked. Using Preybirds instead of TIE fighters, a number of Imperial pilots "assault" the Chimera before the ship cloaks. Then it engages its fancy targeting computer and counterattacks, firing off five hundred shots.
Five hundred shots plus a handful of fighters – how do you think the test went?
Badly, that's how. Out of a pitiful number of targets, the Chimera's blind shooting only "destroyed" one Preybird. Yeah, that is pretty pathetic, even by our standards.
Though the captain of his ship, a man named Ardiff, thinks the display is fine, Pellaeon is not pleased. The ship fired five hundred near random shots and only one fighter was "destroyed." Besides which, Preybirds are not military fighters – even the New Republic did not use them during the Rebellion era. The fact that the Empire, which has been reduced to eight sectors at this point, is relying on Preybirds as fighters means only one thing…
The war is over. And they've lost.
Meanwhile, Han and Chewie have gone on a diplomatic mission to Iphigin to try and straighten out a trade dispute between two alien species, the Ishori and the Diamala. Leia, who has stepped down as President of the New Republic, is currently on Wayland getting some well-deserved R&R with their three children. A Calibop named Ponc Gavrisom is now President of the New Republic. Nevertheless, he immediately went to whistle up Leia's help in solving this minor problem, despite the fact that her vacation has only just begun.
Well, Han Solo is not going to stand for this. He intercepts the message before it can reach his wife and goes in Leia's place – without telling her what he is doing, of course. Before you accuse him of being a misogynist, readers, or say he thought she couldn't handle the job, consider this: Leia is on vacation. She is, for the time being, not active in the day-to-day politics of the New Republic. She has also been handling one crisis after another for ten years and, now that she is no longer running the New Republic, should she have her rest and relaxation disturbed over one little trade disagreement?
I do not think Leia deserves that, and neither does Han. Rather than run and tell her about the fuss, he decided to handle it quietly on her behalf. If that isn't gentlemanly – not to mention romantic – behavior on his part, then you can paint me as red as the Errant Venture and call me a sap.
Besides, Han has thought things through this time and come prepared. Not long after he and Chewie arrive at Iphigin to handle the trade dispute, Luke and R2 appear in the former's New Republic X-wing. They trade some small talk before Solo explains that Chewie will handle the Ishori part of the disagreement while Luke takes care of the Diamala. He developed this plan because the Ishori think well when they are screaming in fury, while the Diamala would give Jedi and Vulcans a run for their money when it comes maintaining their calm.
The plan is a sound one – but it hits an unexpected snag. The Diamala do not want anything to do with Luke, stating that Jedi who use as much power as he does inevitably fall to the Dark Side. Surprised – and somewhat miffed – Luke becomes Han's advisor instead as the negotiations start…
…But at the end of the day, they have accomplished exactly nothing. The two species do not appear interested in getting along, leaving both our heroes with nothing except headaches for all their trouble.
However, it soon turns out not to be a total waste of a day. While they are trying to figure out a way to solve the mess, the men receive a message about an incoming freighter Iphigini Customs has been told is carrying contraband. Something about this gets Han excited, and after the call is terminated, he tells Luke the smuggler is just a distraction. Pirates blow the whistle to the authorities on a "smuggler" carrying contraband into the day side of a planet while they hit a night side target. Because Customs is running to take in the "smuggler," they cannot get back to the night side of the planet to stop the pirates before they have grabbed whatever they want and run off.
But he and Luke can get there in time. They head for the Falcon and the X-wing to deal with the pirates, allowing them to burn off their frustration about the trade negotiation. But before the battle begins, Luke experiences a disturbing vision of the Emperor and another, more ancient Sith Lord he faced as a spirit, staring at him through the X-wing's canopy. And they are laughing at him.
Meanwhile, on Wayland, Threepio tells Leia that Han ran off to handle a diplomatic matter. At first put out, Leia lets it go and decides it is better to just enjoy her time on Wayland with the Noghri and her children. Unfortunately, her vacation is interrupted by a Devaronian poking around where he should not be. The Noghri call her in to handle the matter, which she seemingly does….
…Until the guy drops a smoke bomb near Jaina and Anakin to cover his escape.
Anyone with sense knows that threatening the Solo children is a big mistake, so this Devaronian obviously lacks sense. Leia takes off with a Noghri escort to bring him in, only to get some unexpected help from Talon Karrde and Mara Jade. The two are on Wayland to hire Noghri bodyguards for some of Karrde's informants – the ones who typically work in dangerous areas. The three learn when they capture the guy that the thief intended to sell a data card with a damaged document on it.
This soon proves to be a recipe for disaster. The document in question not only threatens the peace of the New Republic, it could start another galactic civil war. Only this time, the Republic will not be fighting the Empire for their freedom. This time, they will be fighting each other in a pointless attempt to get even with the past.
Our heroes scramble to prevent this, but things go from bad to worse when Luke has another Force vision. This one includes a picture of Mara, apparently dead in a cave somewhere. Not long after he has said vision, Mara disappears on a planet in Wild Space. Instead of sending someone else to get her, however, Luke leaves his friends and family to handle the New Republic's problems while he goes in alone to rescue her.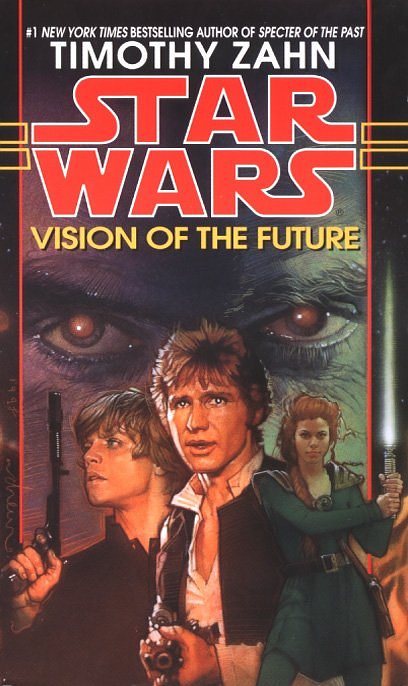 This is where Vision of the Future takes up the tale, and where I leave you, readers. I will not spoil anything else about these wonderful books, which are now old friends to me. If you do not enjoy the Hand of Thrawn Duology, I am sincerely sorry to hear that. They are truly great tales, though, and they deserve to be read at least once.
Before I go, I would like to add that at first Mara and Zahn's constant remarks about Luke using too much power made no sense to me. As I said, my first experience of the Expanded Universe came through The New Essential Guide to Characters. There was not much there about Luke overusing the Force.
It was only when I read some novels in the Star Wars mythos besides Zahn's that I found out what he was chastising Luke for doing – and thereby the other writers for the EU. Seriously, I enjoy the old EU more than the new timeline, but some of the writers for those books seemed to think being Force-sensitive means Jedi can get away with anything. Reading Jedi Search and the Young Jedi Knights series by Kevin J. Anderson was fun – except for the way he had Luke use the Force. Good grief, the difference between Light Siders and Dark Siders is that Dark Siders use the Force to gain power. Jedi rely on the Force as an ally, as a guide to get through life. They don't master the Force – they serve it.
Zahn's message must have hit home, because the novels following Vision of the Future took his stance toward the Force rather than Anderson's haphazard treatment. Jude Watson may have been one of the authors who followed his example almost to the letter. Her The Last Jedi series for young Star Wars fans felt very similar, to me, to Zahn's work. This was especially true in regards to the hows, wheres, and whyfores of the Force and Star Wars tech.
Well, that is it for now, readers. All I have to say before I go is that I hope you enjoy the Hand of Thrawn Duology. Remember, the Force will be with you, always.