Okay, first things first. Life and lassitude hit at the same time, and I ended up leaving you in limbo for quite a while, readers. Thankfully, life has stabilized and the lethargy has been overcome, so this blogger now has time and energy to devote to you once again. Hopefully it will stay this way going forward. 🙂
Second, I would like to apologize for taking so long to write about the last five episodes of Avengers Assemble: Secret Wars season. I didn't write this post earlier primarily because I wanted to see where season five of Assemble – titled Black Panther's Quest – would go before I said anything about season four. So this writer waited until the fifth season had played out before speaking her peace.
Black Panther's Quest was pretty much what I expected. The Avengers hardly showed up, and when they did, they had undergone a radical redesign to make them match their film depiction more closely. Plus, Wakanda was changed to appear more the movie version, which should not have happened. That Wakanda is nothing like the one in the comics, and outside of his appearances in the Avengers films, the T'Challa/Black Panther in the film bearing the same name is not the one Stan Lee and company created.
Because of these alterations, this blogger saw no more than one or two episodes of Assemble's season five. Based on those viewings, there will be no more reviews of Avengers Assemble here at Thoughts. This is the final word the Mithril Guardian has for the most recent American series focusing on the Avengers. (The new travesty with an almost exclusively female team does not bear or deserve the title of Avengers.) I may write about Avengers: DISK Wars and Marvel's Future Avengers at some point, but that is it. Marvel's new Western offerings hold no more interest for me.
The last five episodes of Assemble were problematic and therefore difficult to watch. "Weirdworld," the installment following "The Vibranium Coast," was for the most part entertaining. This was due almost entirely to the fact that Black Widow completely ignored Captain Marvel/Carol Danvers. (Honestly, that woman does not know when to stop talking..!) Rather than try to force a friendship between the two based on the trite "we're-two-women-in-a-man's-world" trope, the writers made it clear that Natasha barely does more than tolerate the braggart Danvers. It was a refreshing change from the enforced norm in other series and this author appreciated that.
The rest of the show focused on the dichotomy between the Hulk and Bruce Banner. Separated by the Beyonder in "Underworld," Bruce has been hunting his green, wild half ever since. He's so desperate to end the Hulk that he has struck a deal with Morgan le Fay to destroy Big Green once and for all. Her patch of Battleworld – dubbed Weirdworld by Bruce – is uniquely adapted to this conflict. Using a variety of strange plant life, he tries again and again to capture the Hulk.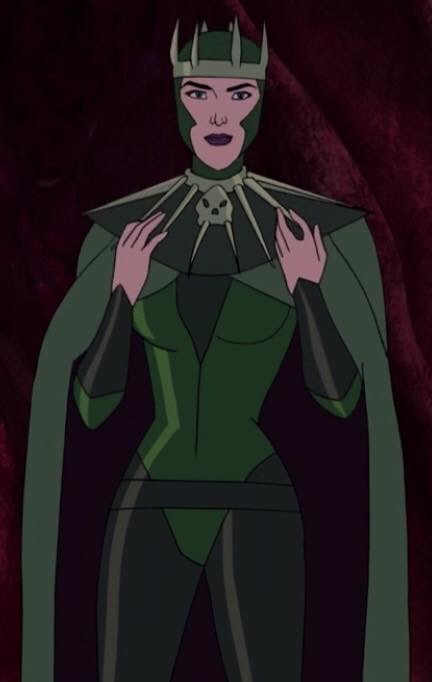 Morgan le Fay
Due to his single-minded pursuit, he misses Morgan le Fay reveal to the heroines that she plans to use the Hulk's power for herself. Her slip-up is actually believable, since she realizes that Natasha has feelings for both the Hulk and Bruce. Morgan's miscalculation isn't made simply to show how evil she is; she's genuinely trying to hurt someone when she reveals her evil plan. So that part of the episode was well-executed and, added to Black Widow's clearly non-existent rapport with Captain Marvel, makes "Weirdworld" fairly enjoyable.
As for the rest, I have to say that it is getting tiresome to watch Bruce always trying to kill the Hulk. I understand the history behind it, and done well, it is a good story line. In "Weirdworld," however, it is not done well at all. I would have been more interested if they had introduced Bruce and the Hulk trying to reconnect with one another, only to be thwarted at every turn by Weirdworld so Morgan le Fay could capture and drain the Hulk of his power. Given the rapport developed between the two halves of the character in earlier seasons, I was actually expecting that turn of events. But the writers went for a cheap retread of an old story rather than an imaginative, new take on the familiar plot.
Unfortunately, this is a problem that repeats itself in the following episodes. "Westland" had some promising themes and moments, but on the whole it rated a "meh" on the scale of entertainment. In search of Doctor Strange, whose magic can help repair and control the Bifrost, Hawkeye, Vision, Wasp, and Loki arrive in an old West town. Only, in this town, they don't ride horses. They ride dinosaurs.
While an inventive take on the idea, I have to say that the dinosaurs threw me for a loop. It was too jarring a change from the norm that seemed to have little to do with both the characters and the setting. Plus, in Marvel's original comics, the Avengers did travel to the Old West a couple of times. Hawkeye was particularly comfortable there, finding a great friend in the Wild West vigilante called Two-Gun.
Throughout its run, "Westland" carries overtones of being an homage to this past story arc, with the World's Greatest Marksman showing enormous interest in and relative familiarity with the time period. The problem is that the installment is less of a pastiche and more of a joke. We get a token bar fight at the beginning following Hawkeye's very poor attempt to "speak the lingo" to the bar tender. The denizens' of Westland ignore him and attack the team, considering Vision a threat because he looks like a robot (technically, he's a synthetic man). The disrespect or disinterest on the writers' part to Hawkeye's history with this story line only continues in several later scenes, though it is somewhat mitigated by Clint's being temporarily blinded.
Blinding him was definitely a good choice on the writers' part, as it is a fairly rare story line that nevertheless carries a punch whenever it is utilized. Depriving him of his capacity to continue fighting with his sight is a surefire way to bring drama and tension to an Avengers or Hawkeye installment. "Westland," when it gives attention to this aspect of the tale, all but sings in this area.
The rest of the story, however, is a bit of a mess. Vision ends up in the clutches of Rocket and Groot, who plan to use him as spare parts to fix their ship. Vision breaks out of the sack before they can do this and learns to converse with Groot. We are then treated to meaning several conversations that consist of "I am Vision" and "I am Groot," which is actually a nice touch. Then Jane Foster arrives and reveals that she is the sheriff of the town, totally undermining the callback to Two-Gun and Hawkeye's ties with the Old West. Add to this the chip on Wasp's shoulder and Loki's grandstanding, and the episode left me feeling unfulfilled and unhappy.
Admittedly, they did try to make Hope a little nicer in this episode. She does her best to support and comfort Hawkeye after his blinding, showing genuine sympathy and concern for him. Her pep talk to get him fighting again was almost good – except for the part where they took Clint's speech to Wanda in Age of Ultron and had Hope repeat it back to him verbatim. That was unnecessary, out of step with her character, and it showed a complete lack of imagination on the part of the writers.
Jane Foster's promise to "bring her wrath" down on Loki if he betrayed the Avengers also struck the wrong note with me. She's a scientist, not a sheriff or a warrior. Instead of coming across as a tough, no nonsense, genuinely feminine character she acted like a woman trying to be a man. It didn't work. (This will become more relevant the further in we go.)
Next is "The Citadel," the show which leads up to the season's two-part finale. The episode begins with a conversation between Cap and Tony about defeating the Beyonder, which is interrupted when Tower is attacked. Both heroes are captured by the Beyonder's forces and taken to his citadel.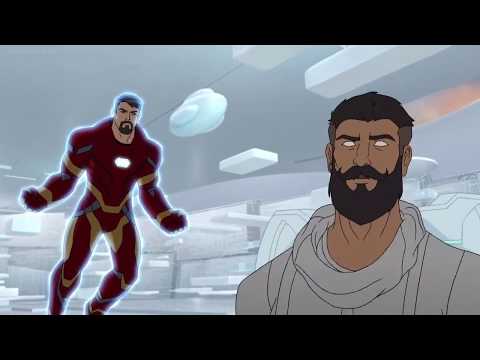 Steve wakes to find himself in a prison cell. While he breaks out of this confinement, the Beyonder tries to tempt Tony into accepting his technology and leaving the path of the hero. Cap arrives in time to snap him out of it, only to be tempted himself. The two begin fighting one another, ostensibly over the Beyonder's offer of immortality and power.
Eventually, though, it is revealed to be a ruse. Having distracted the alien mastermind long enough to learn his goals, Tony and Steve leave the villains in Beyonder's service tussling over the forbidden fruit while they make their escape.
Polite words fail me when I even think about this episode, for one simple reason: the presentation of Captain America in this installment borders on the putrid. Rather than show him as the American Galahad, the writers make him appear morally weaker than Tony Stark. While Cap can be tempted, he cannot be enticed in the same manner as others are. He also has a much higher threshold of resistance to sinful offers than practically everyone else in the Marvel Universe(s) does. "The Citadel" not only failed to show this character trait, it reversed his character completely. Cap specifically asks Tony at the end of the episode if he was tempted by the Beyonder's offer, implying that he wants to know if he was not the only one weak enough to succumb to the alien's offer.
Additionally, Beyonder's proposition was geared specifically to appeal to Tony; it should not have even registered on Cap's psyche as a lure for that reason. The Beyonder appealed to Tony as a fellow scientist and technician. Cap is neither, and for the offer to entice him as in the manner it does Iron Man is absolutely absurd.
Like a number of other items in the final season of "Assemble," the ruse could have been easily achieved in a way that better respected both characters. Having Cap fight Tony after the latter was momentarily bedazzled by Beyonder's offer not only makes more sense, it fits Steve's MO. He will fight for his friends' lives and souls no matter the cost to himself, and the writers could have turned this into one such instance.
But the writers for Assemble just had to be different. They had to drag Steve down to the "normal" level to prove he is human. They completely ignored all the work that the MCU and Chris Evans put into demonstrating this fact to millions of movie-goers around the world, a move that is not only foolish but downright malicious. On top of everything else they have done to Steve throughout Assemble, this was just too much. It pulled this blogger out of the story and kept her out for the final two episodes. Those would have turned her off of the series, anyway, but the open disregard and malice in "The Citadel" brought the whole house of cards down much, much faster.
So when "The Wastelands" and "All Things Must End" played, I was pretty upset. Knowing some of what was coming next from the tidbits dropped by the writers, this author waited for the final shoe to drop. It did drop – with a mighty splash. In this episode we were presented with an animated version the female Thor. Jane Foster calls Mjolnir to her and becomes goddess of thunder after Thor tried to use the hammer to rescue her.
I wish I was joking, readers, but that is what happened at the end of this episode. Then the team finally makes their play to put all the pieces back together, saving the worlds that the Beyonder ripped apart for his experiment. In the process, the alien mastermind is sent packing – but not before Dr. Strange is knocked out of commission. Unable to finish what he started, he gives Loki the Eye of Agamotto to fix the Bifrost and bring everyone home. It works like a charm, too.
Except then Loki won't give the Eye back. What a shocker; the Sorcerer Supreme gives the trickster god the most powerful magical item in the universe, and he then expects it to be returned to him. Yeah, right.
Why did no one see Loki's betrayal in "All Things Must End" coming? Giving him the benefit of the doubt for the millionth time is one thing. Hope over experience is also a plausible reaction to his apparent reform. Necessity requiring that the Eye be transferred to the god of mischief is understandable and inevitable. But why – why!? – didn't Strange put some kind of spell on the Eye that would cause Loki's attempts to use it backfire on him and make him give it back?
More to the point, why would the team actually trust someone they hoped would reform, but whom they knew was probably using them? None of this should have been a revelation to the heroes. In fact, most of the Avengers looked thoroughly unsurprised by Loki's treachery. Poor Thor wasn't allowed to see through his adopted brother's ruse until this point, which is a shame but par for the course for Assemble. The only time they ever treated the characters with even a modicum of respect was in season three.
Combine this "big reveal" with their forcing Jane Foster to play the role of Thor/Thunderstrike, plus the strong women grandstanding done by Wasp, Captain Marvel, and Kamala Khan, and you have an unappealing mess of an ending. The method of stopping Loki doesn't even matter (or make much sense) because the above factors reduce the episode to a propaganda piece masquerading as a story. For all its faults, Assemble deserved a better ending than this, as did the characters.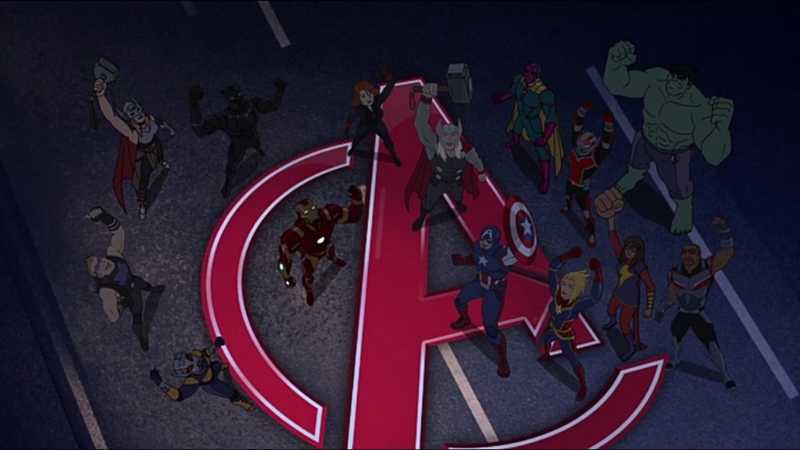 This is why I will not be watching any more Marvel fare from Western media outlets. Endgame is the finale to the MCU; everything that comes after cannot hope to match the quality of the first ten years, and most of the original actors/directors have jumped ship while the jumping is good. The nonsense that destroyed the comics has finally spread to the small and big screen, as I knew it would.
If you want to see Marvel's comic book alterations make it to film, then go ahead and have fun. But as of now, I am done with Marvel Comics, Marvel films, and Marvel TV shows. If I want good, entertaining fare from the company, I know where to find it. It will not be in the latest releases but in the older comics, cartoons, and the first ten years of the MCU. So long, Marvel. It was nice while it lasted.
Rest in peace, Stan Lee. You and your friends earned it. Nothing the new owners of your franchise can do will change that – not for me, and not for the other True Believers out there. 'Til next time, readers:
Excelsior!
The Mithril Guardian